I really like Google Plus, but I think about half of what I see in my news feed are "what's hot" postings. But I don't want to see 'em at all, just the postings from my friends and colleagues. Can I turn off "What's Hot"?
Unlike the mystery algorithm at that other social media site whose name might begin with "F", Google Plus gives you quite a bit of control over what shows up and how it all lays out, including exactly what you're talking about, the "What's Hot" entries.
Of course, you might not want to turn it off completely, because What's Hot does give you an element of content discovery that's otherwise going to be missing. In other words, you see what your friends post, but how do you ever expand beyond that circle (or set of circles) to stumble into new, unexpected content?
Let me show you how to gain control over the What's Hot content, then you can make your own decision about how much you want to have show up. Works?
First off, here's a typical "What's Hot" entry from my own Google Plus page: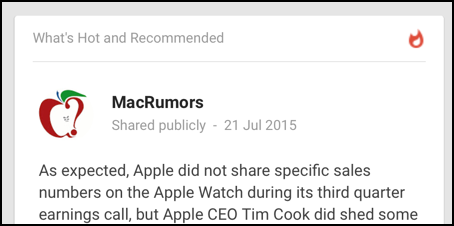 You can tell it's "What's Hot" because it says so — What's Hot and Recommended — because of the flame icon on the top right and because it's likely from a page or person you haven't circled on Google Plus.
To change how frequently this content shows up, find the little house icon on the top left of the page:
Click on the House button and a menu pops up:
Choose "What's hot", as I am doing so in the example, and you'll be taken to a page that's all What's Hot content:
See the gear icon just to the right of "What's hot and recommended", on the red banner?
Click it.
There's all the control you need. More / Standard / Fewer, all works, and you can uncheck the box "Show posts in Home stream" and remove 'em entirely.
And while you're at it, here I am on Google Plus: Dave Taylor on Google Plus. I invite you to circle me!