For all the years I've been going into Starbucks and checking out their free song download of the week, I've always assumed that I needed to enter the redemption code in iTunes on my computer, but the last time I was looking at the card, I realized that you can redeem it and download the new song directly on your Apple iPhone, no iTunes required. Nice!
Redeeming a Starbucks iTunes card is a tricky process, however, with quite a few steps, so once I show you how it's done you might still decide it's easier to wait until you get back to your main computer. For comparison sake, here's how to redeem the card in iTunes: Redeem Starbucks "Pick of the Week" iTunes music download.
This week, the timing was great because I'm a big fan of Paul Simon, and have been since he was part of the singing duet with Art Garfunkel. He hasn't had any new music for a few years, so when I saw he was the featured pick of the week musician, it seemed like a great way to get a taste of his new album without paying $10 to find it might not be what I'd enjoy.
This is, of course, exactly the point of the Pick of the Week, and if you are a steady Starbucks customer (or even just walk thru a Starbucks weekly) you really can build up a good, albeit eclectic, selection of sample tracks from a lot of different contemporary musicians, and all without paying a penny. Nice indeed!
So let's get into it…
To start out, here's what a Starbucks Pick of the Week iTunes card looks like: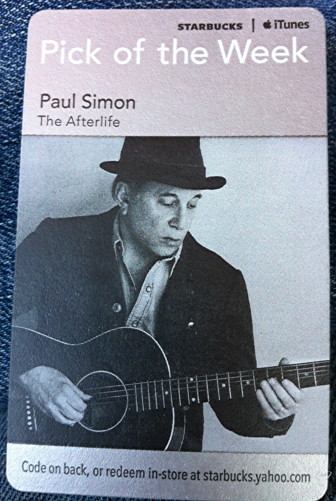 To redeem it and download the song, pull out your Apple iPhone 4 (or other iPhone model) and find the "iTunes" app. The icon looks like this:
Tap it and iTunes starts out showing you the latest music in the store:
You need to swipe so you can get to the bottom of the iTunes Store home screen. It looks like this: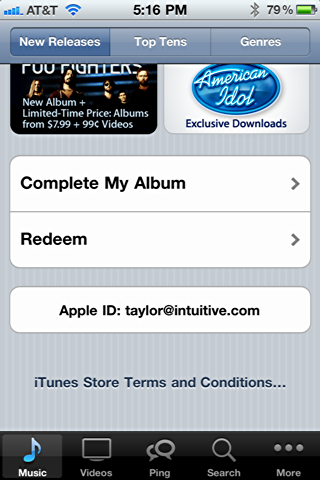 There's what we want: "Redeem". Tap on it…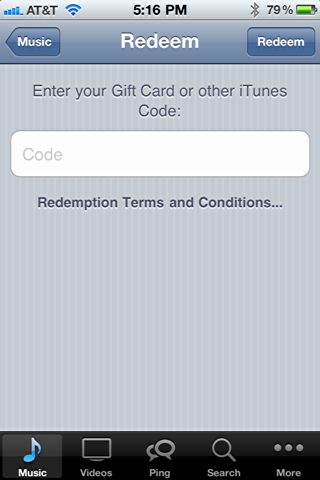 Now on the back of the Pick of the Week card you'll notice a rather complicated sequence of letters and digits. Enter it exactly as shown in the Redeem box on the phone:
Tap "Redeem" on the top right when you're sure it's a perfect match and you'll find that you need to sign in to proceed: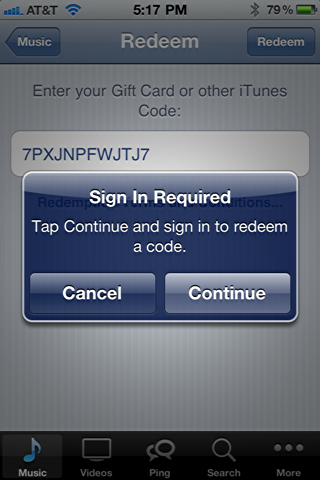 Tap "Continue" then enter your iTunes Store password and tap "OK".
That's it! Done.
You'll know because it'll be downloading the new song:
If you want to watch its progress as a download (yeah, I know, I should have better things to do. Humor me 🙂 switch to the "iPod" application on your iPhone and tap on "More" on the lower right: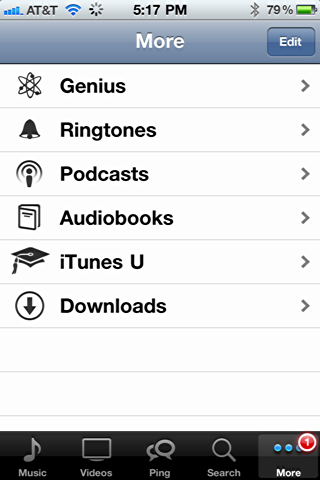 Now tap on "Downloads" and you'll see the song slowly streaming down from the iTunes Store server somewhere in the cloud:
Finally, it'll finish the download and be ready to enjoy: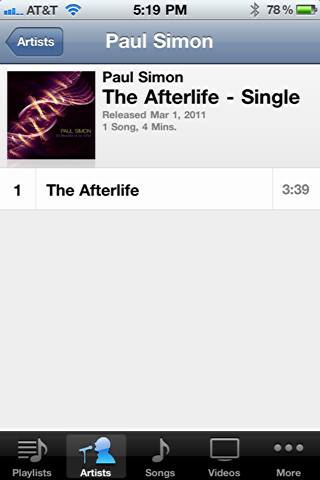 Tap on it to play and you'll see it's included all the album artwork and everything: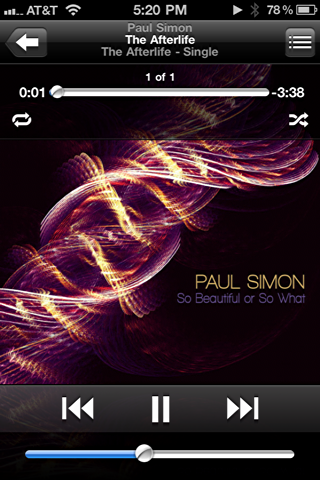 There. Not too bad, was it? And the new Paul Simon album? Not bad at all…