I was just in the local Starbucks and noticed that in addition to their free music download of the week they now also have app pick of the week, programs you can download for free too. Very nice, but I'd like to try them out right there in the cafe. Is that possible with my iPad, or do I need my computer?
You're smart to pay attention to the promotions that Starbucks offers in its popular cafes. There are some neat things available, one of the best of which are their weekly free iOS apps. Sometimes they're $0.99 apps you get for free, but other times I've seen $3.99 or $4.99 apps show up free for the download through the Starbucks promotion. And at those prices, who wouldn't want to give a new app a whirl and see if it's something cool or not?
You're right to suspect that you don't need to use your computer — Mac or PC — to enter the code and get the application onto your iOS device, whether you're using an iPad or an iPhone. In fact, the process is identical.
To start, pop into a Starbucks and grab their "free app pick of the week" card.
They look like this:


Flip it over and there's a long, complicated sequence printed on the bottom of the card. If you look at a couple, you'll see each is unique to the cards and they're not in any sort of sequence. Can't be easy to print those cards up, I imagine, but perhaps Apple's got it all figured out.
In any case, put that card aside after you locate the code, and pick up your iPad (or iPhone). Launch "iTunes" and scroll to the bottom of the "Featured" page:


The key is to tap on "Redeem" after you make sure you're logged in to the account you want to associate the new app with. You good? Tap on "Redeem" and…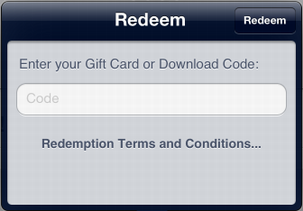 Here's where you need to now enter that complicated Starbucks app card code. Take your time, there's no rush and you need to get it exactly right or it'll fail to validate. Once you've entered all the letters and digits, tap on "Redeem" in the top right.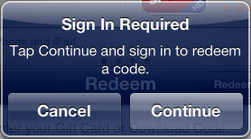 That makes sense, since you don't want people putting random stuff on your iPad! Tap on "Continue" and…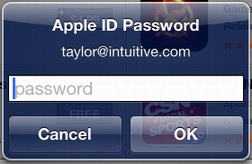 Enter your password and tap on "Cancel". Just kidding. Tap on "OK" to proceed.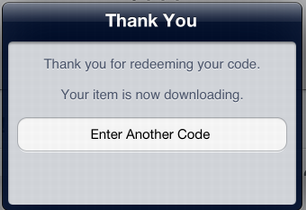 That's it. Done. Really. Leave iTunes and go back to the main screen of your iPad or iPhone and you'll see it downloading (here the app in question is the fun game W.E.L.D.E.R.)



That's it. Once the download is finished, just tap on the new app like any other application on your iOS device and it's ready to go. Not only that, if you have automatic download set up on your other devices, the app will also magically show up everywhere. For free. How can you not like that?