A local company just sent me a long complicated sequence of letters and said it's a "promo code" so I can get a free copy of their new iPhone app. Except I don't really know what to do with the promo code. Do I use it as a payment method or credit card or what? I'd rather not name the app in case they read your blog, so if you need to know, please email me separately. Thanks!
We frequently get download codes from companies hoping we'll review their iPhone or iPad apps so I know exactly what you're talking about. What's cool is that iTunes itself has this rather slick capability built in so if you have the code it's one that's unique to that free promo copy of that specific app, ebook or even song. So all you need to do is enter it correctly into iTunes and it'll automatically grab the app and download it.
But where do you enter this secret information?
Before I tell you, I'll just share that a typical code looks like this: WAVAHWNJMHWR. Not so easy to enter, but not nightmarishly hard either. I mean, it could be twice as long! 🙂
To get to the promo code redemption area in iTunes, click on "iTunes Store" on the left column of iTunes: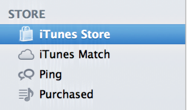 Now on the right side of the iTunes Store home page, look closely at the "Quick Links" area: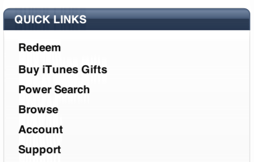 It's the very first option. I mean, how easy is that? Just click on "Redeem" and you'll find a spot where you can — carefully — type in the code that they gave you:

Click "Redeem" after entering the code and it'll require that you log in to your iTunes account one more time for good luck:

Enter your password correctly and click "Redeem Code" and you're done:

Curious what's going on? Go to "Downloads" in iTunes (it's an option on the left column) and you can watch its progress:

Once it's done the app magically appears in your applications area:

Even better, if you have your iPhone or iPad configured to automatically download new purchases, it'll show up automatically without even syncing. If not, a quick sync will copy the app to your device and you're good to go anyway.