My brother sent me a gift code for a Kindle book but I'm a bit confused as to how to actually get it onto my Kindle Fire. Can you walk me through the steps so I don't mess up?
Happy to help out with your Kindle question because it's something I expect will confuse and befuddle a lot of people as we move into the holiday gift giving season! Then again, it is actually pretty darn easy and if you just click and follow the directions I bet you could figure it out all by yourself. Still, here we are, so let's jump in!
For this demo, I'm going to use a book written by a friend, actually, the sci-fi thriller "I2" by James Bannon. It's the modern way that authors garner reviews from friends, family and colleagues, actually, and the cost-per-copy is zero, which is a whole lot better than mailing out stacks of hardcover books to dozens of people.
In this instance Bannon sent me a code, as you'll see, but rather than send it to my Kindle Fire HD, I'm actually going to push it out to the Kindle app running on my iPad Mini. Why? Same form factor, but smaller and a slightly bigger usable screen. And it's an iPad! 🙂
Anyway, let's go through the steps so you can see how it works.
Here's the email that started the journey, a gift book from Steve: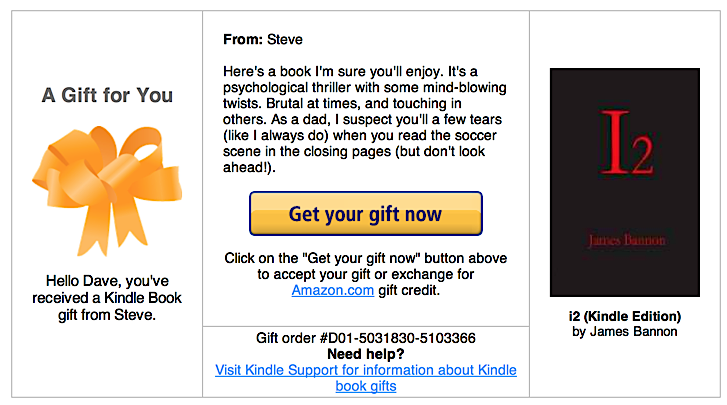 To redeem it, I click on the big yellow "Get your gift now" button. Which makes sense! 🙂
It takes me to Amazon where I have to log in to proceed: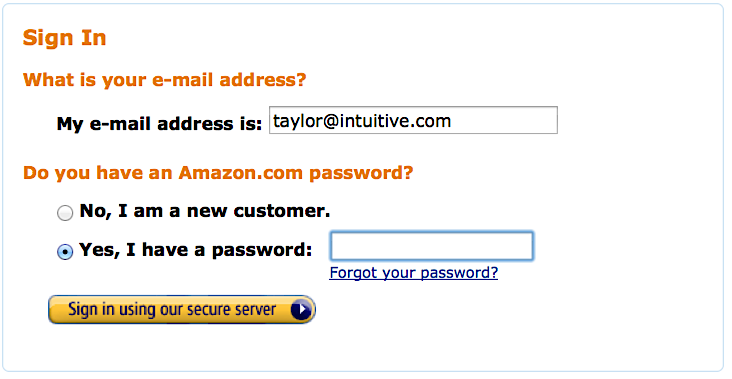 Login successful, time to go to the Kindle area to actually redeem the code. You're actually dropped on the sales page for the book in question and need to look on the right side to see what's different. It's this:
Note at the bottom the option of "exchange for gift credit". That's good to know: if you get an ebook as a gift and really don't want to read it, you can exchange its value for a gift credit against something else without the sender ever knowing what happened.
Don't worry, though, James, I didn't do that in this case!
Also note that if you have more than one Kindle device or app, as I do, that there's a pop-up menu under "Deliver to:". I'll click on it to see my options:
The choice I want is "iPad Mini 2". What happened to "iPad Mini 1"? No idea. But at least naming Kindle apps for the system they're on lets me differentiate between the really ridiculous number of different choices I have! What's really weird? The Kindle Fire HD doesn't even show up as an option for the delivery of the Kindle book.
Ah well. One of life's mysteries, no doubt.
I choose the device or app I want to have automatically receive the ebook and click on "Accept Kindle Gift" to proceed.
And that's it.
Now in my Kindle app (on the iPad Mini) I immediately see the book thumbnail appear, along with a progress bar that shows how far it's downloaded:

You can see it on the left side, correct? A few more seconds and it's fully downloaded and even conveniently denoted with a "New" mark:
A tap of my finger and I'm ready to start reading!
That's all there is to it, actually. Once you tap on the first button, it really does seem about as easy as possible to get to the last step and be reading your new Kindle ebook! Now enjoy your reading, whether you choose to accept the gift or exchange it for a gift credit and get something else.