I've been playing with my RCA Lyra RD-2312A Mp3 player and it's pretty good, but I'm intrigued by one thing: it apparently can record FM broadcasts right off the air? Cool. How do I do that, and, when I have a recording, how can I get that off the Lyra and onto my computer?
The RCA Lyra is a pretty slick little device in all its many guises (check out their latest audio players to see what I mean) but I have to say that my experience with the FM receiver in my own RD2312A Lyra has been less than stellar. Even with the strongest signals in my area, reception is very random and susceptible to even the slightest change in body position.
Anyway, even with mediocre FM reception I can show you how to record on your Lyra and hopefully your results will be better than my own.
Your first step is to Go to Radio at the top level menu: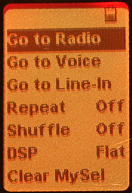 Now you are looking at the FM tuner and hopefully listening to your favorite radio station:
To record what you're hearing, click on the
REC
button on the device:
Now you're recording what you're hearing:
When you're finished with whatever you're recording, press "stop" on the controls and it'll be done.
Want to listen to it again? Navigate to the other top level menu (yes, I also find the menu system on the Lyra completely Byzantine!) and you'll see
Radio Recs
: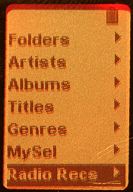 Pick the one you'd like to hear from the list:
And that's all there is to it.
Copying radio recordings to your computer
Finally, you need to hook your Lyra up to your computer, either a Mac or PC will work. On my Mac, here's what I see when the device is connected via USB:
Open up the folder labeled
FM
and you'll see your radio recording or recordings. I see this: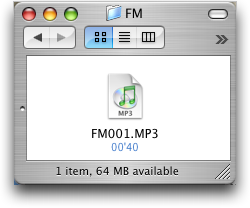 My recording
FM001.MP3
is forty seconds of recording, as Mac OS X so helpfully shows me, and the file size is 642KB. Wanna listen? Just click this:
Listen to 40 seconds of jazz FM from my RCA Lyra RD2312A
As you can see, the reception isn't too good, but hopefully this will at least show you exactly how you can record and work with your own FM recordings from the radio.
Good luck and let us know how it all works out for you!