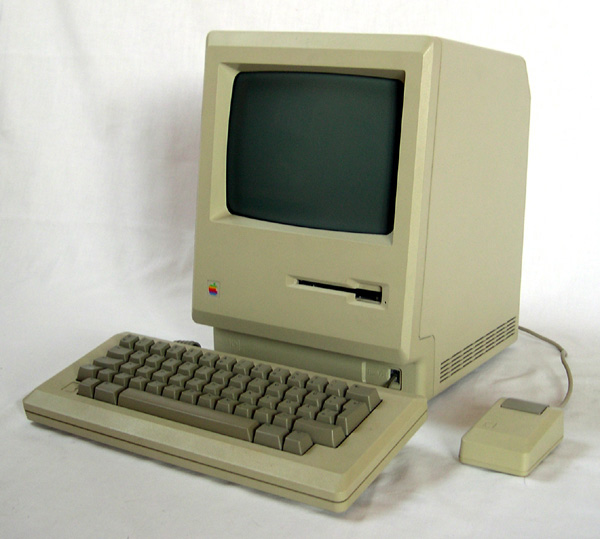 I can still remember the first Mac I used: it was a 512K unit that the fine folk at the Whole Earth 'Lectronic Link loaned me when they hired me to hack their discussion system and make it faster. At the time I'd just left my job at Hewlett-Packard and had no computer of my own (back then people didn't have computers unless they were hardware hobbyists or could handle cassette backups).
To the proffered loaner Macintosh I can recall saying "uh, no thanks, I don't really need a toy computer. I'll figure out another way to connect to your computer network." At the time, I was living in Los Altos, basically southwest of Palo Alto and due north of Apple headquarters in Cupertino, and the WELL was located north of the Golden Gate bridge in beautiful Sausalito. Way too far to drive for the work. So I had to get a computer of some sort.
I reluctantly accepted the dorky little fishbowl unit that was reminiscent of the Osborne my Dad had won in a sweepstakes a year or two earlier, and…
it took me about a day to realize just how slick the Macintosh was, even with its clunky interface and tiny screen. It was a self-contained computer with no parts to fuss with, and there was an elegance to the operating system that was pleasantly reminiscent of the expensive Unix / X11 workstations I'd used while at HP.
Except it was cheap. No need to get a second mortgage and have a consulting IT person available (though I did end up with Paul Vixie doing tech support on a non-Mac Unix box he sold me, and Greg Galanos flew in one afternoon to help me figure out how to get his C compiler to work on my Mac, but those are different stories)
Within a month I owned my first Macintosh system, and have since then owned so many that I can't even remember all their names. There was a Centra, a Performa, two Minis, and a veritable parade of laptops from Apple that started big and clunky and got smaller and sexier, year by year, as the industry kept its headlong race to microminaturization. Before I wrapped up a few private sales, I had four Mac laptops in my office, along with a G5 tower as a server, G4 tower in the garage collecting dust, and Mini on a shelf, buried under a stack of cables.
Mr. Jobs? You owe me some stock for my faithful contributions to the sales stream of Apple gear, dude!

I've learned a lot about working with Macintosh systems in the many years since that first 512K crossed my desk. But if there's one investment I've made that has proven its worth time and again, particularly as the hardware has gotten more popular and Apple manufacturing quality and component quality has degraded, it's the AppleCare Protection Plan.
In fact, I feel so strongly about the need for anyone with Apple hardware to get AppleCare too that I wrote this entire posting with the hope that you'll buy it and save yourself a ton of potential headaches with your hardware down the road.
I just bought yet another Apple computer and noticed for the first time that Amazon.com actually offers AppleCare at a significant discount: for the MacBook Pro, $262 instead of the $369 that Apple wants. That's a sweet 30% off an essential add-on to any Mac.
Even better, it's a win:win, because you can use the links below to buy AppleCare for your Apple hardware (you can add it to your computer any time in the first year of ownership, so even if you bought it a few months ago, it's definitely not too late!) and the small commission that Amazon pays me will help keep the lights on and, well, keep feeding my hardware habit.
Please pick the right link for the hardware you have, and buy it. Just do it!
• AppleCare Protection Plan – MacBook

• AppleCare Protection Plan – MacBook Pro

• AppleCare Protection Plan – iMac

• AppleCare Protection Plan – Mac Pro

• AppleCare Protection Plan – Mac Mini

This is a good move even if you have an iPhone or iPod too, btw:
• AppleCare Protection Plan for iPod touch/classic

• AppleCare Protection Plan for iPod nano 1G, 2G, 3G, 4G; iPod shuffle 1G, 2G

• AppleCare Protection Plan for iPhone and iPhone 3G

Whether you want to use affiliate links or not, trust me on this: if you own Apple hardware, you want to buy AppleCare. It'll save you in the long run!