I've heard I can use my Apple iPhone 3GS as a Kindle without actually buying a Kindle from Amazon. How is this possible and how do I do it?
If you're asking why on earth Amazon would allow anyone to bypass their proprietary hardware in favor of a free app from iTunes that can do the same thing as their $260 e-reader, you're very right to ask such a question. The only answer I can serve up is that Amazon very much likes your money. I would guess that if they had a choice between selling solely e-books and Kindles and e-books, they would choose the former rather than the latter.
iPhone sales have soared into the millions; iPod Touches have sold plethoras as well. Kindles have sold well yet not nearly in the volume that Apple has pushed their touchscreen devices on the world. Hence Amazon CEO Jeff Bezos and company have decided that, like their original business model, they're in the business of selling books first. Electronics can come later. And that is why you can use your iPhone as an e-reader.
Now that we've gotten that out of the way – using your iPhone as a Kindle.
First, head on over to iTunes and download Amazon's free Kindle app which is unsurprisingly titled Kindle for iPhone.
Open the app and you should be greeted, after the splash screen, by a very white, very blank list which you will soon be filling up with books. Press the "i" button in the lower right corner to be taken to an info screen where you can register your device just as you would on a regular Kindle. All that's needed to register are the details with which you log into Amazon.com. The website will then pair your iPhone or iPod Touch with your Amazon account so any purchases you make in e-book form will be transferrable to your pocketable reading device.
After pressing Done in the upper right corner, you will be taken back to the empty and somewhat lonely Home screen of the Kindle for iPhone app.
Press the Get Books in the upper right corner to be taken out of the Kindle app (that was fast!) and into Safari (which will be pointed to Amazon.com's Kindle Store). The Kindle Store is where you can search for books to be sent wirelessly to your device.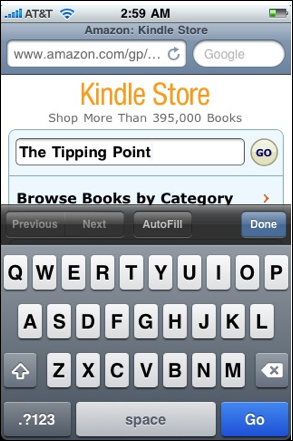 Assuming you have a credit card already tied to your Amazon.com account, buying a book is as easy as one press of your finger. Confirm your purchase and navigate back to the Kindle app. In the lower left corner is a button to reload your app with new information that's just waiting to be downloaded. Refresh and your need book should show up as an archived item. Navigate to the Archived Items, find the book you just purchased and give it a touch to download it to your iPhone. Now you're ready to read!
With a flick of your finger left or right you can navigate through the "pages" of your new book. I put pages in quotations because a page on the Kindle, iPhone, or iPod Touch doesn't exactly correspond to a page out of a traditional paperback. Imagine the strain on your eyes if the text matched up exactly — there would be no incentive to read on any e-reader!
Press the screen once to bring up controls to navigate about your novel. The bar at the bottom that you can drag left and right will place you at different points in the book. The Kindle software uses book locations instead of pages to determine where you are in a book. The locations make no logical sense; nor will you ever say, "I'm at 710-004 in the new Malcolm Gladwell book," because no one will have any clue what the heck you're talking about.
Furthermore, you can add a bookmark (+) which serves as a note to yourself to come back to that particular part of the book. The Kindle software automatically saves your location in the book so setting bookmarks as you would in a traditional book is now obsolete. Pressing the book icon allows you to jump to parts of the book such as the table of contents, the beginning of the book or a location (assuming you know where in the book you want to go).
Selecting "Aa" will let you change the size of the font (5 sizes available) and the text color (black text, white text on a black background, or sepia). Finally, the right most button refreshes, forcing the Kindle to ask the cloud if this book has been started and, if so, if you would like to resume where you last left off. This is especially handy if, like me, you have an iPhone and a Kindle and are reading the same thing on different devices at different times. The Kindle and the iPhone talk to one another so you never miss a word, a sentence, or a page.
So why should you ever buy a Kindle if you have an iPhone or an iPod Touch? First and foremost the Kindle offers more screen real estate with you can fill with words to read. Secondly, the Kindle is an extraordinary piece of hardware. It feels great in the hands and frankly doesn't make me miss books that much. If you're on a budget, if you're just tired of accumulating electronics or maybe you just want to see what the e-reading experience is like, Amazon's Kindle for iPhone app is a great addition to the Kindle repertoire. (Also available are Kindle for PC and (coming soon) Kindle for Mac.)
---
Contributing writer Zack Shapiro is an entrepreneur, a journalist and a technology blogger. You can find him on his website ShutUpInternet.com or on Twitter as @ZackShapiro.