Dave! I know you're also a football fan, so I was hoping you can tell me how I can add all the FIFA World Cup matches to my Mac calendar without having to type them all in manually? Ideally to also show up on my phone and Apple Watch.
You're right, I am a big fan of football – soccer, as Americans call it – and often take time off work during the World Cup. Then again, that's typically been during the summer, not the winter, so we'll see how it goes in terms of large blocks spent in front of the TV. And that's not to mention the time difference between Dubai and Denver, Colorado (Dubai is 10 hours ahead of Denver, if you're curious). Suffice to say, I am eager to watch the biggest and most exciting sporting event in the world and will root for England, as I typically do. Who's your team of choice?
In terms of schedules, I think everything's being tape delayed because the games are during the day for me, not at 2am or some other weird time, and particularly during the first phase of the World Cup the schedule is pretty intense, with four games a day, day after day. And what a glorious adventure it will be. This time there'll undoubtedly be as many stories off the pitch too as the conservative nation of Dubai hosts tens of thousands of soccer fans from around the world. It'll be… interesting.
Calendar-wise, it turns out that there are ways you can subscribe to an external calendar in Mac Calendar [formerly known as iCal] that can even be updated. A sporting event like the World Cup is perfect for this too because the schedule can be updated remotely as teams move to the next round.
TONS OF  SHARED CALENDARS AT ICALSHARE
My favorite place to find event and holiday calendars for the Apple calendar system is iCalShare.com. If I search for "world cup 2022" here are just a few of the calendars that appear:
Simply based on update dates, I'm going to go with the second one since it's been updated just a few weeks ago. I also like having the country flags and stadium names included, even if I'm not planning on being in Dubai.
A click on the calendar in question – "World Cup 2022 – All Matches" – and more information is shown:
That blue "Subscribe to Calendar" button is what we want, a link to what's known as the "webcal" URL or Web link to the calendar. Imagine that it's a kind of Web page that's structured specifically for Calendar and you aren't far off. A click and your browser will ask if you want to open the link in the Calendar app:

Ready?
SUBSCRIBE TO A SHARED CALENDAR IN ICAL
I know, it's not "iCal" anymore, but let's just roll with it. Click on "Open" and your Calendar app will open, if needed, and prompt you to subscribe to the external calendar:

Here you can see the webcal:// URL link, and that it's actually hosted on Google.com, interestingly enough. Click on "Subscribe" and Calendar will let you choose quite a few parameters surrounding the new calendar in the app:
I recommend using a short, succinct name, but mostly choose a color that is different to your normal events, so it doesn't end up creating a confusing calendar for November and December. I'm going to choose Brown for these. Also, since the outcome of the games are going to cause updates to ripple through the schedule I change the Auto-refresh from "Every week" to "Every day". You could also choose "Every hour" if you want to be really up-to-date!
That's it. Click "OK" and it'll show up in your Calendar app. Well, if you move forward to mid-November when the games begin: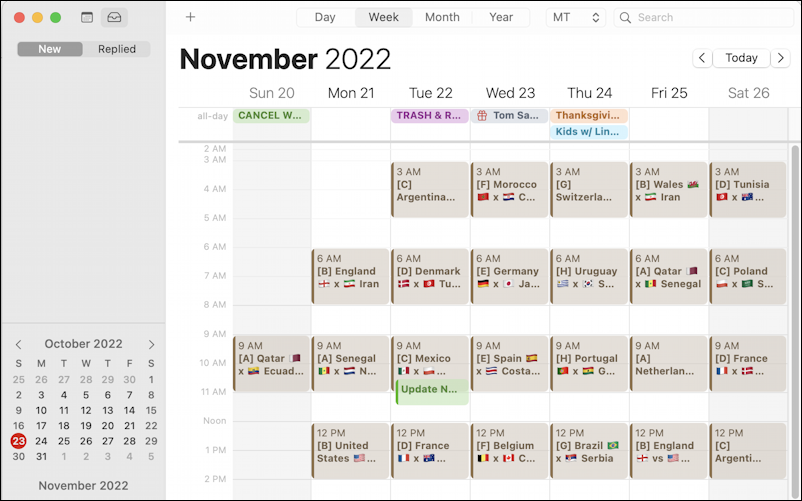 Since they're Calendar entries, you can also click on one to get more details. For example, that first game on 21 November: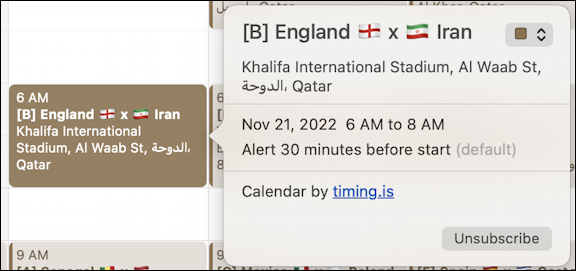 Now you can see that it'll take place at Khalifa International Stadium on Al Waab Street in Qatar. Oh, and that it starts at 6am Denver time (glad I'm not in Hawaii, for sure, where this game would start at 2:00 am. And Tokyo? Not even going to think about that.
In any case, Go World Cup and, of course, Go England!
Hope that gets you all set up for the games.
Pro Tip: I've been writing about the Mac since the very first system was released. Back in the era of the "fishbowl" design! Heck, I started my computing career on an Apple II. Please check out my extensive Mac Help Library while you're visiting. Thanks!