After years of customers asking for the feature, Amazon.com finally introduced Venmo compatibility in late November, 2022. Here's how to get it all set up so you can use Amazon with your Venmo account too…
Amazon has so many business segments, it's rather a surprise that it's never created its own payment system. It has a credit card, but that's underwritten and managed by Chase Bank, which isn't quite the same thing. Over the years, Amazon has also added a number of direct connections to different payment systems, most recently with companies like Affirm that let you split up the cost of a high-ticket item into payments rather than having to make a single large payment.
Venmo, owned by PayPal, is the newest addition to the payment choices and it's one that a lot of younger customers are enthused about; Venmo offers an easy, popular person-to-person and merchant payment program powered by a simple mobile app. If people pay you, that balance lives in your Venmo account and can then be used to pay others, creating its own mini-economy. Now you can use that for Amazon with just a few setup steps. Here's how to get it all hooked up.
CONNECT VENMO TO YOUR AMAZON ACCOUNT
It's Cyber Monday so I'm going to take advantage of a lightning sale on a wireless charging dock. As is pretty typical, the right side of the product information page shows this: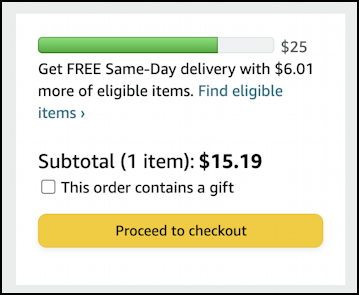 $15.19 for a Qi charging dock is a pretty good price. But how do I pay with Venmo?
A click on "Proceed to checkout" and it will show me a summary of all the salient aspects of my upcoming purchase, from shipping address to, most importantly, payment method: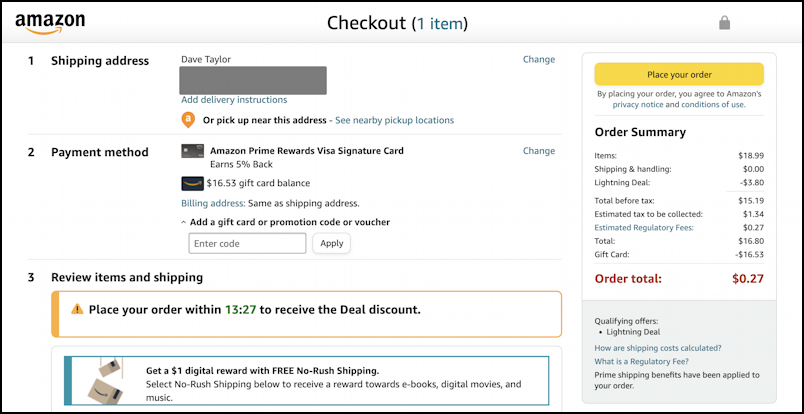 Notice that I'm saving $3.80 on this charger with a lightning deal so I have to complete the transaction within fifteen minutes. No worries, it will take quite a bit less time to get Venmo hooked up.
To add Venmo as an option, simply click on "Change" adjacent to the selected payment method. For me, it's an Amazon Prime Rewards Visa Signature Card (though the transaction is currently set to utilize my gift card balance, if you look carefully at the right side). That $0.27 "regulatory fee"? It's mandatory and set by my state of residence, Colorado. It's known as the Colorado Retail Delivery Fee, and it's worth reading up on if you're curious about taxes, government funding, and online shopping.
A click on Change and a scroll to the bottom, as needed, and Venmo shows up as an option!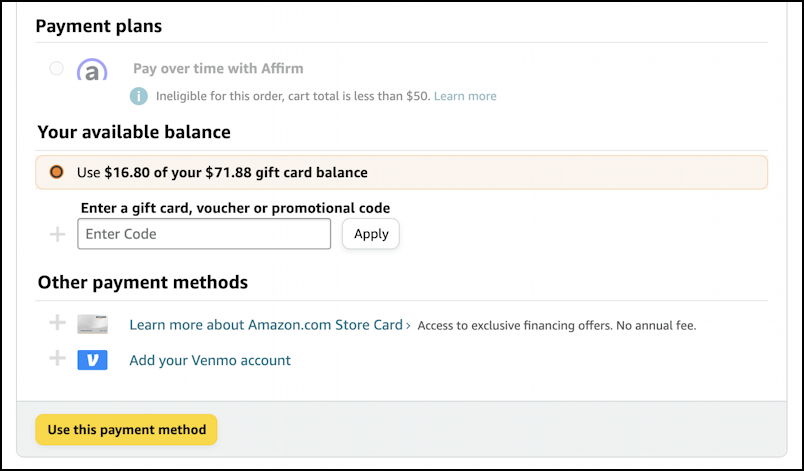 For a larger purchase, notice that Affirm's payment plan "Pay over time", would be an option, and I can use a gift card, voucher, or promotional code as appropriate. For this task, however, it's that "Add your Venmo account" that's the target. Click on it.
ADD VENMO ACCOUNT TO YOUR AMAZON ACCOUNT
Amazon explains what it means to add your account in an info screen…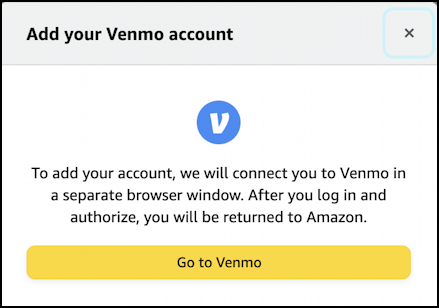 Okay, let's do it. Click on "Go to Venmo" and a new window pops up: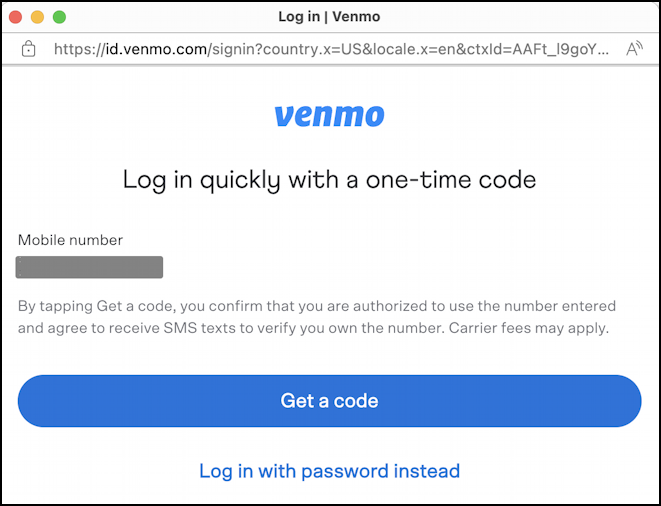 Since I'm already logged in to Venmo it simply seeks a confirmation through my two-factor authentication by sending a code to my associated smartphone. A click on "Get a code" and it sends this SMS text message to my iPhone:

On the computer screen, it's changed to allow an input prompt, at which I enter 653336 to proceed. Accepted! The next thing shown on the screen is: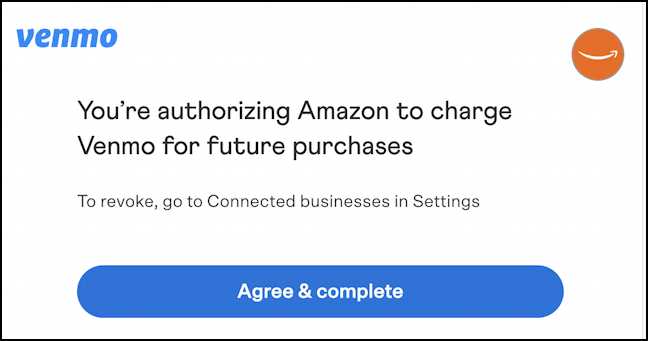 Agreed, agreed. A click on "Agree & complete" and the window closes.
VENMO SUCCESSFULLY ADDED
Amazon will confirm that Venmo was successfully added: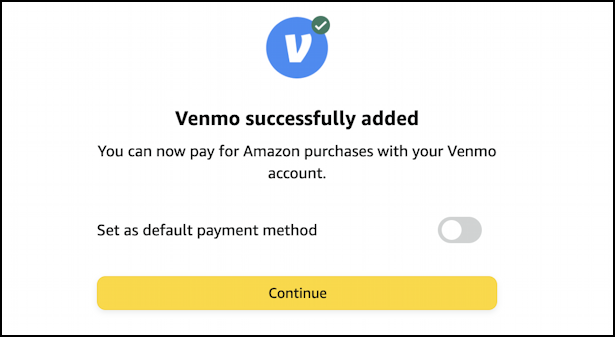 Notice that you can opt to set Venmo as the default payment method or not; if you do not, then it will just be listed as one of your transaction options, for you to choose on specific, appropriate purchases as desired.
Ready to proceed? Click on "Continue" and the checkout screen will update: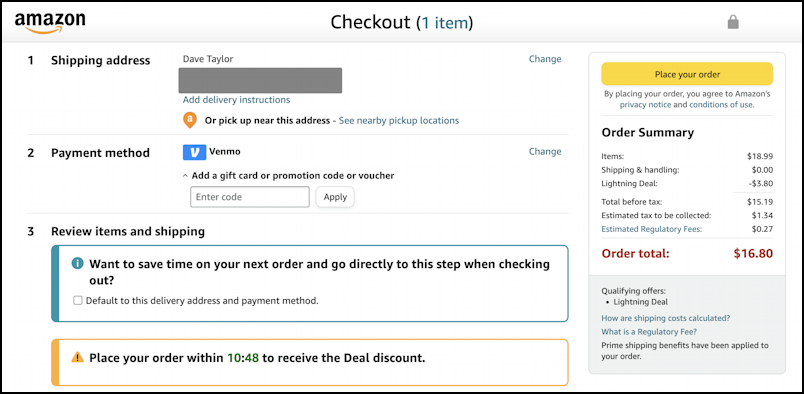 Notice "Payment method: Venmo". Easy enough, and next time I want to use Venmo, it'll be just a single click away from this checkout info screen.
And, finally, "Place your order" and it's done. Interestingly, it appears to take a few hours – or more – before it shows up as a Venmo transaction if you look in the Venmo app. Assuming you have a sufficient balance or an appropriate backup payment method specified, you can safely trust it's all working just fine.
[update: Nov 30, 9pm] After almost three days, the transaction finally posted on Venmo. My guess is that it was waiting for the merchant to mark the product as shipped. Here's what showed up in my Venmo timeline:

Notice the padlock, which indicates it's a private transaction, not visible to my Venmo pals. Appropriate. And, all's well that, as they say, ends well.
Pro Tip: I've been writing about online payments, shopping, and online systems for many years. Please check out my online shopping help area for content on Paypal, Venmo, and related too!