I'm now working at home, or WFH, as the acronym goes. All good, but digital privacy remains just as much an important topic as it's ever been. In fact, now that you can't rely on corporate IT to ensure that the network remains safe, it's even more important to have a good VPN. What's a VPN? Glad you asked…
You might be working from home right now but you'll be back on public wifi networks soon enough. Even without that, though, private wireless networks aren't guaranteed to be secure and private either. As a result, every smart company is insisting that its WFH workers are all utilizing a virtual private network or VPN to ensure that their communication stays private. Remember too that while your computer might be secure, that doesn't mean your teenage son or daughter isn't running hacking tools (perhaps inadvertently) just to see what data's flying back and forth on the wireless network!
Fortunately, modern VPN systems are really easy to install and use and the best of them offer barely any slowdown on your throughput. This makes it easy to have it as a set-and-forget software layer, something where you can ignore the program entirely once it's installed. There are also quite a few VPN solutions on the market and one of my favorites is ExpressVPN. It's not free, but at about $8/mo it's a small price to pay for knowing that everything between your computer and the Internet is safely encrypted and that your location data is even masked for further privacy. Also worth pointing out is that "free" VPN services typically are selling your data because if you're not the customer, you're probably the product. Exactly the opposite of what you want to achieve.
I have ExpressVPN installed on quite a variety of systems in my home and office, ranging from Mac to Windows to Linux, an iPhone and an Android tablet. Yes, one account lets you run the program on all of these systems with the same easy interface. Even your boss could figure this out, I bet!
You can start this digital privacy journey on the ExpressVPN home page:
The process goes smoothest if you sign in to your ExpressVPN account here in the browser (look for "My Account" along the top). Don't have an account yet? Sign up and get everything figured out with payment, etc.
Then when you proceed to the next step, Get ExpressVPN, it'll already know your account information, as you'll see shortly…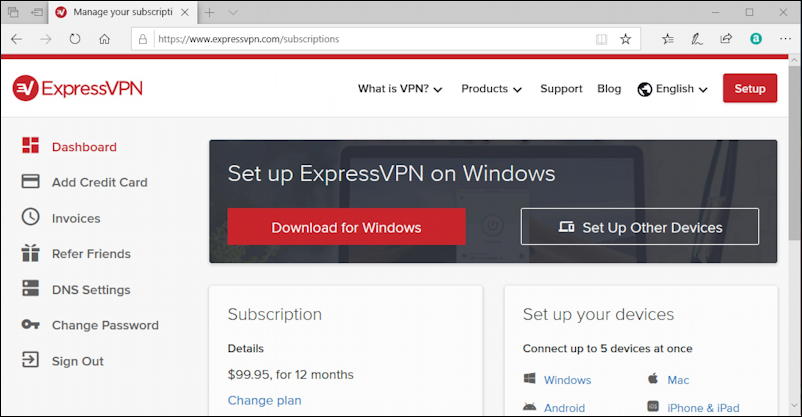 Looks good, and I'm on a Windows 10 system, so "Download for Windows" is my target!
A click and it'll begin the download: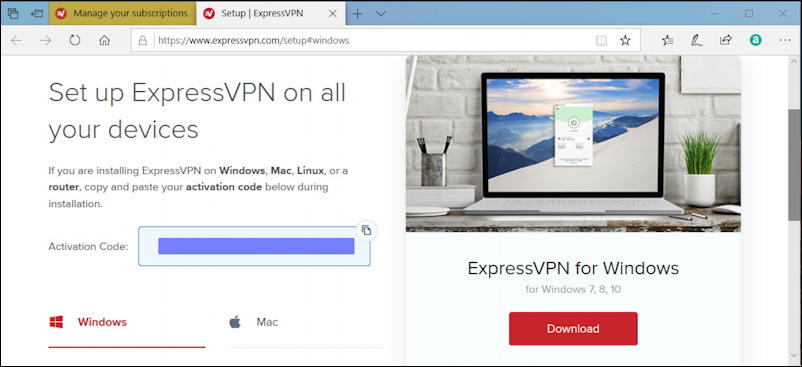 The key to notice here is the Activation Code. I've redacted mine since, well, I don't want you sharing my account! 🙂
The download is actually quite small so it's not long at all before this shows up at the bottom of your Web browser:
As long as you downloaded the program from expressvpn.com (check your browser to sidestep phishing or malware!) it's safe to run the installer directly. Click on "Run" to proceed.
Generally you want to avoid non-Microsoft verified apps, but in this instance, as I said, it's trustworthy so click on the grey "Install anyway". Now you'll get one more warning (such a nice update that Windows now makes it so hard to inadvertently install bad software on your PC!)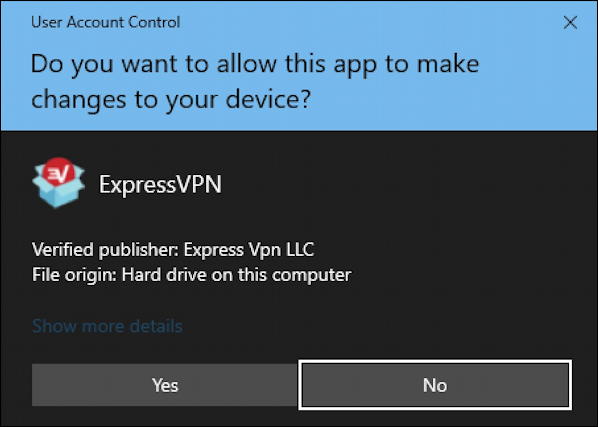 You must say "Yes" at this point because the VPN software has to basically get "in the middle of" your network communication to work. Proceed.
The app will then launch and because this is a first launch, it'll ask a few questions, starting with:
It says Sign In, but you have that Activation Code from earlier. Right? If not go back to that Web page and copy the alphanumeric sequence.
The click "Sign In". It'll prompt for the Activation Code:
Now just one more question before you can fire up ExpressVPN and enjoy your safer, more privacy Internet connection:
For many users having ExpressVPN launch on startup is the best option. It definitely makes this set-and-forget. But if you prefer not to do this, that's okay too, just click "No Thanks". You can always update your settings later on too.
And, finally, you're ready to turn on your new VPN: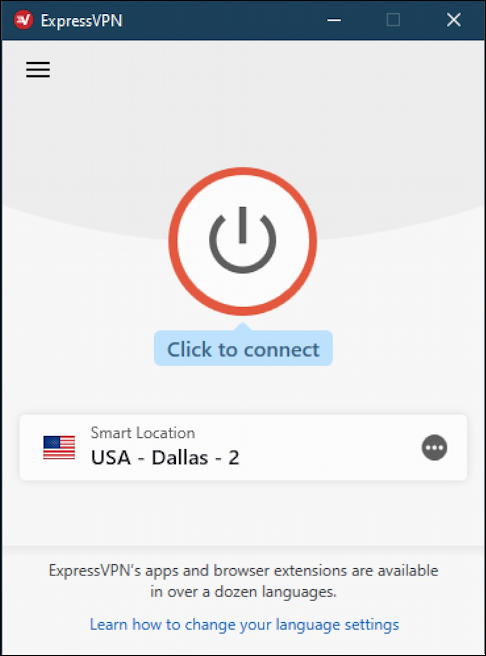 The program figures out your closest VPN server but you can choose a different one (or just peruse the remarkable list of servers throughout the world) by clicking on the "•••" button.
If you choose not to have ExpressVPN launch on startup, here's a handy tip too! Right click on the program icon in the Taskbar:
Choose "Pin to taskbar" and when you quit ExpressVPN, it's tiny little 'v' icon will remain on the Taskbar. You can also click and drag to rearrange those shortcuts on your Taskbar too, so here's how I have it set up:
See it between Firefox and the Folder icon? Easy to launch any time!
Now it's time for you to grab a copy of ExpressVPN and get to work improving the privacy and security of your Windows connection to the Internet before something untowards happens!
Pro Tip: I've been writing about Windows security and many other Windows topics for many years. Please check out my extensive Windows help area for lots of tutorials!
Disclosure: I have affiliate links for ExpressVPN throughout this article. You pay the same price, but I get a modest commission which helps keep the lights on in our office. Thanks for your support.