I bought a cute little green Migo phone from Verizon for my daughter, figuring that it wouldn't be abused or sidetrack her too much during school since it doesn't have a camera, mp3 player, sms capability, etc. Frankly, it's just a four button dialpad. Nice, cute, she loves it, but I can't figure out how to program the $#@$#@ speed dial numbers on the Migo!
I understand your plight. While I think that LG did a great job with the design and featureset of the LG Migo, they also ended up with a device that's actually rather hard to program, unfortunately. Hopefully you will only need to do it once, however, so let's step through what's involved. First, though, here's a pic of the phone for people who aren't familiar with the Migo: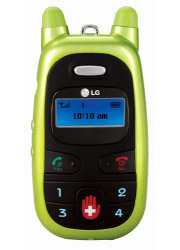 Easily the cutest cellphone I've seen on the market. Thank goodness my kids haven't seen one in a store, that's all I can say.
You'll probably want to start by downloading the
Migo User's Guide for Parents
(which is most definitely different from the
Migo User's Guide for Kids
), but even if you don't, grab the Migo and press the "Yes" button twice.
What's the Yes button? It's the green key:



Okay, so press that twice, then press
3
to get to the phone book. The lock code is then required. Either enter the lock code you've set or use the default code of
2 4 3 1
to unlock the phone book.
Now push the numeric button you want to program,
1
,
2
, etc. and enter the phone number to be associated with that button, using what LG calls "multitap". Once you've done that, press the "Yes" button and then use multitap again (rather tediously) to enter a name for this entry. When you're done, press "Yes" one more time and you're done!
The multitap input method of the LG Migo is a bit of a pain. Check out this illustration:


To get the letter "d", for example, you'll need to press the
1
key
seven times
, and to get the number
8
you'd press the
3
key twice. Make sense?
Anyway, I hope this is enough to help you get the phone programmed. If not, I'm sure that someone at a Verizon Wireless store would be happy to help you get your Migo setup.