The purpose of cases are to protect and so it should be no surprise to find out that plastic protective cases for laptops and phones get dinged up and scratched. The advancement in plastic materials, however, and ability to pour just about any color or finish seems to have let manufacturers leap too far ahead and produce products that are remarkable both in their attractive appearance and their fragility.
In this piece I'll talk about two that I've been using for the last month or two: A Speck Products See Thru Macbook Air case and an iFrogz 3G Luxe iPhone case
Let me start with a disclosure: I received both of these products as review units so I didn't have to pay for them or return them to the vendor. Does that bias me? A tiny bit, but as you'll read, it doesn't prevent me from complaining about them anyway. 99% of reviews you read online and in print are through a similar arrangement.
As I started out saying, the purpose of protective cases is to protect what's inside, whether it's a laptop, phone, camera, video game unit, or whatever else. When the protective cases get scratched up or dinged you can look on that as a win, a success, proof that your protective case is doing its job: after all, that's what got scratched, not the more valuable device within.
On the other hand, I believe that if you pay money for a premium product, even a protective case, you have ample reason to expect that it'll be sufficiently durable that it'll remain attractive as well as just functional.
That's where both of these products have let me down.
I've been a long time fan of Speck Products and have had one case or another for quite a long time. Until the recent acquisition of a purple See Thru case, however, they've always been clear and so while they were quite likely getting scratched and dinged, I couldn't see it.
When I received the See Thru Macbook Air case in purple, I thought "sweet, one of my favorite colors" and really liked how it looked when snapped onto my slim Air.
Then a few weeks later I got a scratch on it and, well, this photo speaks for itself: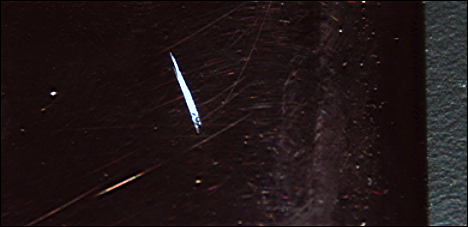 Rather to my surprise, the colored plastic protective cases are not a solid color plastic pour, but rather a stock (transparent?) plastic with a final layer of the color. The result is that, as you can see, the scratch I received didn't remain invisible because the case is a pure purple through, but rather revealed a white interior, making the scratch stand out on the See Thru case like a sore thumb.
Not good. Had I have purchased the case for its list price of $49.95 + tax and shipping, I'd have been darn upset. I notice on the site that Speck is offering up these very cases for the super-discounted price of $14.95, which makes me wonder if they realize there's a problem and are just dumping inventory. I don't know.
What I will say is that at $14.95 it's a no brainer, even if the scratches are too darn visible on the colored plastic versions. At $50? It's an unacceptable materials engineering mistake and I can't recommend the colored versions of the See Thru case. The transparent one? Heck yeah, that's what I'll stick with from now on.
iFrogz 3G Luxe iPhone Case
A few weeks ago I wrote a very favorable
review of the iFrogz 3G Luxe iPhone Case
, saying that "until something even cooler comes along, I'm really glad to have a couple of iFrogz 3G Luxe cases, and recommend it to any iPhone owners."
I looked at my case a few days ago, however, and was disheartened to see just how much wear and damage it's taken, again showing that the color is just a final layer on the plastic, not a solid color throughout: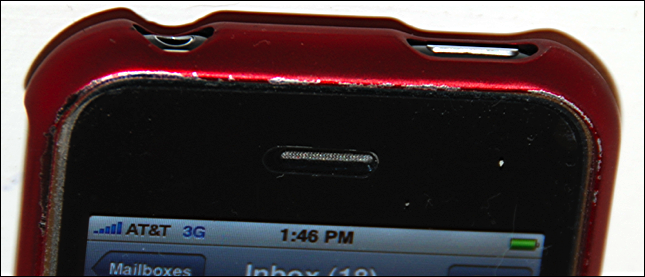 And on the back, a deeper scratch:
Now these cases are only $19.99, which isn't too bad, except we live in such a disposable culture that I just rankle at the idea that the case is good for a few months and then you'd just move on and get another one, chucking the scratched, dinged, crummy looking device into the garbage.
I'm going to take advantage of the fluid nature of online publishing and amend my earlier iFrogz review to highlight the lack of durability of the 3G Luxe cases and am no longer as gung-ho about them as a good long-term solution for protecting your iPhone. Sure they're still very attractive, but I do not expect products to age and pick up damage anywhere near this quickly.
Surely, iFrogz and Speck, you can do better with your material characteristics on these otherwise terrific products? Is it really that hard or expensive to have the entire plastic unit be a single, solid color?