Valve Software's latest free-to-play project is nearing its completion and PC release. Defense of the Ancients 2, currently in its public beta stage, is no longer under non-disclosure agreement and is set to take a few multiplayer online battle arena (MOBA) competitors out of the picture.
Before I delve into quality, you should know what a MOBA is. It plays like a real-time strategy game such as Starcraft or Age of Empires, except you only control one unit for nearly the entire time. This unit is your hero, your champion, whatever you want to call it. Heroes gain experience and gold by destroying enemies. Experience is used to level up and learn new abilities, where gold is used to buy items that have a wide array of effects. It's starting to sound like an MMORPG at this point, so here's the catch: At the beginning of every match, heroes start over at level 1 and with a very small amount of gold. You carry little or nothing over from previous games.
Then, of course, there is the multiplayer aspect. The object of Defense of the Realm 2 is to cooperate with four human teammates, each of you using a unique champion, to destroy the heart of the base owned by the opposing team of five players. Naturally, doing so isn't easy, and I could make this game seem incredibly daunting in a single sentence by mentioning all of the things you have to take into consideration in a single game.
I'm not jumping into the game's difficulty, though, because Valve is doing a fantastic job of making this game as newbie friendly as possible. In addition to a solid matchmaking system and a full library of champions detailing their abilities and roles in a team, spectating live games is both easy and exciting, allowing new players to learn before ever actually playing a game.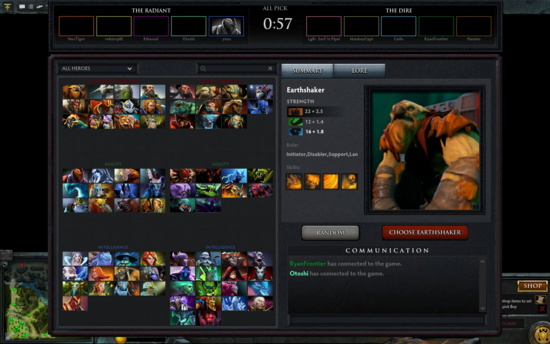 Defense of the Ancients currently has nearly 80 heroes, each with four unique abilities.
Intimidated? Don't be. The players you play against generally have as much (or as little) experience as you do.
The truth of DotA 2 is that it is a near-perfect clone of the original Defense of the Ancients, which is a
Warcraft III
user-created mod (the developer of which is working with Valve on DotA 2). In other words, little of the game is original content. Most of the game is the exact same thing the original was, with a few name changes and new voice acting for each hero.
DotA 2's origin aside, the game is rather pretty. Character models and animations have quite a bit of detail. I wouldn't compare it to Tera (that would be unfair), but it's got decent graphics and creates a good "tribal" atmosphere. Valve's implementation of the voice acting for each character means that heroes will often speak to more than just his/her/it's controlling player. For example, when the Paladin-esque Omniknight casts a protective spell on an ally, he may vocally remind them that they have extra defense while the spell is up. Heroes taunt each other ocassionally upon a successful kill or killing spree, a valuable little detail that contributes to the overall experience.
In order to assist newer players, the item shop provides you with a full list of recommended items
so that you don't have to navigate the convoluted and extensive item library in the midst of a match.
It's difficult to say anything bad about the gameplay itself, as DotA is a game that's been honed to near-perfect balance over the course of several years. The only true downside is that the game is just… complicated. New players have a good chance of succeeding against new players because both parties are inexperienced, but there's a lot of things that those players still have to learn in order to truly comprehend the game.
"So if the graphics are good, the audio is good, and the gameplay is fun, why wouldn't I play this game? It sounds incredible." Answer: other players. The MOBA community, regardless of the game you play within that genre, is not the friendliest. As expected as this may be, there are a lot of players that resent having to rely on teammates. It's tough to stay away from such a great game for that reason alone, so they play anyway. So do I.
In the end, DotA 2 is an incredibly rewarding experience that will welcome with open arms players that are willing to learn. If you're still a little intimidated by the complexity and burden of knowledge the game possesses, you might want to avoid it. DotA 2 is still in its invitation beta stage, but you can read more and register for an invitation at
dota2.com
. It's currently only available for PC.
When not feeding the Phantom Lancer, game reviewer Zach Comm writes PC and iOS gaming articles over at
Game Cheetah.com
.