Now that Pinterest is in bed with advertisers, I notice that the sponsored pins I see are tied to what I'm viewing and searching for on Pinterest. Creepy. How can I prevent that violation of my privacy? Or can I??
There was a glorious period of time in the early days of Pinterest when it was ad free and everyone just succeeded at gaining followers and visibility based on their ability to produce smart, useful and interesting content. No more. Now Pinterest has realized that there's quite a bit of money to be made with its millions of users and is trying to get sponsors large and small to jump on the proverbial bandwagon.
Problem is, the standard strategy for advertising now is to match ads with interests. It's good in the big picture because the more targeted an advertisement, the less obtrusive and annoying it'll be. Goodness knows that Tampax is wasting its money advertising feminine hygiene products to me! To do that, advertisers need to gain access to our account activity, whether it's the name of the boards we've created, the searches we've done, or the keywords associated with individual pins we've liked or shared.
Which, as you say, can be a bit creepy because most of us don't think about the Big Brother is Watching aspect of working or playing online. In the case of Pinterest, at least, you can disable this feature if you really want.
To do so, go to your Pinterest home screen — the one that shows you all the boards you've set up — and click on the gear icon adjacent to your mini-bio:

You'll want "Account settings".
Then a short ways down the list of settings you'll find the options you seek:
Want to turn this feature off? Click the sliders to change "Yes" to "No".
Done.
Now while you're here, look around a bit. Immediately above it is another option you'll want to know:
Helpful knowing how to clear recent searches on Pinterest, for sure.
Even more useful, a bit lower down, you can stop the never-ending stream of emails from Pinterest too: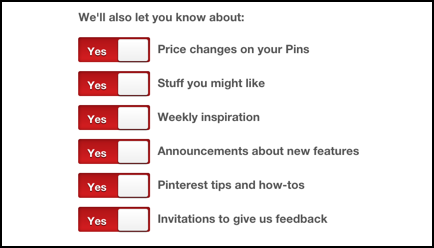 When I bumped into this area, I turned all of the above options off. I already get way too much email, thanks, I don't need Pinterest popping up every few minutes.
So that's it. Make all the changes, then remember to scroll to the bottom so you can "Save" your changes and you're good to go.