I'm wondering if there's any way to prevent Gmail on my iPhone from automatically loading images in email I receive? Appreciate the help.
Used to be that people would want to avoid loading images in their email because of bandwidth concerns but in these more modern digital marketing times, odds are it's more about tracking. You might not have realized, but a lot of marketing companies include invisible "tracking" images in the email they send you so that they can ascertain when you open and view the message: If images are automatically loaded, you reading that message causes the image to load and gives the company data in that regard.
Truthfully, this is benign for all but a tiny fraction of marketing companies, but from a privacy perspective, do you really want someone else knowing when you read their email messages? Probably not. And so people seek to prevent the automatic loading of graphics in email, particularly from unknown senders. Gmail's reaction? Finally, in Gmail for iPhone you can turn off automatic image loading, but it's been rather a wait for that to show up.
To enable the setting, start by going to the folder (errr, "label") menu and swiping down to the very bottom of the list: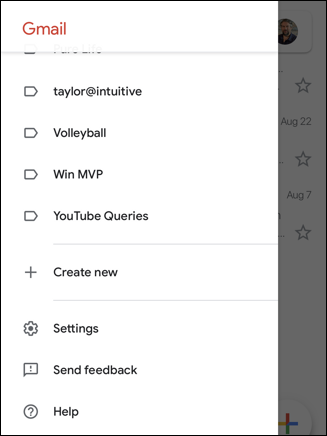 See the Settings option just above the last entry? That's what you want. Tap on it.
Now you'll see your basic settings, but don't be disappointed, there are LOTS more options one further tap away: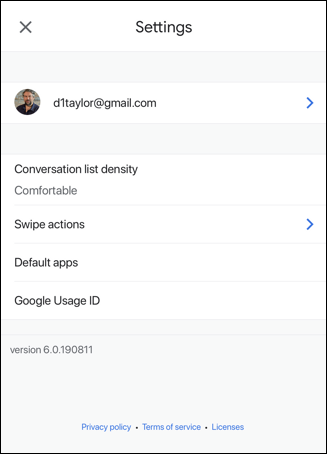 These are settings for the app itself. To adjust the settings and preferences for a specific Gmail account, you want to tap on the Gmail account name on the top list. Yes, this means you can have more than one email address configured!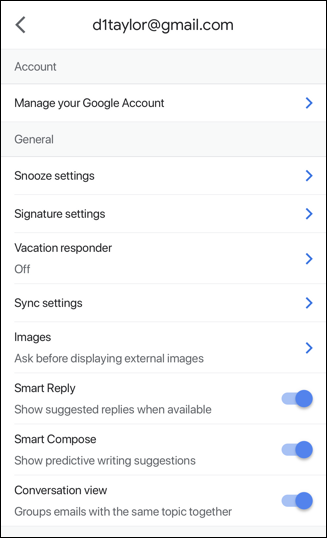 The setting you seek is about half-way down: "Images". You can see that I've set it to "Ask before displaying external images" already but yours will probably have the default. Either way, a tap on 'Images' and you'll see the two choices:
Here's what's really cool: if you choose "Ask before displaying external images" you can still whitelist individual senders so after a few weeks all your main correspondents will look just as they always have and it'll be the oddballs that have their images blocked. Set "Ask before displaying" and you'll see in a new email a tiny message like this: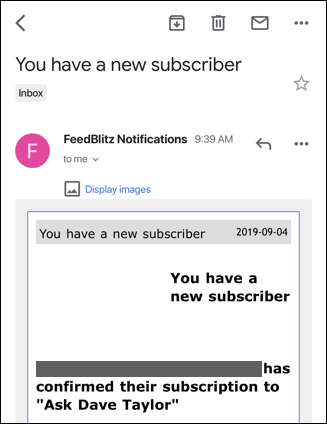 See the tiny blue "Display images"? A tap on that and the images in the email show up:
Now you can see what I'm talking about too: "Always display images from this sender".
And that's how you can wrest control of Gmail images from your iPhone. Handy and pretty easy once you know where to look.
Pro Tip: I've been writing about Gmail since you had to get an invitation to join the club. Please check out my extensive Gmail help area for lots of additional content to help you get the best out of this terrific email program.