There's this one guy at my local Starbucks who walks in and goes straight to pickup: his drink's already made. He never has to line up to place his order! What's the deal?
It's possible you've spotted Howard Shultz, the CEO of Starbucks, on his morning 'bux run, but much more likely is that it's someone just like you and me who uses the Starbucks app on their smartphone to order ahead. Yes, while most people use the Starbucks app on their iPhone or Android phone to pay without hassling with a credit card or cash, and perhaps some use it to find a nearby Starbucks when they're traveling, it turns out that there's a third big capability hidden in the app: The ability to pre-order food and drink and have it waiting for you to pick up when you get to the local store.
Better yet, it also gives you a lot of insight into exactly how your favorite drinks are made so you can tweak, tune and customize them to your liking. Then you can re-order that exact beverage by just saying "same again"! Almost as useful as having Jarvis waiting to help you out.
Let me show you how to customize and order a pumpkin spice latte from the iOS 10 iPhone Starbucks app!
To start, here's the app. And yes, I have a lotta points. 🙂
See along the top the four choices? Pay, Stores, Gift and Order. Choose "Order".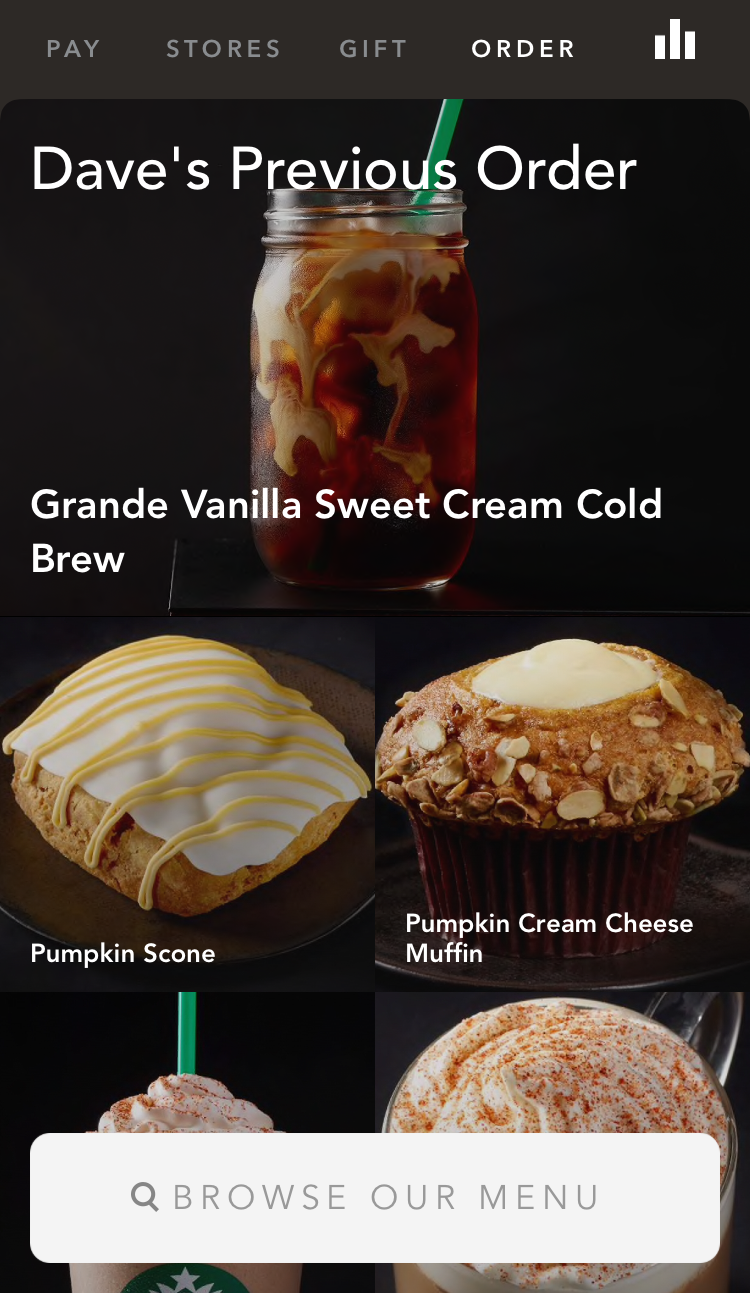 Funny, last time I ordered a grande vanilla sweet cream cold brew, I don't recall it being served in a mason jar, but I'll give 'em a bit of artistic license on this one! More interestingly, since that is a customized order (light ice, less simple syrup) notice that I can re-order it with a single tap.
Instead I'll tap on "Browse Our Menu" to find that pumpkin spice latte…
Notice that the app has automatically calculated and identified the closest Starbucks, and is showing what's available at that particular store. In particular, the Clover Brewed Coffee isn't available at every store, but the Starbucks at 30th & Arapahoe apparently has the fancy gear required for this beverage.
Focus. Let's find that pumpkin spice latte! Tap on "Espresso Drinks".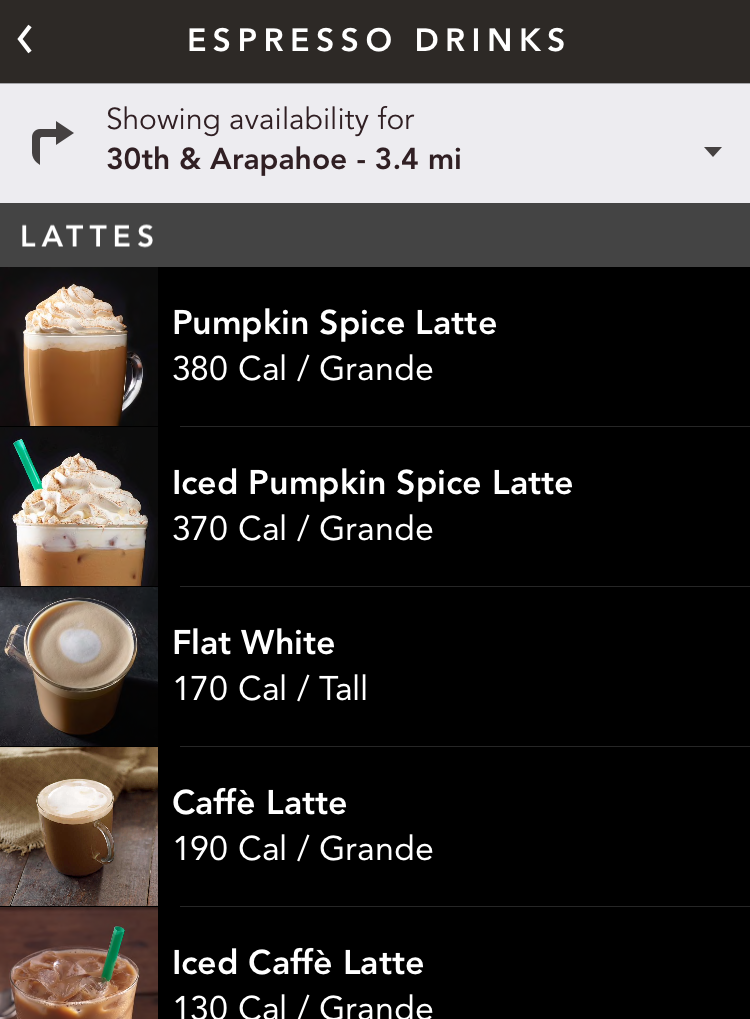 There it is! The Pumpkin Spice Latte. And it's apparently 380 calories in size grande. Exactly double the calories of a grande caffe latte, as it happens.
A tap on the desired beverage and it's added to your order, ready to go:
Look at the timing on the top part too: The 30th & Arapahoe Starbucks is 10 minutes away by car, and my order will be done in 4-8 minutes. So maybe even wait and order en route so it's super hot?
But let's fine tune that Grande Pumpkin Spice Latte order. Tap on it…
This is just part of the customization, but notice that the grande size includes 2 shots of espresso, 4 pumps of pumpkin sauce and "regular pumpkin spice topping". Let's back off a bit on the pumpkin flavor syrup. Tap on "Flavors" and it reveals the rather staggering number of options and changes available: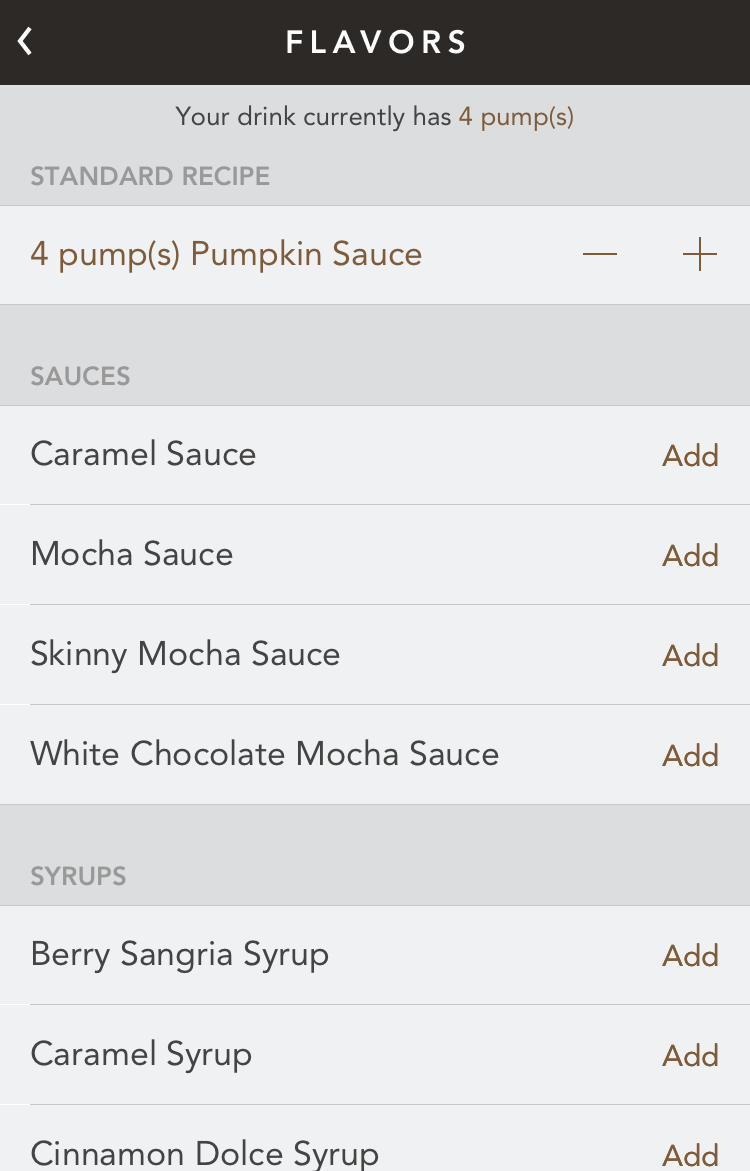 Sauces, syrups, there's a lot you can customize! Heck, you could add berry sangria syrup to your pumpkin beverage (though I don't think it'd taste very good!). To step back the number of pumps, simply tap on the "-". That's what I always do, having 1 or 2 less pumps of whatever flavor syrup. Your tastes are likely quite different: I know my younger daughter always asks for extra shots in her drinks!
Got it all beautifully customized? Great. Tap on the "<" on the top left to get back to your order. Now you'll have a chance to confirm that the store the phone app choose is indeed the best for your location and travel plans. In my case, it looks good:
A tap on the green check button and the order's ready to submit: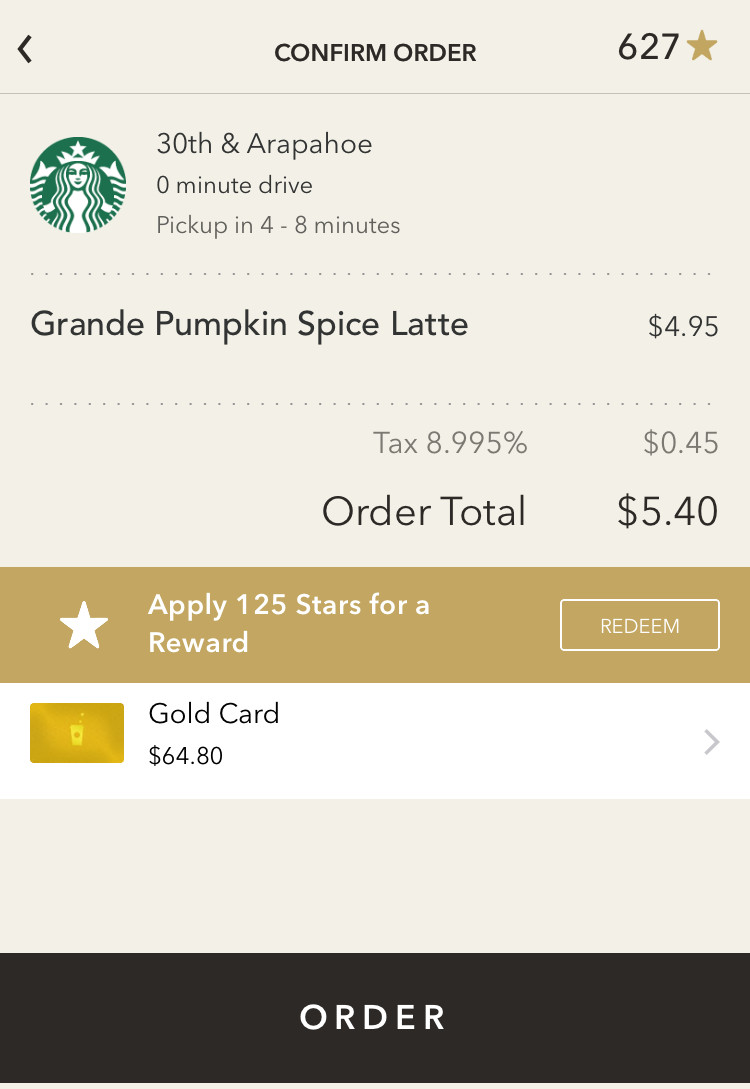 Looks good? Tap "Order" and jump in the car: that latte will be done before you get to the store!
And here's a handy tip: If you go into a Starbucks and it's crazy busy, just sit down and order off the app. You'll avoid wasting time in the line and your drink will show up just like you'd gone through the queue. I do that all the time!