I've switched to using a Chromebook running Chrome OS and am surprised that it's stuck in a sort of quasi-dark mode. The Toolbar is black. The background on the search pane is black. Is there a way to switch a Chromebook to light mode like on a Mac or PC?
Ah, the good old days, when computer user interfaces were modified with "skins" and "themes". No more. Now it's all about light mode and dark mode. The good news is that by switching at the appropriate time of the day, these two modes can reduce eye fatigue, particularly if you use light mode during the day and dark mode (with a blue light filter) during the darker evening hours.
Which isn't very helpful if you can't actually change these colors, right? Well, as of the latest release of ChromeOS, there's now an experimental flag (user preference setting) that lets you switch between dark mode (the default) and light mode (the new option). Be aware that it's not as pervasive as on a PC or Mac, but at least the ChromeOS team is exploring the feature, so it's definitely better than nothing. Best is probably to also switch your background in whatever apps you're using in Chrome and to switch your wallpaper too.
HOW TO ACCESS CHROME EXPERIMENTAL SETTINGS
Let's start with a full screenshot of my ASUS Chromebook. Notice the Shelf (taskbar) color in particular: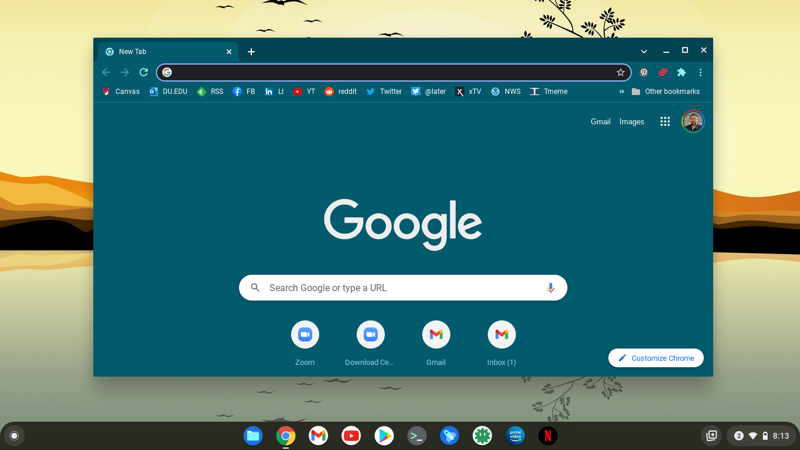 A very cool desktop wallpaper and the Chrome background color is a theme, but the Shelf along the bottom? It's definitely dark mode.
To change settings in Chrome OS, you have to utilize Chrome directly. Do that by going to this URL: chrome://flags
Here's what you'll see:
You're in the experimental features area of Chrome / Chrome OS.
HOW TO ENABLE DARK-LIGHT-MODE IN CHROME OS
At this point, simply use the search box to seek "dark-light-mode" (include the hyphens for best results):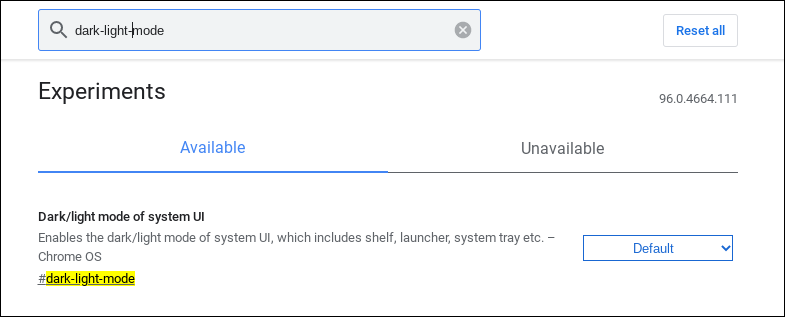 You can see that it's also showing that there's a shortcut of chrome://flags/#dark-light-mode if you want to jump there directly, but then you can't peruse the other experimental flags, right? 🙂
Confusingly, it shows "Default" as the setting, but there's really no way to know what the default actually is. Instead, click and you can Enable or Disable this feature:
To turn it on, simply choose "Enabled". Now it'll remind you that you need to restart:
Restart.
CHROMEOS CHROMEBOOK IN LIGHT MODE, NOT DARK MODE
Finally, the Shelf changes color!
You can really see the difference when you open up the Shelf for a search:
Decided that you actually prefer dark mode for your Chrome OS system? No worries, you can go back to the
flags" section, change this setting to Default, and restart again.
Pro Tip: I've been writing about operating systems for many years. You can find a lot more useful tutorials about Chrome OS in my Chrome OS and Chromebook help library here on the site. Why not check it out while you're visiting?