I'm a big fan of Goodreads.com and use it to track books I have read and those that I want to read. Problem is, with so many different editions of titles, I end up with duplicates in my lists. Annoying. Is there a way to find and remove duplicate entries on Goodreads?
You're definitely not alone in your enthusiasm for the Amazon-owned Goodreads.com site. It's a book lover's dream, whether your fancy goes to romance, sci-fi, horror, or non-fiction business titles. There are millions of readers and probably plenty of your friends and family on the site, each noting which books they want to read, they bailed on and they finished, then reviewing those books. I find it an excellent resource for identifying my next book too, particularly as I learn which friends have similar tastes.
With publishers constantly releasing new editions – sometimes updated, sometimes with just a new cover – it can be understandably tricky to try and keep everything neat and organized. If you like older titles, the situation can get even worse, and books that have slipped into the public domain might have a dozen or more editions that are the same words, but in different sizes, different cover art, even in different formats. You'll see what I mean in a moment!
Fortunately, one of the most useful tools included with Goodreads is a duplication removal tool that can even identify if you accidentally have one edition in your to-read list while another is already one you've finished and reviewed!
HOW TO REMOVE DUPLICATES ON GOODREADS
To start out, just jump onto the site in a Web browser. Along the top is the usual toolbar:

You'll want to click on "My Books" here, at which point you'll see a big list of what you're currently reading, what's in your queue, and what you've finished and reviewed. There are a bunch of options down the left side too, notably including these: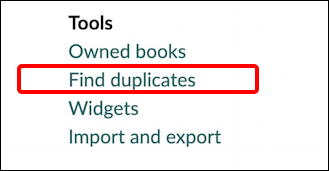 As highlighted, choose "Find duplicates" and you'll quickly get a list of which titles are in your database – with any status – that seem to point to the same actual title. Here's what I get out of the almost 350 titles I've read / want to read / bailed on: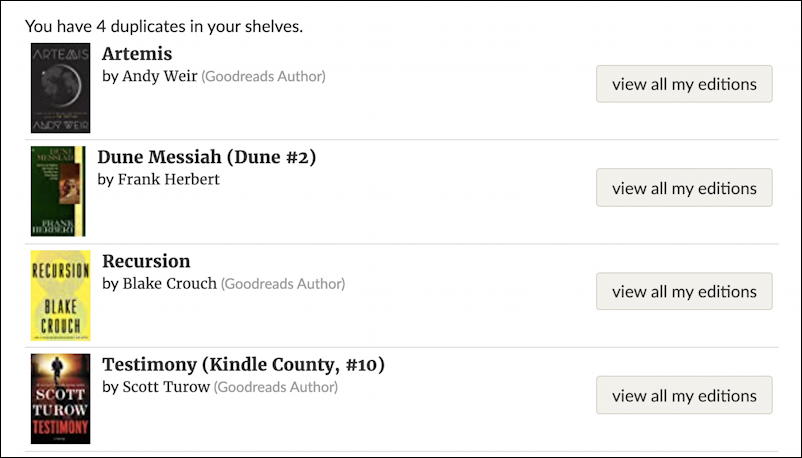 Note that this isn't perfect because it's up to the user community to find all the editions and aggregate them as versions of the same title. In particular, older books like Dune Messiah (first published in 1969) might have a ton of editions from different publishers and in different formats. And don't forget digital editions, audio books, etc.
Click on "view all my editions" adjacent to one of your dupes and you'll see what's going on. For example, "Testimony" by Scott Turow:

It's no wonder this confused me: Different covers, different titles, and both in my Want to Read list. Though I haven't reviewed the book (since I still haven't read it) the dupe can be removed by clicking on the confusingly named "delete review". No confirmation, it just vanishes.
But what about this dupe for "Artemis" by Andy Weir, where I've reviewed one edition, but not the other:
In this instance, I don't want to lose my review, so I'll be careful to click on "delete review" for the one without the star ratings.
Same again with "Dune Messiah" by Frank Herbert:
Again, different cover artwork, different titles and this time different formats too: One's a "paperback" while the other is a "mass market paperback". Confusing as heck!
HOW TO CHECK FOR YOUR BOOK REVIEW ON GOODREADS
This time it's the first match I want to delete to avoid actually removing my review of this lackluster title. Did I do it right? A click on the book title (from the "my books" area since once the dupe's removed the page whisks you back to that view) and my review of Dune Messiah is indeed still on Goodreads:
Phew. Dupes removed. Now I can get back to reading my current book and sharing my reviews with friends and colleagues.
Pro Tip: I've written dozens of books of my own too. You can find me on Goodreads and even find my books, for that matter. Check 'em out!