I just got a Vizio TV a few months ago and I really like it, but I would like to be able to listen to shows through headphones, not keep my housemates awake late at night. Is that possible on a Vizio TV, does it have Bluetooth capabilities?
There's definitely no one answer to the question of "does my Vizio TV support Bluetooth headphones", but quite a few of the different model lines do have that support. Even better, there was a firmware update a few months ago that changed how the settings and configuration area worked and made that Bluetooth feature much more front and center. I know on my big Vizio M-Series TV one day changing inputs went from being shown as a horizontal strip in the middle of the screen to a vertical list on the left side of the screen. More apropos this discussion, suddenly "Bluetooth Headphones" showed up as an option on the main menu too. Was there Bluetooth support prior, but it was buried? Maybe. Maybe not.
In any case, your first step in this process is to hook up your Vizio to your wireless Wi-Fi network and go through the settings menu to check for a firmware or system update. It's a good idea to do that once every so often anyway in case the TV has otherwise been having problems connecting and updating. This isn't typically as critical as updates for your PC or smartphone, but still, why wouldn't you want to be running the latest and greatest?
HOW TO PAIR BLUETOOTH HEADPHONES WITH A VIZIO TV
Use the 'gear' button on your remote control to get to the settings area. On some remotes, it might say "MENU". Either way, on my system, here's what I see: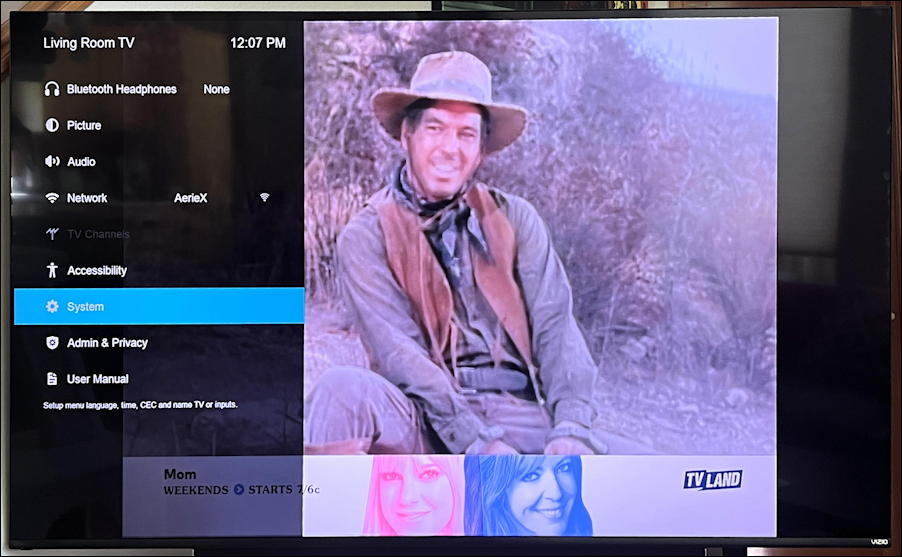 The image in the background is the old Gunsmoke TV series, on TV Land. We can ignore the cowboy shenanigans, fortunately, because this is all about the menu that's appeared on the left side.
The "System" option, highlighted, is where you'll find the option to check for firmware updates, but hopefully you've already got that figured out. Instead, choose "Bluetooth Headphones", the top option on the menu.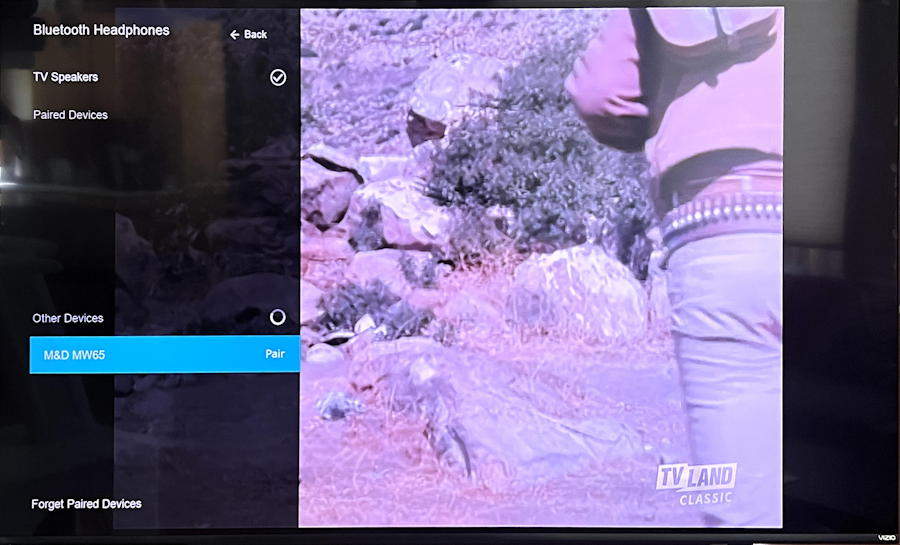 Notice that the left side is divided into two sections: Known audio devices, and "Other Devices". In this instance, the TV Speakers are known (and can therefore be enabled/disabled, which is helpful once the headphones are paired) and under Other Devices are my test headphones, the Master & Dynamic MW65. Wayyyy better sound than the built-in speaker, for sure.
Not seeing your headphones or earbuds? Make sure you've put them into "pairing" mode and try backing up to the main menu and choosing "Bluetooth Headphones" again. Still don't see them? Check with the manufacturer to ensure that you don't have to 'forget' them on any other device before you pair them to a new device like your television.
To pair with the M&D MW65 headphones, simply choose them when they show up.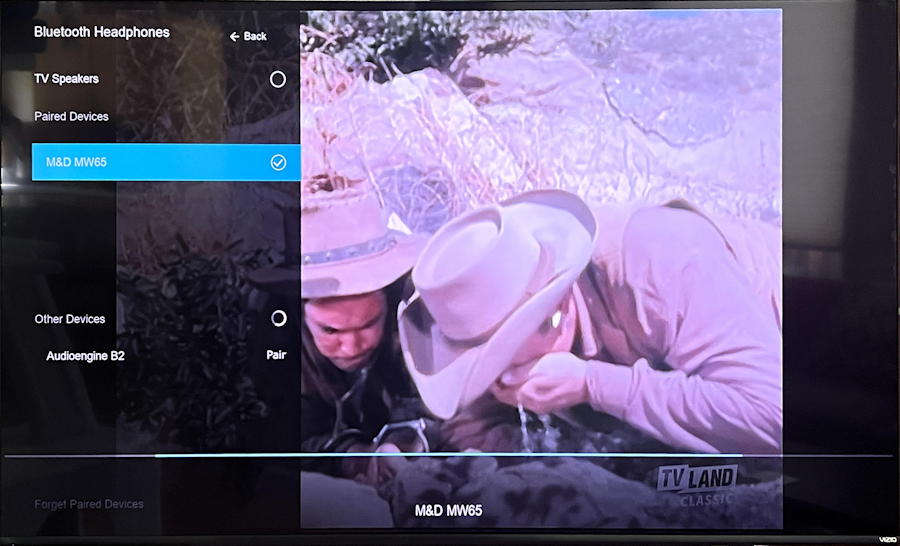 Once the TV and the headphones or earbuds connect and pair properly, they'll move up to "Paired Devices" on the top portion. Don't be surprised if your TV speakers go silent: As you can see above, the default once paired audio devices are detected is to switch to using them as the audio output.
That's it. Done. You're now able to enjoy your Vizio TV through your headphones!
You can also switch back to your speakers by simply choosing "TV Speakers" with the remote control. Here's how that will look: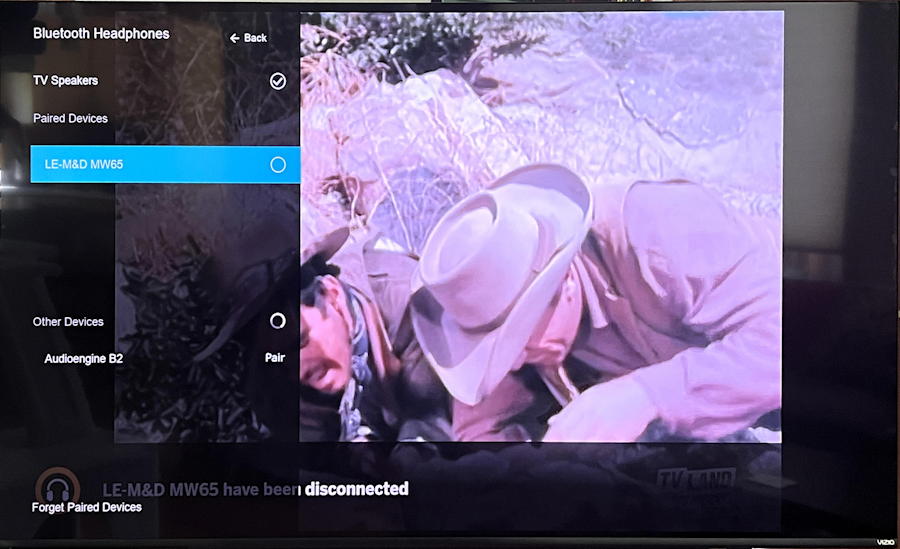 Notice the "disconnected" message along the bottom. That's normal, and it's worth observing that the TV still knows the Bluetooth device, it's just not using it at the moment.
HOW TO UNPAIR BLUETOOTH FROM VIZIO
But what if you do want the TV to forget about your headphones? You can do that by choosing "Forget Paired Device" from the very bottom left of the Bluetooth Headphones menu. It will offer a list of "forgettable" devices: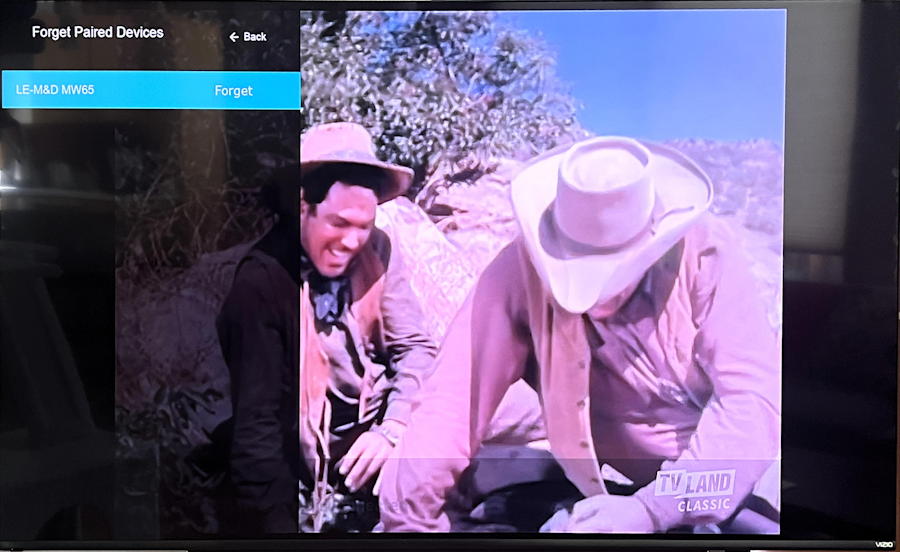 Choose the device you want to forget…
Tip: The Vizio TV has prefaced the M&D MW65 headphones with "LE-" to denote that it's a low-energy Bluetooth device. Nothing to worry about, and it doesn't mean anything has gone wrong.
… and the Vizio will confirm that's what you want to do: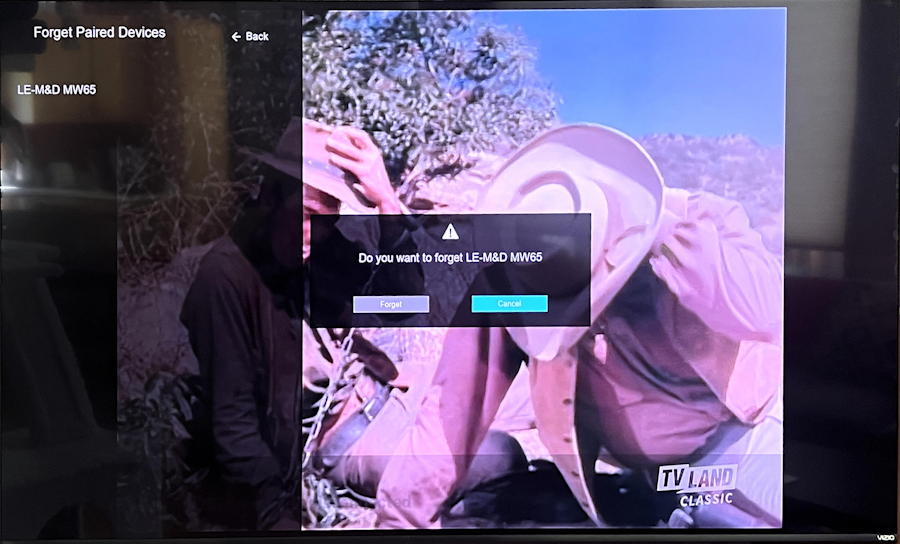 If you want to proceed, choose "Forget" and it's done. Modern Bluetooth devices can be "known" by a number of devices without hassle, however, so in most cases you just need to choose the speaker instead of the headphones, without forgetting the headphones from the TV entirely.
That's it. Now you know how to pair any audio device with your Vizio TV running the latest firmware – if the device supports Bluetooth – whether you want to use earbuds, headphones, or even an external speaker or two. Have fun!
Pro Tip: I've been writing about consumer electronics, including Vizio, for many years. Please check out my Computer and Internet Basics Help Library for hundreds of additional tutorials on a wide variety of related topics while you're here!