I listen to a lot of music on my iPhone, but always want more bass than it's offering. Is there some tone adjustments or EQ setting in iOS so I can tweak and improve my sound?
In the olden days, I would have found your question a real head scratcher, complaining that we're talking about a phone, not a hi-fi system. But today, our phones are our music players and stereo sources, even if they have somewhat smaller speakers. What's surprising, though, is that there's not a central, universal music or playback equalization (EQ) setting in iOS. This means that you're kind of stuck having to find the EQ setting in the music app you prefer and then possibly adjusting them all to match as desired.
Having said that, the Music app in iOS 15 does have an equalizer setting, but as with most apps on your iPhone, its settings aren't in the app itself, they're in the Settings app. By contrast, the EQ in Spotify is found in … kinda radical … the Spotify app itself! Honestly, it seems like it'd make more sense for every app's setting to be found within the app itself, but that's not how iOS – or Android – are designed at this point. And so, a demo.
ADJUST THE EQ IN APPLE MUSIC ON AN IPHONE
If you never listen to music, it's not a big deal, but music fans, whether their favorite genre is vocal, opera, classical, funk, or industrial, you probably have preferences for your bass, treble, midrange, etc. That's what the EQ lets you adjust, and for the iPhone's Music program, that setting can be found by going into Settings > Music: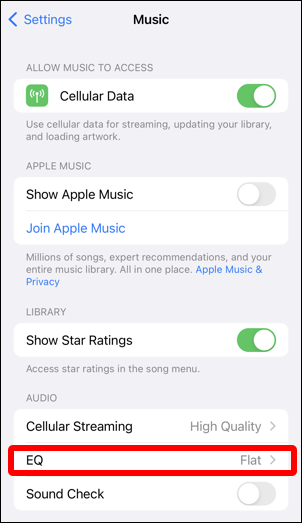 I've highlighted the choice you want – EQ – including my default setting of "Flat". A tap and you'll get a lot of preset options: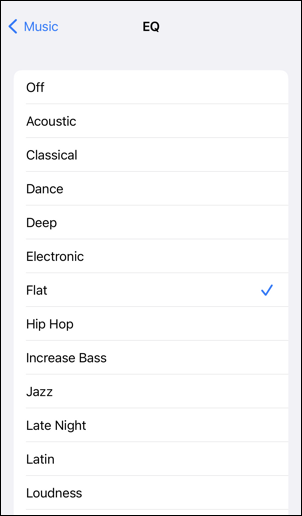 Apple doesn't believe in showing you what these presets mean, but play your favorite song in Music then tap on the various presets to hear how they affect the playback.
But what if you're not listening to Music but are using another app to stream your music?
HOW TO ADJUST EQ IN SPOTIFY FOR IPHONE
For every other music playback app, Pandora, Spotify, Tidal, even Qobuz – you'll want to dig around in the settings option within the app to identify if there's an EQ option and change it for your music preferences. Let's take Spotify as an example…
If I go to my Spotify home screen in the Spotify for iPhone app, here's what I see: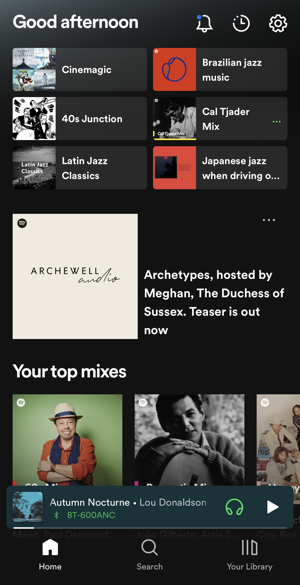 Music ready to play, recent playlists at the top, even a promo for the new podcast from the Duchess of Sussex! Whatever. What I want is that equalizer, and that can be found by tapping on the gear icon on the top right, which opens up my Spotify menu: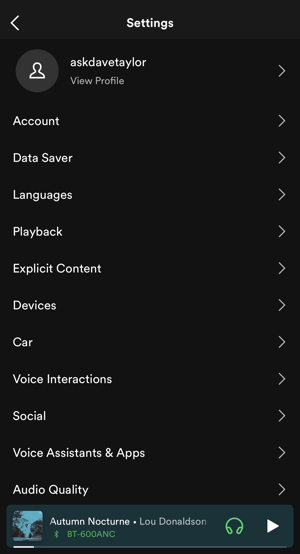 It's not immediately obvious, but you want to tap on "Playback" to get to the group of preferences that includes the EQ. When I tap on it, here's what I see: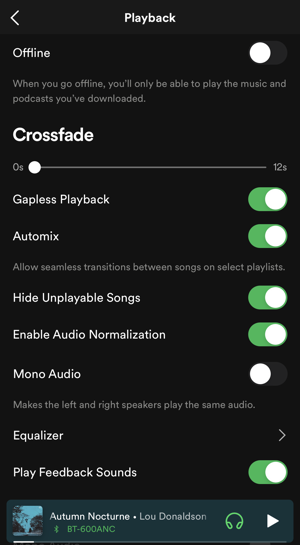 You can see the desired option near the bottom – "Equalizer" – which is what I'll choose.
Note: the above image is slightly edited to illustrate the options. Your app will have a few more choices, so you'll need to swipe down just a bit to find "Equalizer" on screen.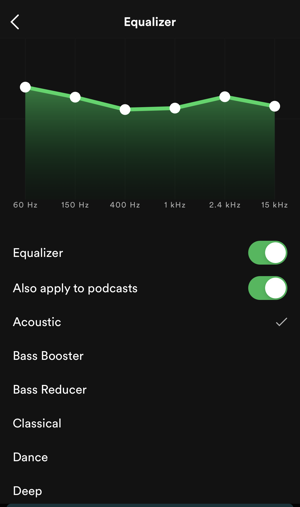 No way around it, that's one really cool way to visualize what various EQ settings do to the overall music playback. In this instance, play something you enjoy on Spotify, then on this screen tap and try different equalizer settings to hear the difference. Done.
Pro Tip: I've been writing about the iPhone and iOS since the very first iPhone was released. I have quite a few iPhone help articles here on a wide variety of topics, so please check 'em all out while you're visiting. Thanks!