I run a Plex media server in my house and can't figure out how to have both a standard and extended cut version of a movie available. Can you advise?
I've been running a Plex media server on a Mac Mini for a long time and I'm a huge fan. From TV series to my library of movies, ripping and archiving a digital copy of a movie is way more convenient than actually fussing with – and storing! – dozens or hundreds of DVD and Blu-Ray disks, no question. The Plex system does have its quirks, however, and sometimes I do end up with the wrong movie poster associated with a film (tip: If two films have the same name and release year, Plex gets baffled).
A decade or two ago, your question would have probably revolved around "if I have a colorized version and the original…" but now, of course, film auteurs create long, sometimes plodding versions of their movies that sprawl across 3 or more hours and are then chopped down for a "cinematic release" that's closer to the ideal of 2 hours. (ideal for theater owners and TV stations, that is, not necessarily the audience or the production team). The most famous of these multiple edit releases is probably the great film Blade Runner, where there are five different "cuts" available. If you're a completist, how on Earth do you get Plex to differentiate?
Turns out that you can. I learned that with the remarkable extended collectors edition (ECE) cut of James Cameron's blockbuster Avatar. The ECE cut adds almost 17-minutes of additional footage and from the very beginning it feels like a new film, with more depth and context than the original (already long) version. But how to have both on my Plex? To start out, Plex automatically just assumed both versions were the same movie: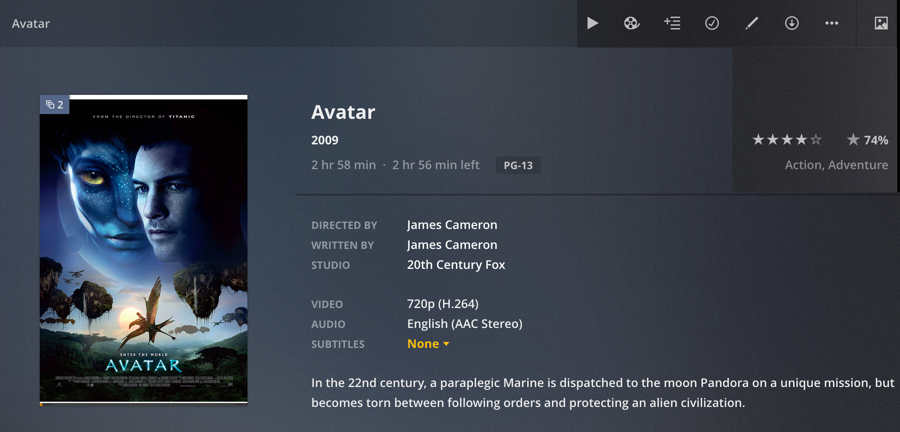 Can you see the tiny '2' on the top left of the movie poster? That's the only clue that it's seeing two files here.
Note: You'll want to use a Web browser to connect to your server and fix this. That's what I've done here.
Click on the "•••" on the top right and choose "Media Info" from the menu of choices. You'll get more information about the two files that are being aggregated as this single entry: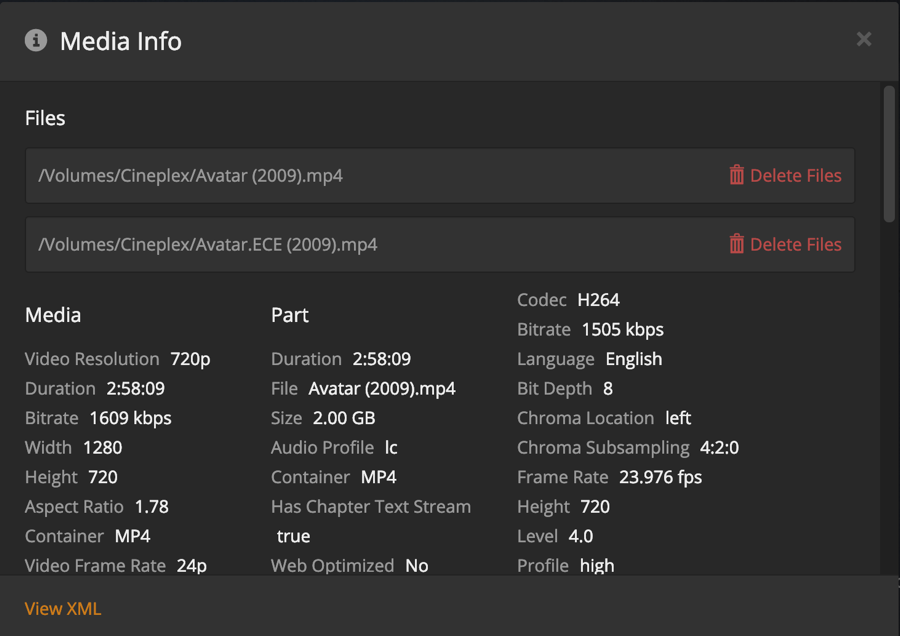 Tons of really interesting container and media info, but notice the two files: Avatar (2009).mp4 and Avatar.ECE (2009).mp4.
To have Plex see them as two different files, go back to the "•••" menu and choose "Split Apart":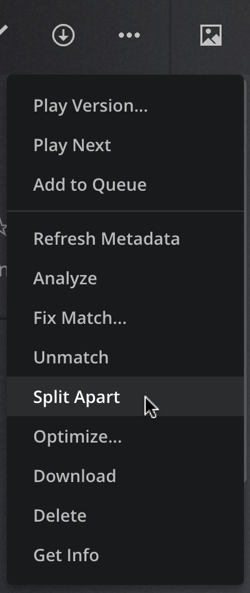 This then produces two versions of the same film entry, with two identical display poster images, as you can see in this search result:
How to differentiate them? Not too difficult, actually. Choose each individual file and check "Media Info" until you see it's the extended, directors, collectible or fan edit or cut file. Then go into "Edit" and change the Title!
For bonus points use Google Image Search to find the associated poster with the special cut – if there is one – or otherwise find a different poster from the list shown to differentiate them in the results and browser views:
And, finally, here's what I have when I browse all my movies by name:
That's the basics of how you teach your Plex Media Server how to work with different editions, releases, cuts or edits of your favorite movie. Now about that colorization…