Most of the time the applications shown on the Start Menu are exactly what I need to run, but I'd like to have a few "pinned" or locked. Is that possible, and if so how do I pin a program onto the Windows 7 Start Menu?
Ah yes, Windows 7. Start Menus. Windows like it was designed to be used. Not the weird tablet-inspired interface that pervades the user interface of Windows 8 and Win8.1. The one feature that people used the most to ensure that their Windows experience was fast and efficient, even as shortcut icons invaded the Desktop and programs installed themselves all the heck over your hard drive.
I like your question because it gave me an excuse to crack open my Dell laptop that's our Windows 7 test system and, as you can tell from the previous paragraph, reminded me of how easy the user experience is compared to the never-ending puzzle of the overly-redesigned Windows 8 "Metro" user interface. But you didn't ask "do you prefer Win7 or Win8?" so I should just keep moving on to your question, right? 🙂
The answer is that the Start Menu in Microsoft Windows 7 is quite customizable and it's easy too. The trick is to realize that you can right-click on items on the menu (which I find unintuitive).
Here's my Win7 Start Menu: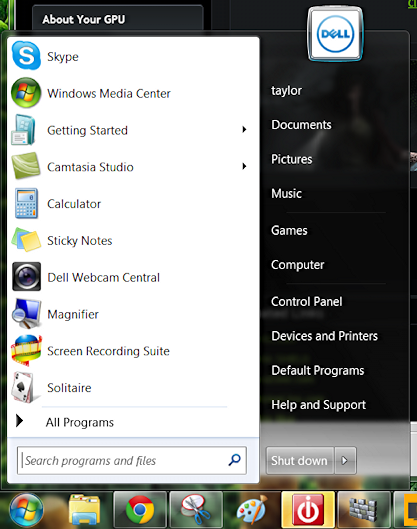 Those of you running Windows 8.1 are sighing with nostalgia, admit it!
To demonstrate how to customize the Start Menu, let's pin that lynchpin of the entire Windows experience, Solitaire.
That's accomplished by right-clicking on the program name directly on the menu itself:
Hey! Options!
Sweet. Choose "Pin to Start Menu" and it appears at the very top of the Start Menu forevermore: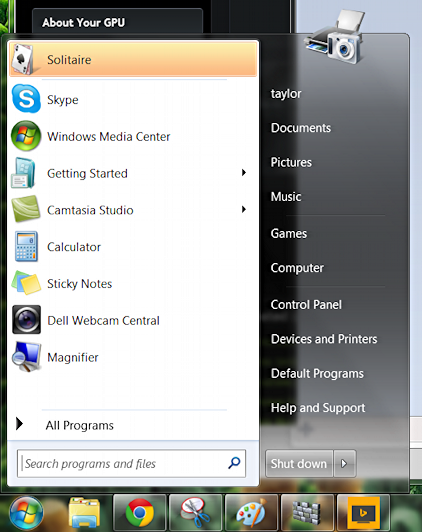 If you're curious, look closely at the Taskbar.
Now I'll choose "Pin to Taskbar" and a new icon appears:

I have a number of programs running: as they go away the pinned icon for Solitaire will slide left. Want to remove the program from the Taskbar or the Start Menu? In both cases right-click on the program's icon and choose "unpin".
That's it. Easy. So why aren't these handy elements available as options in Windows 8? Sheesh.