I've had many dogs in my life and they've all loved running and playing with toys. My cats? Not so much. When they're little, of course, kittens are crazy bundles of energy, but as they grow older, toys hold less draw. Which is why my cats were perfect to test out the Wicked Ball from Cheerble. Here's how it went…
Imagine a tough toy ball about the size of a tennis ball, but with a mind of its own. It can flash, shake and roll in a variety of different patterns and being completely autonomous, can do this for 8 hours without a charge. That's what Cheerble has created with its fun and fascinating Wicked Ball device. It's like a Sphero if you didn't have to actually interact with it!
Now there are genuine benefits for your pets with one of these toys because most animals spend hours every day alone. The Secret Life of Pets revolves around the reality of pet ownership, where they're left to their own devices every day. This can create anxiety, loneliness and boredom, which can spawn all sorts of bad behaviors, including chewing, destroying things and worse. No pet owner wants their pet to be unhappy, though, but what can you do when you're not home? That's where the Cheerble "Wicked Bone" product came in, and now the follow-on device, the Wicked Ball.
To set the scene, this summer I've been cat sitting too, so I have two cats of my own (well, they're my kids cats) and we've added a third one, Cosmo, who is about a year old and lives with my oldest in her apartment at university when she's not living at home for the summer! Yes, a lot of cats. Indeed, I refer to them as a "murder of meows" but they do get along pretty well. They entertain each other and keep each other company, but still, boredom.
So I tossed a Wicked Ball into the mix: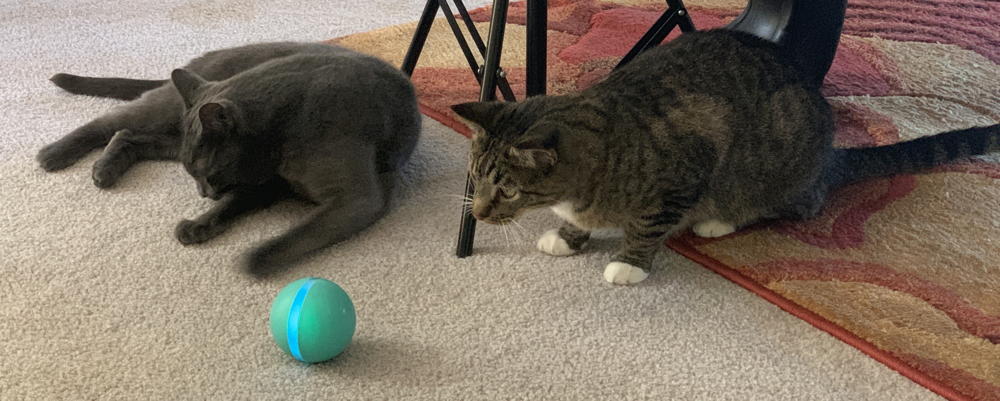 You can see one of them is staring intently at the ball, waiting for something to happen again. Mere moments later Cosmo shows up, attracted by the vibrations and flashing lights, just to drop onto the ball for a casual attack hug:
As you can see in the video, the Wicked Ball is a lively and interesting device that could probably entertain a young child just as easily. What you can't see is how it all works, and that's where things get interesting.
The Wicked Ball is powered by an ARM Cortext M0 processor with a 6-axis mems motion tracker and touch sensors. Yes, if left alone it'll try to attract attention by rolling around, but once the animal's engaged, it exhibits different behaviors. The motor is really the interesting feature – and it's pretty cool to see the ball go from sitting still to rolling quickly across the floor in just a second or two – and that's a small DC motor, all located inside the ball.
The two ends unscrew and that's how you gain access to the motor and the "brains" of the unit: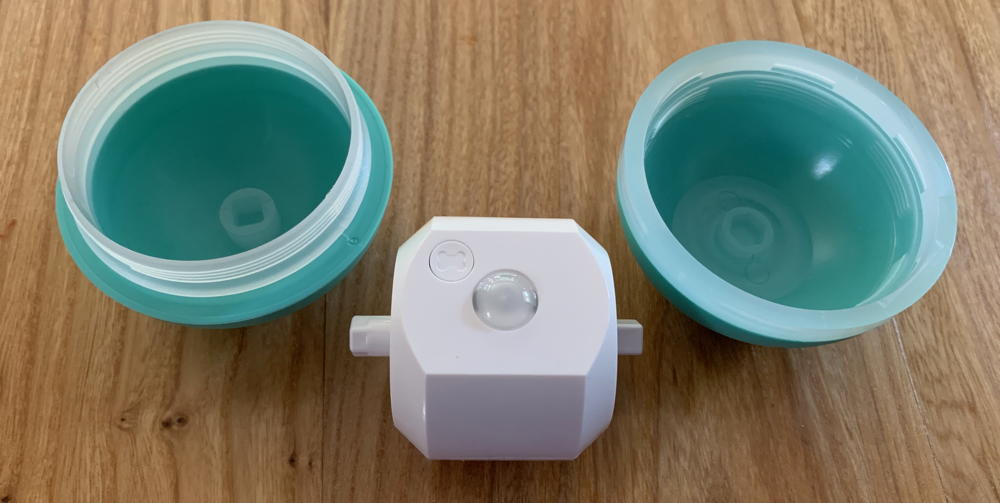 The motor has two spindles and if you look closely you can see they have different shapes: One has 5 sides, the other four. Those match the ends of the ball, and allow it to create the torque needed to get the ball in motion. The motor also has a single light (that effectively and completely illuminates the central ring of the ball) and an on/off switch. Yes, to turn it on or off you need to unscrew the Wicked Ball.
To charge the unit, there's a MicroUSB socket on one of the other sides: charge it overnight and it'll be good for the entire next day.
On one of the ends there's also a small space for a treat or some catnip: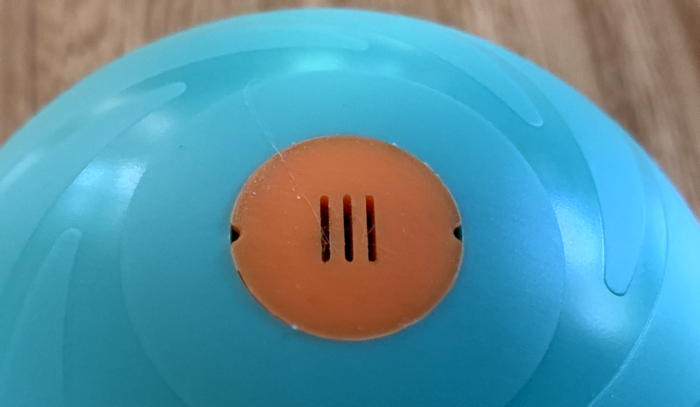 It is not easy to open this little space up, however!
I should also mention that this blue Wicked Ball is one of the dog line; the cat ball has a tough fabric exterior which I think would have been more interesting to my cats. That wasn't the one they sent me, however.
The bigger question is really whether it actually keeps an animal's attention for hours on end, and we had a mixed experience with that. Some of my cats would watch, and once or twice attack it, but generally it could roll on past them without them batting an eye. Then again, cats. That's very much how they behave anyway, so perhaps the most realistic expectation is that it'll sporadically be interesting until something else – like an imaginary bug – comes along.
The Wicked Ball is undeniably cool and interesting, however, and we'll continue to use it. Since it's dog friendly too I'll be testing it out with some pups I know and since it's chew and bite durable too, I won't even have to worry about damage from my friend's pitbull! At least, I hope not.
I suggest you check it out, and do so quickly while it's still on Indiegogo for the discounted price of $34. Once it goes into retail channels, the Wicked Ball will be priced at $49.
Disclosure: Cheerble sent us a Wicked Ball for the purposes of this review. My cats yawn indifferently and say "uh, yeah, thanks" and go back to sleep!