I read your earliest article on copying PDF files and reading them on an iPad and promptly downloaded some PDFs and copied them onto my iPad, just to find that they were blank when I tried to read them. What the heck?? How do I fix the PDF files so they aren't blank?
When I wrote that earlier article on reading PDFs on your iPad, what I didn't mention was that I too had that same problem with my PDF file showing up as a blank 12-page document within iBooks. In fact, I tweeted about it: "Bah! PDF looks good on my Mac, has content-based cover image in ITunes, but when I check it in iBooks on the iPad it's blank! Suggestions?"
Fortunately, my friend (and podcast co-host) Michael Sitarzewski suggested a simple fix that worked. That's what I'll explain herein…
The trick: re-render the PDF using an Apple program.
To solve my problem with the Castle Ravenloft instructions document that I wanted to review on my own iPad, I used Preview. I opened up my PDF in Preview on my MacBook Pro, then choose Print… from the File menu to fix the problem:

Here's the trick — and this is a great one to know if you ever want to turn documents, Web pages, spreadsheets, photos, whatever, into PDF files: don't click "Print". Instead, click on the "PDF" button on the lower left corner: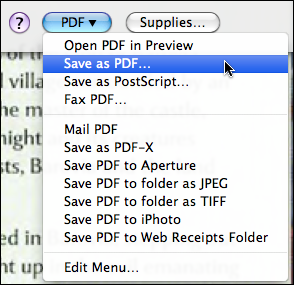 As you can see, I choose "Save as PDF…" and I'll give it the name "Castle Ravenloft 2". Before I drag it into iTunes, however, I want to delete the earlier version of the PDF file, the one that's blank.
This can be done by going into iTunes and finding the file…
Then pressing Cmd-DELETE once you've selected it:
In this case, we're working with copies of the original (any PDF dragged into ITunes is automatically copied so that the original is intact, of course), so it's safe to actually choose "Move to Trash".
Now drag the new version of the PDF onto iTunes…
Plug in your iPad, go to "Books", and make sure the new version of the PDF file is selected:
Sync it up, and when it's done, take your iPad and launch iBooks. If you're in the PDF area (by default you're in "Books": Look on the top left), you'll see it show up:
Tap on it, reorient your iPad so that it's more page-like, and voila!
A relatively simple fix to the blank PDF on your iPad problem, and it highlights something that, for me at least, was rather surprising: not all PDF files are formatted the same. Seems to defeat the entire concept of "portable" document format, but at least the solution is simple and straightforward.