I don't know what's happened to my Windows PC but my mouse barely moves the cursor now and I find I have to move it again and again to get the cursor from one side of my screen to the other. Very frustrating! How can I fix this problem?
There's a lot of trial and error that went into the calculation of how much the cursor should move on the screen based on a physical gesture you make with your mouse unit. Should a mouse swipe of 3-inches on your desk move the cursor a corresponding 3-inches on your display screen? Definitely not. You don't want to have to move the mouse 12-inches to move the cursor from one side of your 15-inch display to the other! Then should that same small swipe have it fly from side to side? Probably not that either, since then small motions to zero in on a target spot like a small button will be frustratingly difficult as the cursor zips around. And so all computer operating systems that support a pointing device also have user settings that let you dial in exactly what feels "right" to you.
But before we go there, if you have an old-school mouse with a tiny ball being used to detect motion, be aware that they can pick up and get clogged with dust and hair over a long period of time. That can then cover the internal sensors and cause the mouse to behave erratically or not have motion detected at all. Easy way to tell is to flip your mouse over and inspect it visually; do you see any dust or hairs around the edges of the ball? If so, check the manufacturer's Web site support area; it's usually easy to pop out the ball and clean the unit with a q-tip or lint-free cloth and get it back to full functionality!
If you're using a gamer mouse like the Roccat Burst Pro [see my review on YouTube] be aware it has a "dpi" button that lets you adjust sensitivity with just a click. If yours has a DPI setting on the top (or underneath) try changing it to see if that fixes things up. It might be that you accidentally changed its setting and are just a single click away from getting that mouse back to normal.
ADJUSTING MOUSE SENSITIVITY SETTINGS IN WINDOWS 10
Having checked that it's not a physical problem, let's jump into the Windows 10 settings and configuration to get your mouse back to its normal and expected behavior. Fastest way to do that is to search for "mouse" in the Win10 Taskbar: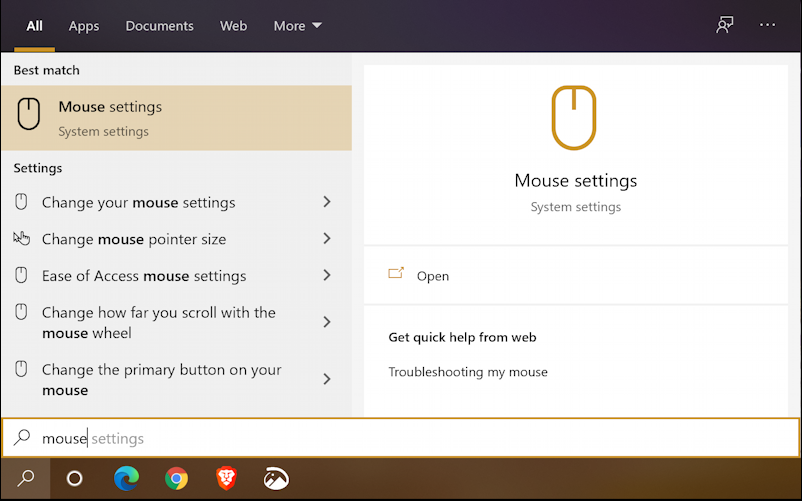 There are actually two places you can tune and adjust your mouse behavior – which is a bit confusing – but let's start with the standard System Settings window. Click on "Mouse settings" as shown above.
This then lets you switch the mouse from being "right" handed to "left" handed if you'd like, and behavior for the scroll wheel (if you have one on your mouse):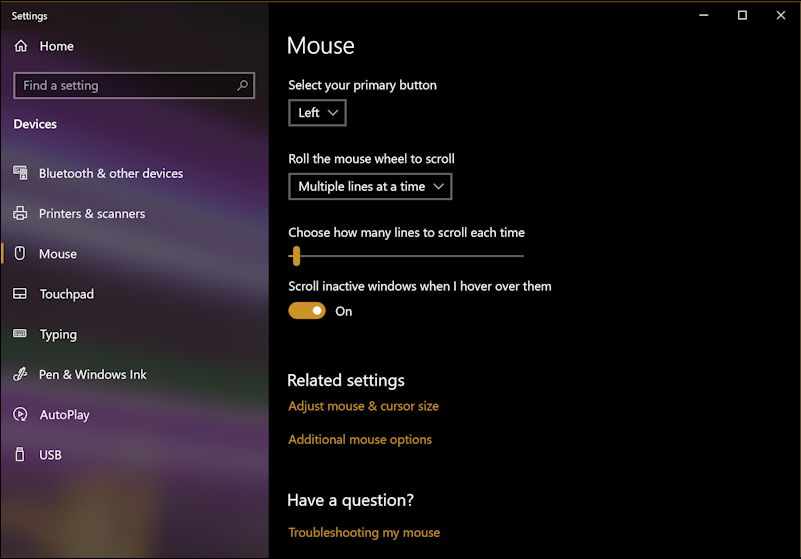 Surprisingly, mouse movement resolution isn't actually shown as an option here, though it seems like it's one of the most common settings people would adjust or tweak. In fact, click on "Adjust mouse & cursor size" from this window and you'll move to another one that offers those settings, but still doesn't allow you to change sensitivity: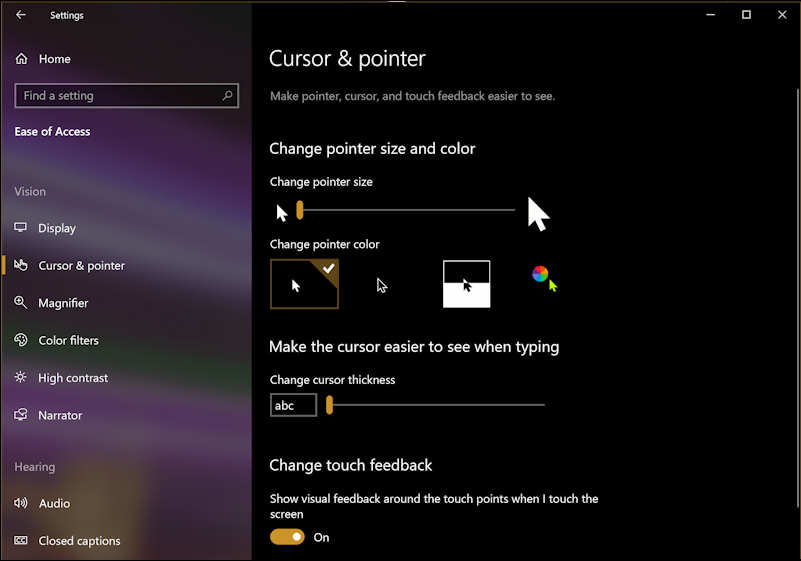 Making your cursor a bit bigger and the cursor line thicker can definitely help with visibility, but how do you change the sensitivity setting on your mouse? Aiieee!
Okay, deep breath. It's going to be alright. Look for the text link "Additional mouse options" and click on it.
Now you'll move to an old-school Windows settings and preferences window that might just remind you of the good ole days of Windows XP: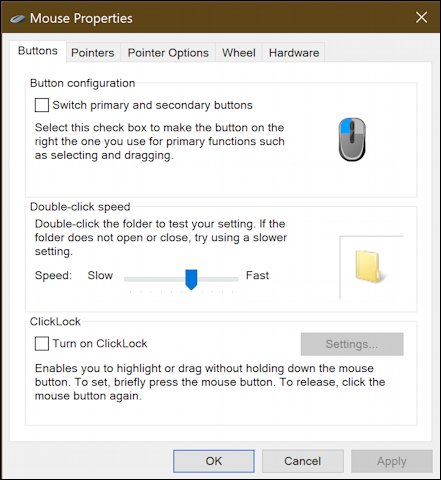 Ahh, finally you can adjust things like the double-click speed. But what about sensitivity?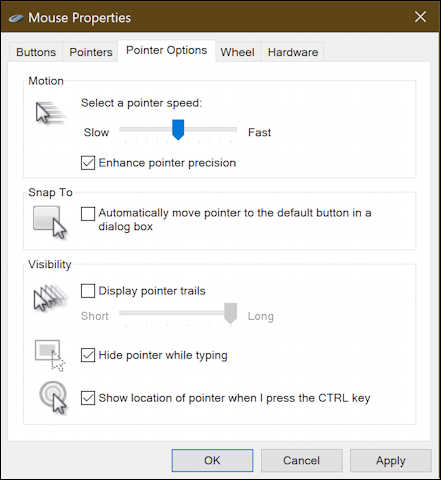 Finally! There it is, the first slider, "Select a pointer speed". Click and drag the blue "handle" to move it to the left, then move your mouse around to see what's changed. Then move the handle to the right and notice how different mouse motion becomes. With that experience, you should be able to quickly ascertain what point is best for your mouse interaction with your PC.
While you're here, if you do have a scroll wheel on your mouse, go to the "Wheel" tab too:
Click "Apply" when you're done and you've just fixed up your mouse. Well done.
Why Microsoft has hidden so many of these settings into this retro OG settings and properties window is up for debate. Did they ascertain people don't ever change these settings? Or did they just decide you probably shouldn't change these behaviors on your PC?
Oh! One more thing! Check to see if your mouse has its own driver or system settings window too. Lots of third party mice, particularly those with lots of buttons, have customization apps. The Roccat mouse I talked about earlier? Here's one of its many settings screens: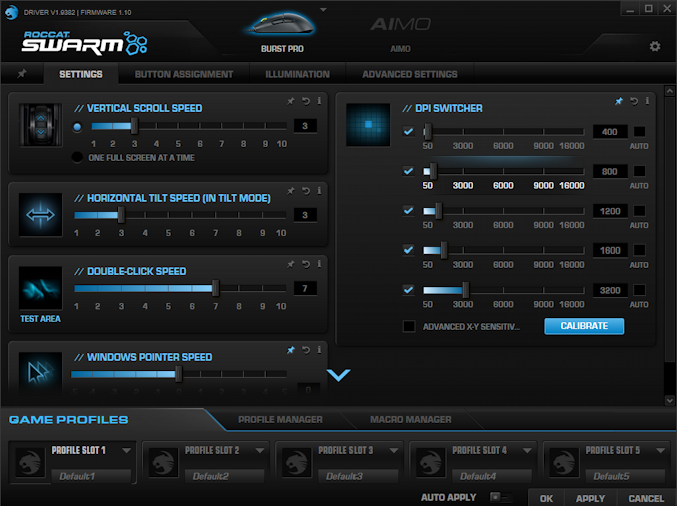 Even more options. Even more places to check to ensure you get the settings to match your own needs. But… at least you know to look for them all now, and how they all fit together!
Pro Tip: I've been writing about Windows for so long that I remember Windows 3.1. My tutorials are a bit more up to date, however, so I encourage you to check out my extensive Windows 10 help library for hundreds of additional tutorials and user guides! Thanks.