I've had an Apple iPhone since the iPhone 3 was released and now that I have an iPhone 4, I realize that I should be able to pair it via bluetooth with my Toyota GPS navigational system. I have no idea how to proceed, however. Any chance you have a Toyota and can help out?
You're in luck. For this particular experiment, I went out and bought a Toyota Highlander! Just kidding, I already owned it and I too hadn't paired my iPhone 4 with my Toyota Nav System, but having seen my friend have his iPhone send stereo to his Ford nav system, I've become jealous anyway, so it's a good time to figure this out.
I'll tell you right up front, however, that the Toyota nav system is more than a bit weak in the bluetooth support area. In fact, not only does it not (at least, the 2008 version of the nav system in my 2008 Toyota Highlander) support the bluetooth stereo audio protocol known as A2DP, but it doesn't even offer the ability to transfer your address book onto the car system so you can have nice phone shortcuts there on that screen in your dashboard. I suspect Toyota has an external vendor for the stereo / bluetooth systems, but that should make it easier: simply change the requirements and let them figure it out.
Unfortunately, from what I understand of bluetooth circuitry, this isn't even something that a firmware update from Toyota can fix. My nav system simply can't do it. It can't connect via A2DP to any bluetooth device and push that out as audio on the speakers. Frustrating and disappointing, to say the least!
Anyway, it does work with your iPhone, however, for phone calls, so let's have a look at the process of pairing the two via bluetooth. I'll warn you, it's tricky and will take a few minutes – or more – to get it right. I have tried to capture all the necessary steps on both the Toyota GPS navigational system and the iPhone, but can't guarantee it's 100% accurate and correct for your car system.
To state the obvious, you'll need to be sitting in your car with the nav system powered on and you'll need your iPhone in your hand. How you'll see this page too, I'm not sure, but we'll leave that one for now and just proceed. 🙂
On your phone, go to Settings –> General –> Bluetooth. It'll look like this: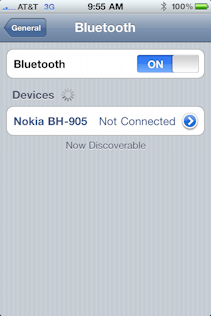 Now on your Toyota GPS Navigational System tap on the "INFO" button below the screen. You'll be taken to this screen: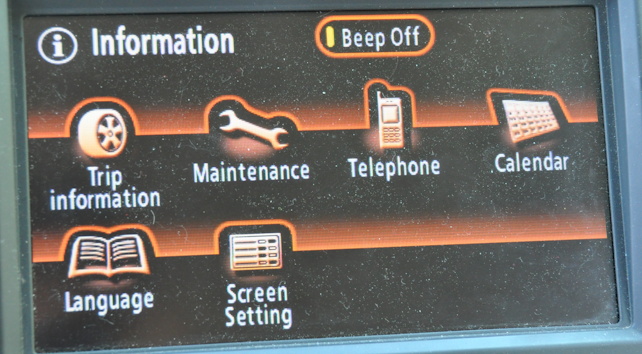 Tap on "Telephone" and you'll get an error: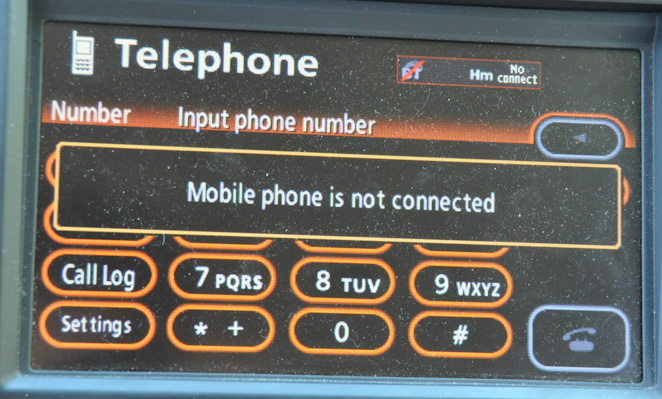 We know that a phone isn't paired up yet. That's what we're trying to do! Once the error goes away, however, notice the "Settings" button on the lower left. Tap on it.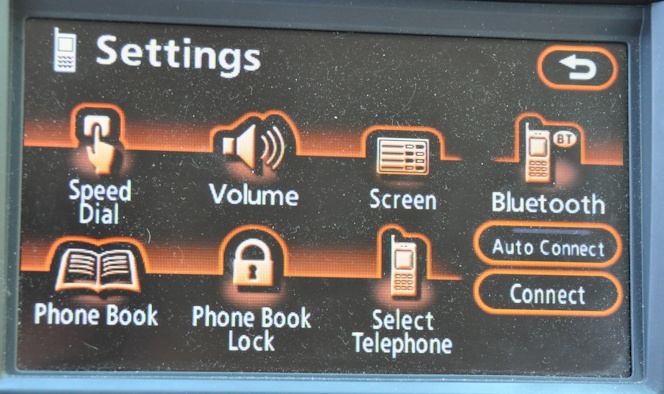 Tap on "Bluetooth" on this screen to pair the iPhone with the Toyota nav system.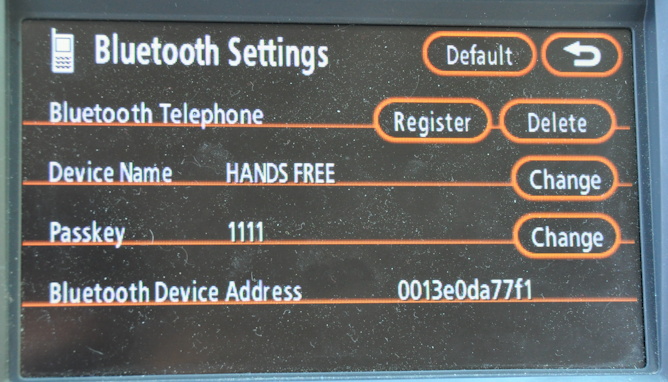 Tap on "Register" to add a new phone…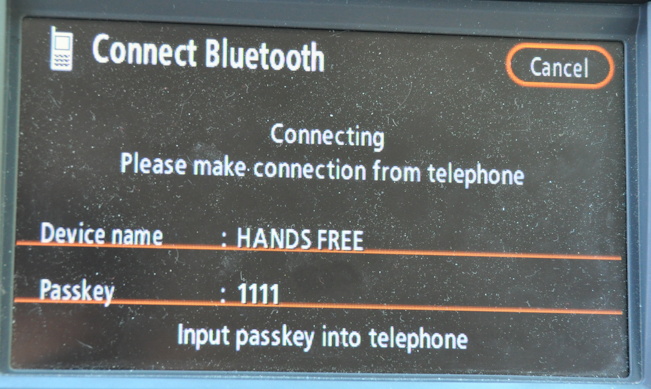 Now the nav system is sending a sync signal via bluetooth you need to turn back to your iPhone, which should have had the "Handsfree" system suddenly appear on the screen:


There's a point in this process where the iPhone switches from the name of the class of device to the specific name "HANDS FREE". This is a good thing.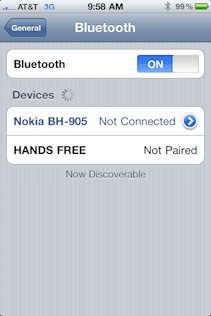 Tap on the "HANDS FREE" device on the iPhone and it'll ask you to enter the sync security code to pair the devices: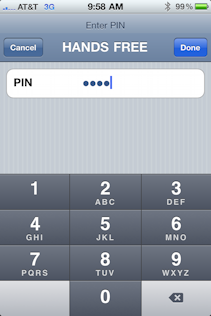 Recall from the earlier Toyota nav system screen that the secret code is "1111". Enter that, then tap "Done".
Now the nav system screen shows: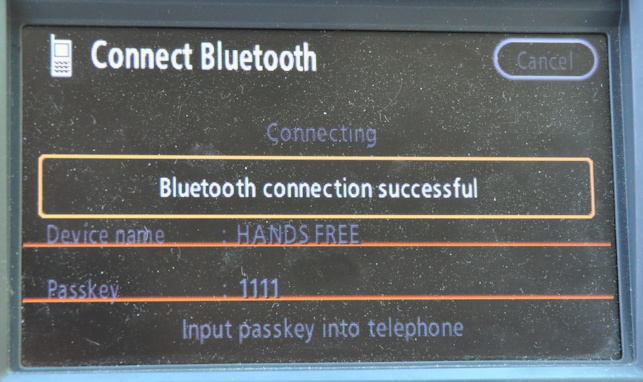 Done!
You can verify it worked by looking on your Apple iPhone 4, of course:


And when you get a phone call now and you're in the car, you'll see on the iPhone itself it's incredibly easy to pull a call off the hands free system (if you need privacy, for example) by just tapping on the correct button:


When you are on a call, here's what you see on the Toyota gps nav system screen: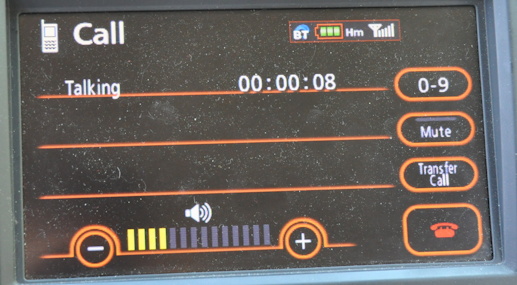 Since there's no way to transfer your address book (darn it!) the nav system can't put names to numbers, which is entirely too bad: when a call comes in while you're driving, it's sure nice to have their name show up on the screen before you make the "answer / voice mail" decision.
In any case, I hope this helps you connect your iPhone to your Toyota GPS Navigational system, and if anyone knows how to get a 2008 Toyota nav system to work with the A2DP bluetooth stereo output of the iPhone, please do let me know!!