I have an Apple TV and like the little silver remote that's included, but a buddy told me that I can actually use my iPhone to control the device if I'm in the house and skip the remote gizmo entirely. Cool. How do I do that??
I also have a new Apple TV (aka "ATV2") and the Remote app from the App Store does indeed let you control the device from either your iPhone, IPod Touch or even an iPad, if you have one in the house. I have to warn you that I find it's a bit flakey, however, whereas the little remote control device included with the Apple TV works 100% of the time, sees every single button push, etc.
Still, let me show you how to pair your iPhone 4 with your Apple TV and then you can try it out and see if you like it better than the little silver gadget, which is, I admit, yet another thing to lose in the sofa cushions!
First step is to download the Remote app from the App Store and install it on your iPhone.
Done?
Good. Now the next step is to go to Settings -> General -> Remotes on the Apple TV and choose "Remote App". It'll say "To get started, turn on Home Sharing in Remote App". So let's do that!
On your iPhone, tap on the Remote app to get it started: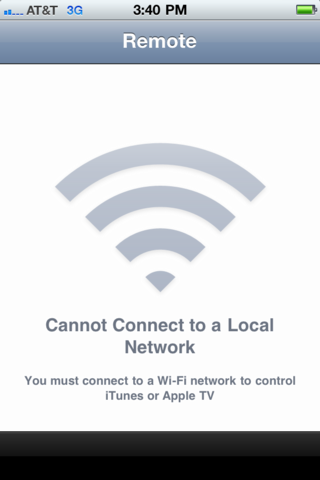 Give it a second and the Remote app will see your wifi network (you need a wifi network and that's what the AppleTV needs to be using too, in case I didn't mention it earlier). Enter your login credentials as needed, then you'll see:


Tap on "Choose a Library…" and it'll see everything publicly advertised in the wifi network from your computers, including any iTunes libraries where you've enabled Home Sharing (tip: Use the "Turn On Home Sharing" option on the "Advanced" menu in iTunes)…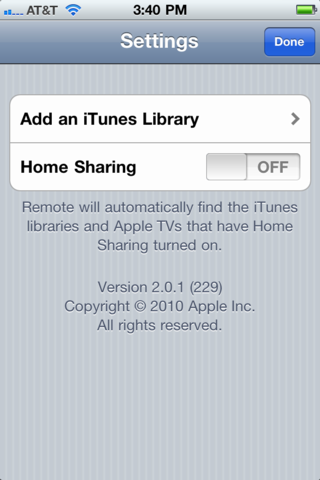 Start by tapping on the Home Sharing option here on the iPhone remote and it'll ask you to verify your Home Sharing credentials:


What isn't clear is that this is exactly the same as your account information for accessing the ITunes Store. At least, I didn't realize that until I experimented for a while.
Once you've enabled sharing, there's lots more available to choose from in the Remote app: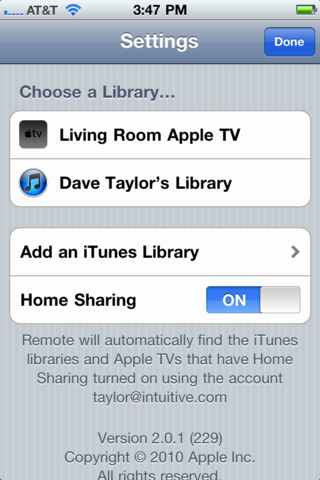 If your Apple TV isn't showing up, that's because it's not set up with Home Sharing too. To do that go to "Settings" -> "Computers" and choose "Yes" to turn on Home Sharing. If necessary, log in again with your iTunes Store credentials.

I'll choose the "Living Room Apple TV" and it promptly shows me what's playing: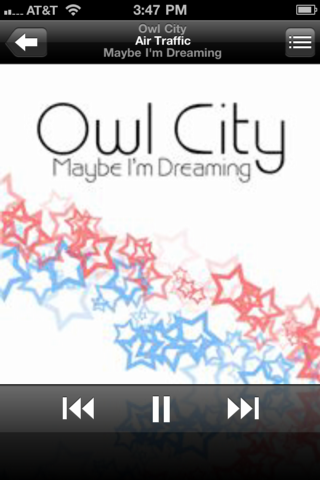 Now my iPhone is a fully functional remote with gestures to control things. Try it: tap on the screen to pause the music or video, or swipe left to right to advance to the next song / movie. Neat!