Just bought a new pair of ANC headphones for work. They include AptX HD support, so I'm excited to try them. But how do I pair them with my Android 12 phone, Dave?
Congrats on your new headphone purchase. No question, Active Noise Cancellation is a huge win in any sort of noisy environment, and it might be a complete game changer for your daily work! But to get started, you do have to pair your headphones with your source device, whether it's an Android phone, your PC, or even a company iMac so you can live stream from an online radio station.
Previous generations of Bluetooth devices made pairing rather complicated, but one of the big improvements with Bluetooth 5.0 is easier and more reliable pairing; since you have new headphones, I am hoping they are Bluetooth 5.0 or better at this point. Generally speaking, most modern BT devices make switching into pairing mode really easy too, and brand new devices automatically do so when you power them up since there's no previous connection to fall back on. If that's not true for yours, try turning them off, then pushing the button to turn them on and holding it for another 10-15 seconds. You should hear "entering pairing mode" or "searching" or similar. If not, check the user guide.
To start the pairing process, go into Settings.
BLUETOOTH SETTINGS AND PREFERENCES IN ANDROID
I'm using an Android 12 device – a Google Pixel 6 Pro – but earlier generations of Android have a very similar sequence of steps. Start by launching Settings…
The second option is what you want: "Connected devices". Tap on that and it'll show you what you've already paired, if anything, and how to proceed: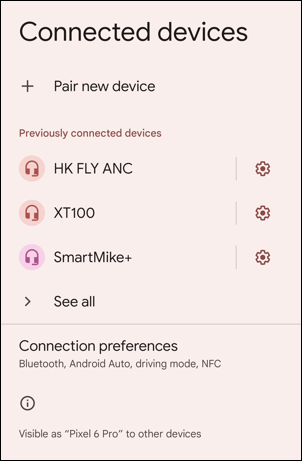 Since I test out devices, I tend to have a lot more on my connected list than most folk. Yours might well be completely empty!
PAIR NEW BLUETOOTH DEVICE IN ANDROID 12
To proceed, you'll simply tap on "+ Pair new device".
Hmm… don't see your headphones? Just give it a few seconds to finish its scan. You can see that when it finishes scanning the local area for available Bluetooth devices, well, it's a lot more than just that one entry!
Still not seeing your device? Go back and make sure it's in pairing mode. Your phone will wait, no worries.
In my instance, it's "Cleer ALPHA" that I want to connect to my Pixel 6 Pro and that's at the bottom of the list.
Btw, the Cleer ALPHA are pretty sweet headphones! Here's my review: Clear ALPHA Bluetooth Headphones Review.
Tap on the device you want to pair and your phone will essentially reach out to the device and ask if it will allow pairing. On headphones, earbuds, speakers, etc, there's no response required on the device, so you'll see something like this:
Since your voice requests to call someone will be processed by your phone, I'm not sure why the headphones ask for access to your Contacts and Call History; you can safely leave this box unchecked. Tap on "Pair" to proceed.
There's no fanfare, no "success!" message, just the new device being added to your list of Connected devices:
There it is and note that it's reporting battery status too: 50% battery. What a lot of people don't realize is that you can tap on the gear icon adjacent to a specific device in the Android Bluetooth settings and get more information about it too. I tap and…
Most importantly, notice that the Cleer ALPHA are also AptX HD headphones, as shown in the connection information. If you don't see that then check with your headphone manufacturer, they might have been, um, not entirely truthful when they said they supported AptX HD after all.
Does the phone choose the right output now? Yes! Spotify is an easy way to confirm, as you can see at the very bottom of this screen:
It's pretty small but on the lower left, in green, is "CLEER ALPHA". And now, to listen to some Oscar Peterson…
Pro Tip: I've been writing about Android since it was first released. Please do check out my extensive Android help area while you're visiting! Thanks.