I'm borrowing my Dad's Land Rover and want to pair my phone via Bluetooth so I can use it hands free. How do you do that on a modern Land Rover Discovery?
There are as many different nav systems as there are cars on the road nowadays, so it's no surprise that you're finding your Dad's Land Rover to be rather different to your own vehicle. It's hard to understand why there isn't more of an industry standard for something that's become so essential to a modern driving experience, but so it goes. Fortunately, I've been driving a 2022 Land Rover Defender myself and just paired my Apple iPhone 13 Pro with the system.
If there are no phones paired, typically the easiest way to pair a new phone is to simply press the button to make a phone call. The system then complains "no phone!" and offers the ability to add or link a phone. Failing that, there's typically a Settings link on the main screen, then a Phone or Telephone link below that. Well, except on the Land Rover.
HOW TO ADD A PHONE TO A LAND ROVER NAV SYSTEM
Even though there's already a phone in the system, I'm going to just use "Phone" from the home screen to add my own phone. Here's my home screen:
You can see Phone on the lower right. A very minimalistic icon design, for sure.
A tap on "Phone" and…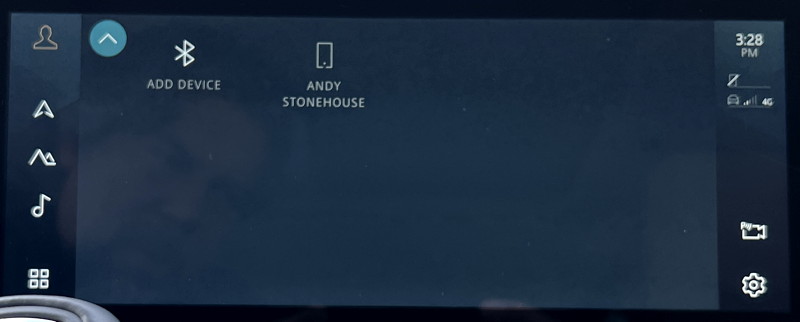 You can see that Andy Stonehouse has his phone registered, but it's easy to add a new Bluetooth device too. Tap on "ADD DEVICE".
PAIRING A BLUETOOTH DEVICE WITH A LAND ROVER
Once you tap on "Add Device" and the car will essentially "broadcast" its availability. Here's what it will show during this process:
Now it's time to grab your smartphone. I'll grab my iPhone and go into Settings > Bluetooth, where I'll see a list of currently paired devices and, at the bottom, the Land Rover:
You can see it at the bottom: "Land Rover Defender". Note that it might take a few seconds to show up, sometimes Bluetooth can be a bit sluggish to identify nearby devices.
Once you see it, tap on the vehicle name, then the display in the car will change to:
Looks good because on my phone I see this:
Sweet! Tap "Pair" on the phone and "Yes" on the vehicle display. A few more permissions to step through on the phone:
If you want to be able to use the car's voice system ith commands like "Call Susan" you'll want to ALLOW this requested permission.
ENABLE WIRELESS APPLE CAR PLAY
If you have CarPlay and the device supports wireless CarPlay, like the Defender I'm driving, your next on-phone prompt will be this:
Android has a similar feature with Android Auto, but this is specifically for CarPlay from Apple for iPhones. Tap "Use CarPlay" on the iPhone, then look back at your car's display:
Allow it to use Apple CarPlay? Heck yeah! Tap on "Yes".
Finally, you're all paired, everything is sync'd up, and the Land Rover display now shows this:
Wireless CarPlay. Nice. Even without CarPlay, however, your phone is now all paired and ready to use.
Handy Tip: I've been writing about tech and computer basics for many years. Please check out my Computer Basics Help area for lots more useful tutorials. Thanks!