I take a lot of photos on my iPhone 4s and I like it as an easy camera. Add photo stream and they're even automatically uploaded to the Web, which is really slick. Problem is, after a few hundred photos, it's hard to keep things organized. Is there some way on the IPhone itself (e.g., iOS 4) that I can create photo albums and move some of my photos into those new albums?
A week ago I would have said that there wasn't, and that you were going to need to use iPhoto or Aperture to organize your photo library, but I rather stumbled across how to do just what you seek, and it's surprisingly easy. A classic example of the problem faced by user interface designers when their programs have hundreds of different capabilities.
I am also an avid iPhone photographer and as you'll see in the captures below, I have hundreds of photos all stuck in "Camera Roll", which does make it hard to keep things neat and organized.
So there I was looking at my "Albums" in the "Photos" app and an "Edit" button flashed past as I did my usual tap on "Camera Roll".
What?
I backed up, and here's what I figured out…
First off, here's the top level view from the "Photos" app:


You can see what caught my eye, the "Edit" button on the top right. Edit what? Tap on it to find out: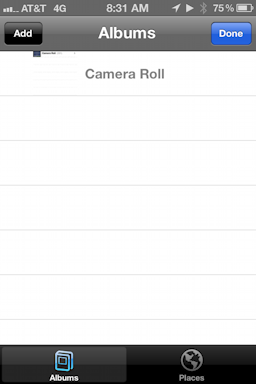 And now on the top left, "Add". Interesting. Tap on it.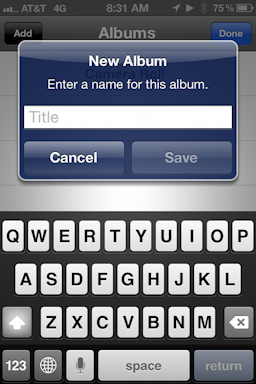 Well that is seriously cool. So you can create new albums directly in the Photos app. I can live with this. So I do, a new album called "California", for some pics I took on a recent trip to Newport Beach: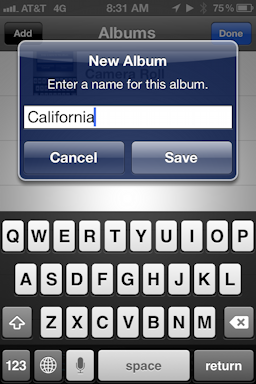 A tap on "Save" and the new album is shown. It has no pics, though, and notice on the top that we're in a special "add pics" mode: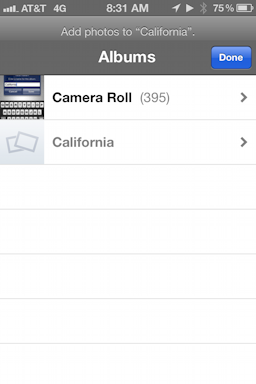 A tap on my "Camera Roll" and it shows me all the thumbnails of the almost 400 pictures, letting me pic as many as I'd like to move into the new album:


When I'm done selecting images, I tap on "Done" on the top right and it's all nice and neat:


Notice that all the images remain in Camera Roll, which I'm a bit ambivalent about, but there are also now 34 labelled "California" and much easier to share with others. Helpful indeed.