I generally just close the lid on my Win8 laptop when I'm done using it, but since it died last time I did that and stuck me in the dreaded Windows 8 recovery mode on restart, I'd like to know what my options are for a proper shutdown, not just a sleep?
Windows has a couple of different power modes you should know about, actually, because the options are more than just "sleep" or "power down". The new one is "hibernate" and while I imagine most people don't use it — and it's hard to find! — it's good to know your options, right?
Microsoft explains hibernate this way: "Hibernate uses less power than sleep and when you start up the PC again, you're back to where you left off (though not as fast as sleep). Use hibernation when you know that you won't use your laptop or tablet for an extended period and won't have an opportunity to charge the battery during that time. "
But here's the wrinkle: hibernate and even a power mode kinda like hibernate that's called "hybrid sleep" might not show up as an option even if you're on an laptop or desktop system. Again, Microsoft explains that your video card might not support "sleep", your admin might have disabled hibernation or your BIOS (basic I/O subsystem) might not support power saving modes.
To start, however, log in to your Windows 8 laptop system and do a quick search for "define power buttons". Click or tap on the result and you'll end up here: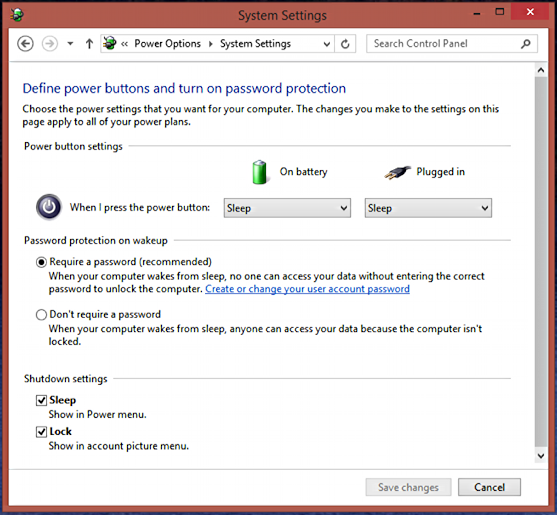 The key options here are on the bottom: Check "sleep" and "Lock" as options so you have the full range available. You might have more choices too, because I don't get to "hibernate" my laptop because apparently it's not that smart. Sheesh. 🙂
Now there are options. On the Windows 8 Start Screen, for example, look on the top right and you'll see something like this:
The "power" button (the circle with the vertical line) isn't just for powering down your system, as is obvious once you click on it: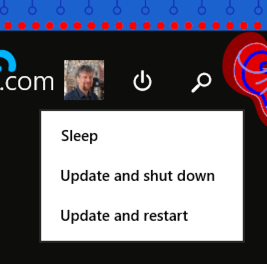 Oops, looks like I have a pending update! I'll go ahead and click on "Update and restart" so give me a minute…
….
Still here? Great!
Now, you can also use the Charms Bar to access this from any Win8 application you might be using. Just use the Cmd-C shortcut or swipe from the right edge of the screen. Choose "Settings" (the gear icon) and you'll see this: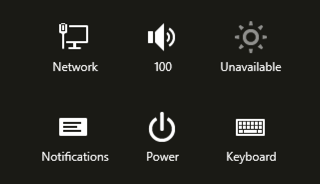 Again, the Power button leads to more options, as we've already seen.
Let's do something different, though, because there are more options. Go to the Start Screen and click on your picture.
Here are the options that appear:
On a desktop system, "Lock" is often all you need because it'll automatically go into a power saving mode.
Still want that "sleep" (or "hibernate") button? Sign out, then look closely at what's shown on the login screen: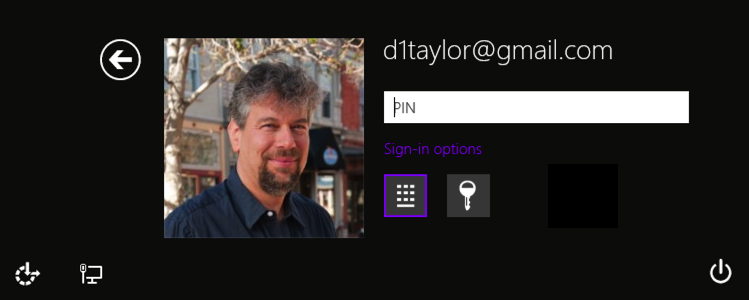 (I've kinda squished things down a bit to make it all fit in this screen shot)
Look on the lower right. Yup, it's that power button again. Click on it…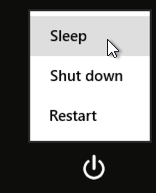 Ah, there are our options again. Sleep, Shutdown, Hibernate (perhaps), and Restart.
Those are all your options. You can, of course, just close your laptop, but if you're not going to use it for an extended period of time, I definitely recommend you pick a sleep mode or just power down properly before that lid comes down. Saves a lot of pain when you open it up again!