Before I buy one of the amazing new Kindle Fire HD units I want to make sure I understand the deal with the sponsored advertisements that are apparently part of the new Kindle. Are they super intrusive? Do they get in the way of everything? Can I opt out, and if so, how? Thanks, Dave.
We just received a 7″ Kindle Fire HD in the office so you're in luck. We can not only share with you the rather hidden process involved in opting out of the sponsor ads, but we can also tell you that you might not want to do that because it's far less intrusive than commentary from "experts" suggests. In fact, the only time that ads have shown up are when we first unlock the device, and even then, the ads are shown as the lock screen wallpaper, rather than an additional step or swipe being forced on you.
Amazon suggests that the value of you seeing advertisements is $15 per device. At least, that's how much they charge if you want to opt out of program. A fair price?
Well, let's have a look.
First off, here are four example lock screen adverts, so you know what we're talking about: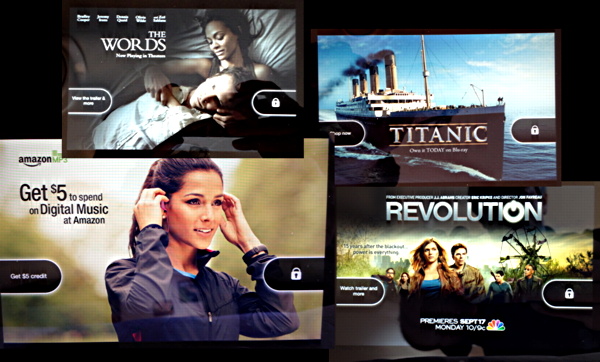 The ads are for the DVD release of
Titanic
, the upcoming TV series
Revolution
, the
Amazon Music Service
and the upcoming movie
The Words
. Really, nothing too annoying and on the new vivid display, quite attractive. In all cases, a swipe of the lock icon gets you to the main Kindle screen, no fuss, no hassle.
But if you do want to opt out, you can't do it on the Kindle itself. You need to go to the Amazon.com home page, log in, and go to the "Manage Your Kindle" area under "Shop by Department". It looks like this: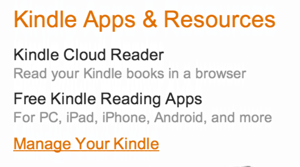 A second selection of "Manage Your Devices"…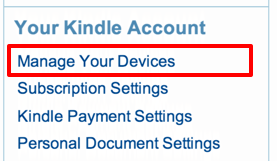 And now you can see your new Kindle Fire HD listed, along with the send-documents email address, the serial number, and even its name (which you can change if you want):

It's not easy or obvious, but the "Subscribed" option under "Special Offers" (column #3) is where you can opt out of the ad program. Click on "Edit" and the information is far more apparent: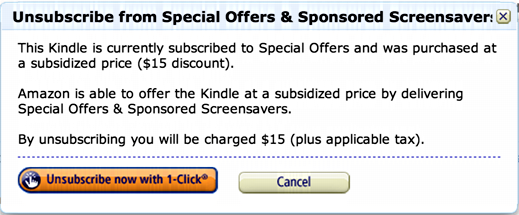 Hate the ads enough to pay $15 to get rid of them? Click on "Unsubscribe now with 1-Click". I don't mind them much at all, however, so I decided to keep them and save the $15 for something a bit more fun.
The new sponsor adverts on the Kindle Fire HD are way less annoying than I expected and you might well feel the same. If you hate 'em, though, now you know exactly how to buy your way out of the advertising relationship. Not too bad.
If you do own a Kindle Fire HD, what's your opinion? Ads are horrible, or they're a nice way to save $15 on the purchase of the device and are very easy to live with?