I read that Yahoo Mail is now scanning the content of my email messages to match ads. Not good! How can I opt out?
Combining an online email service with advertising is a tricky business. Google knows all too well and it used to scan emails on its popular Gmail service to try and optimize the ads shown adjacent to the message. People, unsurprisingly, went a bit bonkers over that, claiming it a violation of their privacy, even though they were using the third-party service willingly. Anyway, long story short, Google finally backed away and stopped scanning email, though it does seem that they might well still scan email subject lines if you're a Gmail user (that's based on my own personal experience, btw).
In fact, all the major online web email services are now recognizing the sacrosanct nature of your email messages and inbox, except for one hold out: Yahoo Mail. Recently purchased by a division of Verizon called Oath, Yahoo is straightforward about the fact that it is indeed still scanning your email contents for advertising purposes.
Heck, it says so right in the new terms of service:
You caught that second bullet point, right? They "analyze content" from "emails". Yikes.
Fortunately you can opt out. So let's see how to do that. Log in to Yahoo Mail to get started:
On the top right is a gear icon. Click on it to proceed
Note: There's a box on the lower left offering to Remove Ads. That is, itself, an advertisement. Funny how that works, eh?
Anyway, click on that gear icon and here's what you'll see:
You can play with the layout all you want, but none of those settings will restore your privacy.
What can help , however, is to click on "••• More Settings" near the bottom of this window.
You'll see a window full of additional settings – even a "Privacy" setting – but none will opt you out of the email scanning. Look on the lower left for "About our Ads" in this area, however, as highlighted: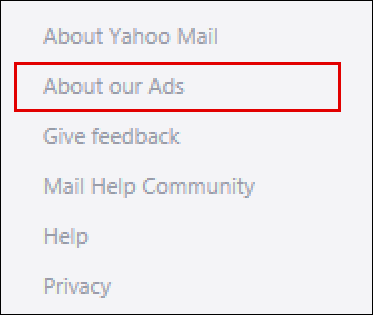 Click on "About our Ads" in your Yahoo Mail account screen and, finally, you'll get to this big Oath screen that explains why they're your friend and why it's all good, bro:
The only thing you really care about here is what I've highlighted in red: "Manage interest-based advertising categories, or opt-out of all categories, from Oath". Click on "Manage" in that sentence and, finally, you're in the right place:
Here's where this gets tricky again: You need to Opt Out of both "Across the web" and "On Yahoo" advertising choices. If you don't opt out twice, you'll still have your email messages scanned by Yahoo. Click and wait. Eventually the blue button should say "Opt In", which is how you know it's saved your changes. Do that for both categories and you're done. Phew.
Pro Tip: While you're here, please do check out our Yahoo help articles. We've got plenty!