Hey Dave, I read that every time I say something to my Amazon Alexa / Echo unit, a human listens to it too? Is there a way to opt out of that huge invasion of privacy??
You are correct that your Amazon Echo is always listening so that it will hear when you say "Alexa…" but it's not at all clear whether people at Amazon are listening to your pre-Alexa audio stream. Hopefully not! But either way, Amazon has said that it does share recorded audio snippets with its contractors to ensure that what the software interpreted is what you actually said or requested. Which means if you were to joke (as my kids used to do) "Alexa, go die in a hole" then somewhere there's someone who is listening to the original audio snippet to check translation quality. Only a bit creepy.
This is something people didn't realize with these devices and both Google and Apple have just suspended having humans check audio for quality purposes with Google Assistant and Apple Siri, respectively, but Amazon's not quite that forthcoming. In fact, they offer it as a setting now, but you have to opt out of this feature, and it's not clearly worded at all. Fortunately, I've got it all figured out…
Start by going into the Alexa app on your smartphone, then tap on the three horizontal lines button on the top left of the screen. This brings up the big menu:
From here, tap on "Settings" to proceed… Here's where you'll end up: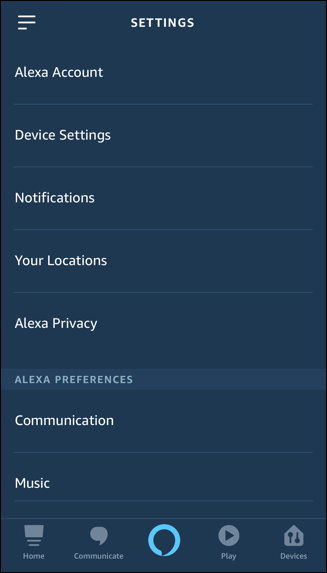 It's not obvious, but you want to choose "Alexa Privacy" for the voice analysis settings and preferences. Do so.
Now the interface gets a lot more confusing, actually:
There are a variety of areas to explore, but where is the voice privacy setting? Turns out that, unintuitively, it's hidden in the "Manage How Your Data Improves Alexa". Even the wording of that option make it sound like you'd be crazy to disable it, right?
Whatevs.
Tap on "Manage How Your Data Improves Alexa" in the Alexa app and, finally, you get to the setting in question: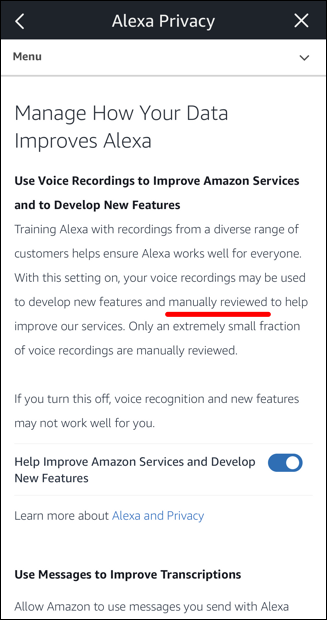 This is so confusing that I have manually added that red line to affirm that this is indeed the setting that allows or prevents humans from listening to your recordings and content. If you're okay with that, leave things as they are with this feature enabled. Not so thrilled about others listening to your device audio? Don't want your recordings "manually reviewed"? Then tap on the switch to disable "Help Improve Amazon Services and Develop New Features".
Don't worry, they'll now try to make you feel guilty and change your mind: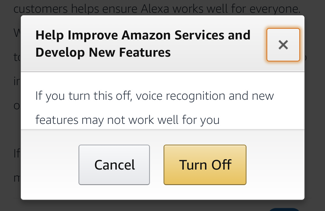 I can confirm that if Alexa has been working well for you, it'll continue to work well, even if you turn off this feature. No worries about their alarmist warnings. And that's it. Choose "Turn Off" here and your audio should only ever be analyzed by software and algorithms, not by humans at Amazon or third party contractors. Done.
Pro Tip: I've been writing about the Amazon world, from Echoes & Kindles to online shopping, for years. Please check out all my help tutorials while you're here on the site!