When I bought a new television (a splendid Sony Bravia KDL-40V3000 40″ LCD) I decided that it was time to update the sound system hooked up to the TV too, and after much research, I decided not to get a five speaker surround sound and clutter up the room with wires. Instead, I read lots of reviews and opted to buy the Philips Ambisound HTS8100 Home Theater Surround Bar.
The specs are awesome for this all-in-one stereo system, iPod dock, and DVD player that can upscale the movie being played to 1080p, the reference scanrate of high def video (1080 scan lines, progressive). Heck, the sound of the unit is terrific too.
Except for one problem: less than a month after I purchased it I have had to take it in for service, and it's been there for ten days now, with no resolution in sight…
As I said, the design of the Philips unit is splendid, and I've always been a fan of Philips corporation and its Eurocentric design approach and engineering. Here's the Ambisound bar, so you can see what I mean: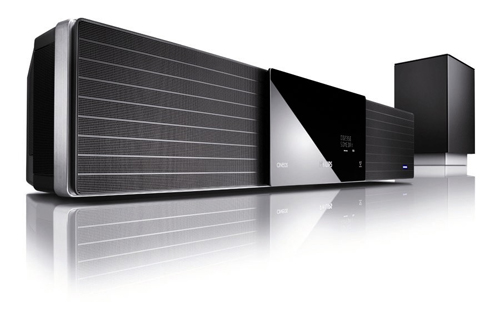 One unit (plus subwoofer) and a separate iPod dock and you have a great audio system that's a splendid compliment to any TV system and ideal for a top-end HD television like the Sony KDL-40V3000 LCD TV, which can handle just about any signal you can push towards it, with two HDMI input, composite, three video, and more.
I got both the Philips and Sony from Amazon.com (the Philips HTS8100 was shipped through normal means, but the Sony behemoth required special freight shipping) and hooked it up easily enough. The first few DVDs looked really good, though it was odd that the "upscaling" feature of the DVD feature seemed to slow down when there was a lot of action on the screen. I figured that it was some sort of processor hiccup, but then the system degraded further and started to display green vertical noise on the video signal.
Then the green signal noise got worse, and eventually the HDMI connection between the device and the Sony becaome completely unviewable.
I tried some basic troubleshooting, including buying a high-end composite cable to see if the problem was still there (it wasn't) and a new HDMI cable to see if that fixed things (it didn't). Troubleshooting attempt #2: I hooked up a Sony Playstation 3 via the new HDMI cable — into the same port on the TV (another possible problem eliminated) — and it looked gorgeous.
In fact, the PS3 turns out to be a terrific movie player and high def Blu-Ray capable too. The result? While the Philips is in for service, I've found that the PS3 is a quite acceptable alternative, albeit without speakers. 🙂
Meanwhile, I checked in with Philips and they pointed me to a service center in Loveland, Colorado, about an hour north of Boulder. I dropped the Ambisound bar off to assurances that it'd be a week, worst case. Now it's almost two weeks later and not only is it still in for service, but they're still trying to eliminate possible reasons for the HDMI green noise problem and there are "a few additional parts on order". Estimated time for receipt of those parts so they can do some additional testing? Another week.
So the earliest I might see the repaired unit is three weeks after I dropped it off for service, which will mean that at that point it'll have been in for service longer than it was out of the box and hooked up to my TV. And possibly, quite a bit longer than that according to the repair guy…
At some level this is just the digital luck of the draw with modern consumer electronics, but what gets me is how companies don't stand behind their products with new customers. If I were Philips I would have a "if it comes in for repair within a month of purchase, just replace it no questions asked and send 'em an apology too." They don't do that, though, so I'm just sitting here twiddling my thumbs, waiting for my expensive, brand new consumer electronics device to come back to me. Someday. Hopefully fixed.
The rub of it all is that I really like the Ambisound Bar home theater device and miss having it hooked up to my TV and home audio system. Heck, the new iPod I bought, intending to have it live on the Ambisound dock, is just sitting on the fireplace mantel unused…
How about you, dear reader? Have you had any similar experiences with consumer electronics in the recent past? What resolution did you see, what would you have liked to have seen happen?