I downloaded like 5 apps off of iTunes to put on my iPhone. But, when I unplugged my phone from the computer, the games weren't on there!! I don't know what 2 do?? Plz help. Thanks!!
As I have written before, I think it's time for Apple to rethink the iTunes application that now manages all of your content on your iPhone, iPad, and all the music and video on your computer too. Once Apple introduces the Mac OS X App Store (which I am sure is coming in the next 12-18 months) then I can only pray that it too won't be managed by iTunes. Why? Because it's getting crazy confusing to use and there are just too many tasks for the program to be clear and easily used.
That's another story, however, because I'm not in the position of rewriting iTunes to fix its user interface and even if I could, that wouldn't really solve your specific problem, would it? 🙂
So, instead, lets have a peek into iTunes and figure out what's going on, because I'm pretty darn sure I know exactly what's going on!
Plug in your phone, launch iTunes and find your phone on the left navigational area under "Devices":

Now, in the main window if you click on the phone name you'll see a bunch of tabs:
Click on "Apps" and what you seek is doubtless at the very top: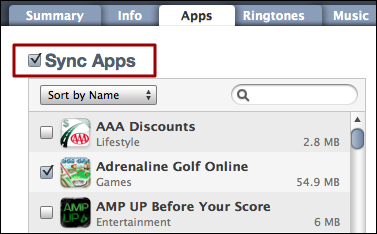 Make sure that "Sync Apps" is checked and next time you sync your phone with your computer, the new apps should automatically be copied. If they aren't, then go down the list and ensure that the new apps are checked (you can see here that I have some apps on my computer that I don't want on my iPhone right now, notably AAA Discounts and AMP UP Before Your Score).
That should get you going. Note, btw, that you'll have the same issue with iPad apps too, if that's something you're noticing: if you don't specify that you want the apps to sync, iTunes won't automatically copy new apps onto the device.