Facebook has changed for me. I don't much like the new user interface, it seems big and cartoony on my computer. I'm wondering whether there is anything new and interesting with posting updates on FB now?
Facebook has been experimenting with a radical new Web experience for quite a while now. I had a chance to test it months ago and didn't much like the changes myself. I opted back for "classic" Facebook, but, as of Sept 1, 2020, everyone gets to change to the new Facebook user interface (or UI). Like it or not. The change is pretty dramatic, but the biggest complaint I have is about information density. With the old interface I could see quite a lot on my screen, but the update has opened up the design, added more white space, enlarged the buttons and pushed a lot of that additional info off-page. This is an improvement?
Anyway, there are some good things coming with the new Facebook experience, at least, one of which are some changes and updates to status update posts. You can now create 'rooms', for example, a shared video chat space that competes with Zoom and similar. What more people will appreciate is that you can also now choose from a much larger palette of background graphics to draw attention to your status updates, something that might veer a bit into classic MySpace territory but is still a fun addition to your status updates. Heck, let's just have a look at the new features…
To start out, as with classic Facebook, the status update looks pretty barren just sitting in your feed:

Click in the "What's on your mind" box and suddenly it opens up and offers a number of additional features and options: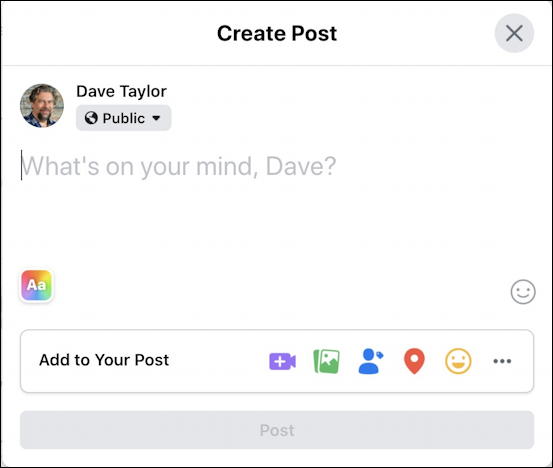 Start typing and even more features and options show up, as shown below:
At this point there are a number of things to notice. The row of tiny graphical elements are background images or wallpapers. Click on the last one in the row – the four squares – and you'll launch a new window with lots more choices. We'll get back to that in a second. Notice the tiny grey smiley face all the way to the right too; that lets you pick from hundreds of emoji to find just the right one.
Below that are a set of (mostly) modifications to your post, though the purple camera with the "+" is the new Facebook Rooms, the video chat that I mentioned earlier. After that are buttons to let you add images, tag people, check in at a geographic location, add an emotion to your post and, the "•••", access even more options. A lot of choices. Let's go back to the background wallpaper row for just a moment; click on the "more background options" button with the four tiny black squares…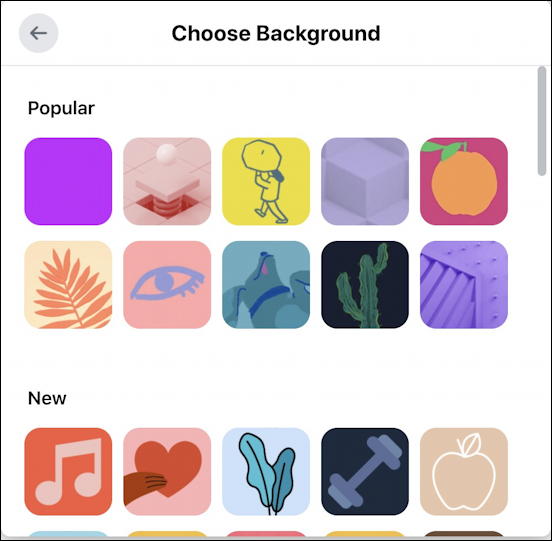 There are quite a few, way more than the dozen or so that were in classic Facebook. Fun stuff, actually, so I'm happy about this change. In fact, I'll pick an abstract orange background, which makes my draft post a lot more cheery: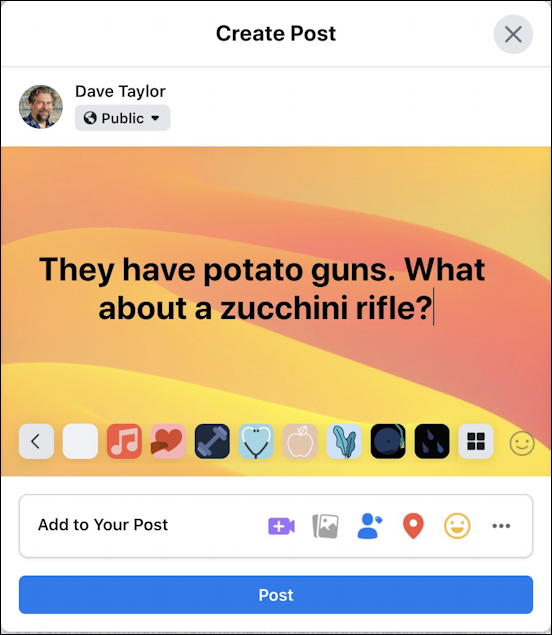 Adding a background to your post does disable a lot of other features, as is immediately obvious if you click on the "•••" button: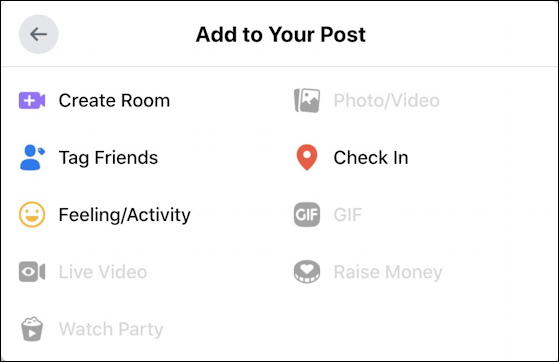 Some of these are contextual too, so you can't create a Watch Party, for example, without sharing something to watch in the first place. Which makes sense, right?
So how about a quick zucchini check in?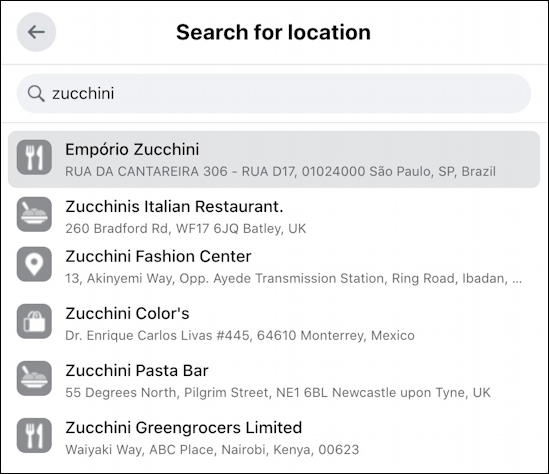 Silly, yes, but this also offers a glimpse at just how international Facebook really is, offering matches for "zucchini" from Brazil, England, Mexico, even Kenya! Don't want to check in to any of these places? Ok, just click on the arrow on the top left. Instead, click on "Feeling/Activity" and you can specify your current emotional state: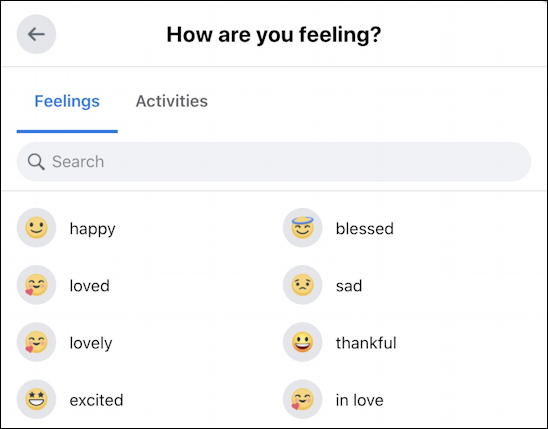 The search feature is really helpful here. Finally, if you look back at the main status update image above, you'll notice that under my name is the word "Public". That's where you can change who can see your post: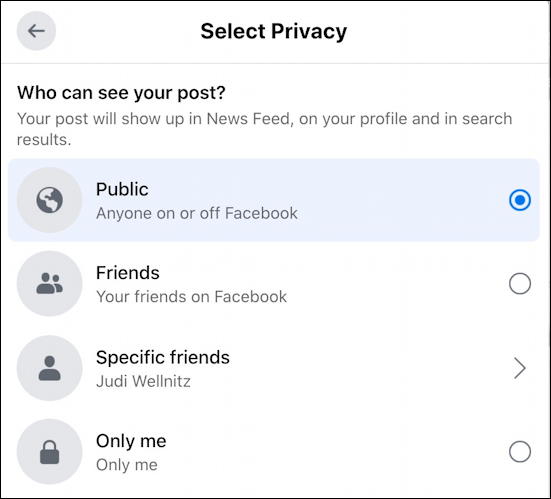 Finally, everything's specified as desired, so it's time to click on the "Post" button. Once done, one of the other features of the new interface that's annoying is that you do not then see your post. It's published, but not on your timeline. Find it by clicking on your name, or wait until other people start to engage with your content. Here's my final post: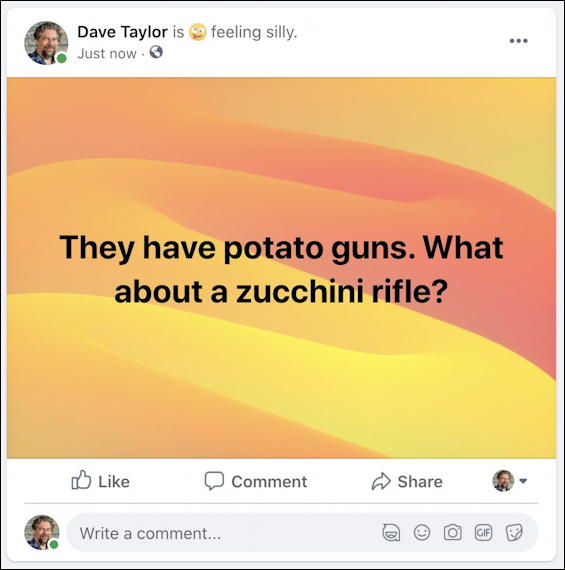 Pretty nice looking. It should be obvious, however, that there are quite a lot of features and options with a post. It's not just "share a photo or smart status update" any more.
Pro Tip: I've been writing about Facebook since it launched. Please check out my extensive Facebook help area for lots more tutorials while you're here on the site. Thanks!