I got a MySpace invitation that included a comment from the person inviting me to be friends with them and it's very cool. Very Facebook-esque. How the heck did they do that?
I get waves of MySpace Friend Requests myself and you're right, in the last few weeks they have added a new feature where some of them include a nifty little comment, which is very cool and certainly welcome since I know that — right now, at least — it means that this person actually knows me and has manually requested that we be friends rather than use one of the many spammy MySpace "friend builder" applications that automate the process.
Generally I am in favor of anything that makes it easier for you to send out a high quality invitation, one where you have a space to indicate why the other person should friend you. I've also written before about why if you're going to use a network like LinkedIn you should never just use the default email invitation prose if you seek to be successful in your link requests (for example, read how not to connect on LinkedIn). The secret? Be sociable, remind them how you know them, and assume they're busy so make it succinct.
Righto. Back to MySpace.
When you log in to your MySpace account, one of the navigational elements across the top is Invite. Click on that and you'll see the boring old invitation window where you can enter email addresses, but not add a comment:

That's not what we want, rather surprisingly!
How do you do this instead? You
search for someone
or otherwise get to their MySpace profile page before you become their friend (or is it that they become your friend? One of the two!). Unless they've hacked their MySpace profile to the point of destruction, there should be an "Add to Friends" link under their photo, as you can see here: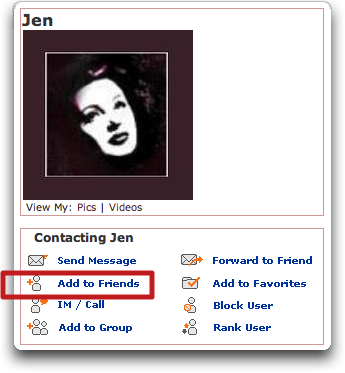 When you click on "Add to Friends", the resultant screen has the entry box we seek: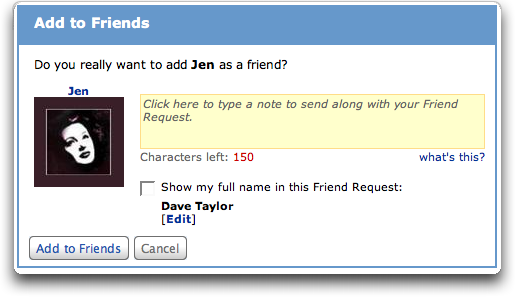 The yellow box is where you can type in your note and have it sent along with the generic friend invitation, which produces something on their end that looks like this: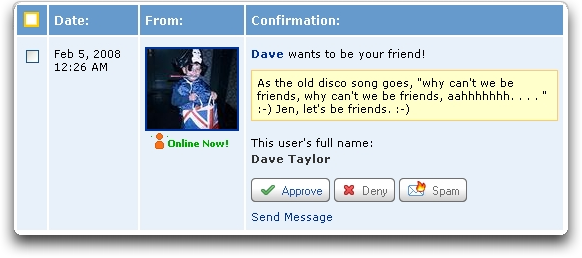 That's how it's done and when you see invitations from others that have those nifty notes, you'll now know how they did it too!
Just learning about MySpace? Don't forget that I have tons of MySpace Help and if you want to friend me — with a nifty note, please! — why not just start with my profile on MySpace?