I keep getting stupid and spammy comments on my MySpace profile and I have heard that there's some way you can actually have them all queue and manually approve them? That sounds awesome. Howzit done, Dave?
Trust me, you're not alone in getting lame comments and "billboard" comments on your MySpace profile. I marvel at the tenacity of some commentors, actually, where I consistently delete their comments because they're junk, but they keep trying nonetheless. Round and around we go, wasting time. That they are making MySpace a worse place is irrelevant to them, clearly…
I have been wondering about how to make this setting too, and recently figured it out. Here's the secret tip for changing all your comments in MySpace to be moderated (e.g., you have to approve them before they're added to your profile)…
Step one, log in to your MySpace account and click on "Account Settings", then click on "Change Settings" for your Privacy Settings: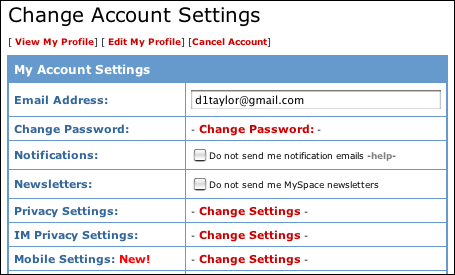 Now you'll see this set of options: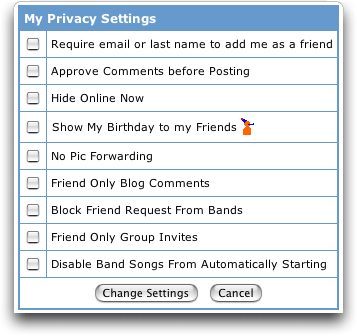 Look for "Comments – approve before posting" and select it by checking the little box adjacent. Then scroll to the bottom and click on "Change Settings".
Done!
Since we're here chatting about MySpace, by the way, I'd like to remind you that I have tons and tons of
free MySpace help
and that I also have
my own MySpace profile
too!