Alright Dave, come clean. I've seen you at a meetup playing a game on your iPhone 4, but I've never known what games you enjoy. I know from your Facebook updates that you're a pretty serious gamer, so what do you find appealing and worth playing?
I knew there was a potential backlash from being in the public eye! You're right, I'm a gamer. In the last week I've played "Memoir '44" (a WWII board game that's my 10yo son's current favorite), "Shadows Over Camelot" (another board game, this one set within the Arthurian era), "Dominion" (a fun empire-building card game) and "Castle Panic" (another board game, this one a favorite of my 6yo daughter).
On my phone, however, I don't play complex, serious games like these, but rather more informal casual games, games that I can play for as short as 2-3 minutes and enjoy, without a long commitment and without a penalty if I just stop playing mid-action.
Thing of it is, I find that I switch from one favorite to another on about a 2-3 week cycle. I've finished a couple of games (Peggle comes to mind) and so stop playing for a long time, but then play for a week or so before I switch to something else. Still, for the most part, I keep my current favorites neatly corralled in a folder ingeniously called "Games", which looks like this: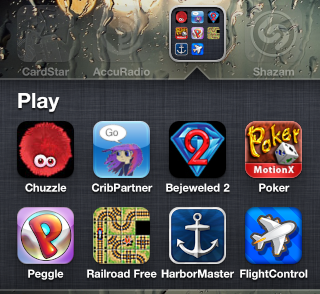 As you can see, the top games on my iPhone are
Chuzzle
,
CribPartner
,
Bejeweled
, Motion X Poker,
Peggle
,
Railroad Free
,
Harbor Master
and
Flight Control
. I probably have about fifty more games on the phone, muchly because my kids love to play different games when I let them touch the iPhone, but those are most of my fave casual games.
Let me show a few to you so you can see what they're like. I'll start with Bejeweled: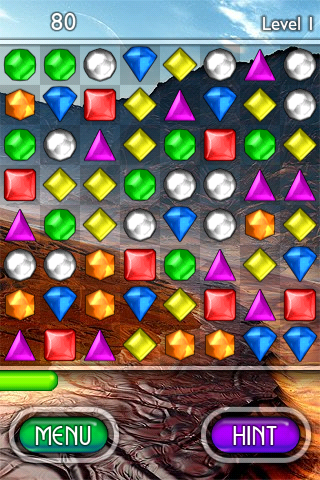 This is a long-time favorite casual game and is available on a ton of different gaming platforms, including some older cell phones with tiny screens. It's simple: you swap pairs of jewels to make three or more in a row. They are removed, you get points, new jewels drop from the top, and you keep going until you run out of moves. Easy, engaging, and very stop and restart friendly!
The company that makes Bejeweled also makes a number of my other favorite games, including the terrific
Plants vs. Zombies
(which I've finished thru and don't play much any more). Another of theirs is the entertaining Chuzzle, which as you can see is just a variant on the Bejeweled theme: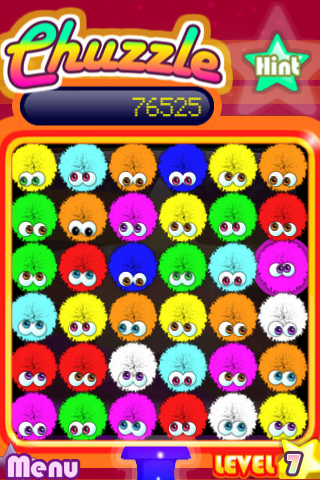 What makes Chuzzle more interesting is that matches are based on proximity, not just being in a straight line. That variation, along with the ability to rotate rows and columns, offers just enough difference that it's a good game in its own right too.
Sometimes, however, I just like to play a more traditional game, and if you know me well, you'll know I'm a big cribbage fan. Never played? Oh man, it's time to learn this straightforward card game that works well with 2-4 players. There are a number of different cribbage games for the iPhone (and iPad) but my favorite is CribPartner:
As you can see, the graphics are nothing to brag about, but the gameplay and the fact that the app counts your hands up makes this a fun, easy, fast way to play a quick game of cribbage against the phone. I'd love to find a replacement that let me specify that I want all the hand values added up directly in the app (there are reasons why that should be an option if you know the game, but the other cribbage games I've seen for the iPhone forget that maybe I don't want to count up each time)…
Two more to share. One that I really find challenging is Gyrotate. It's another variation on Bejeweled, but this time the shapes are in rotating square layers and while you have to line up four or more to get points, it's considerably harder because you can't swap items, you can only rotate them. If you've played the game, you know I've been doing this particular game for a while to get up to level 26:
One last one, then I need to go play: Harbor Master is a fun "draw the path" game, a genre of game that has arrived since the appearance of touch screens where you can use your finger as a way to direct things along a path.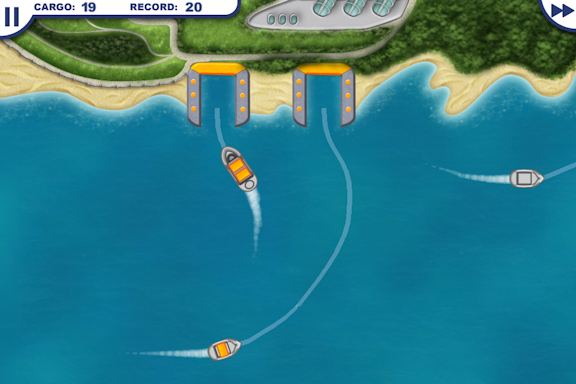 The premise is easy enough, you're managing a harbor and you have ships that are coming in and need to dock so they can unload their cargo. Once they're unloaded, you need to get them out of the dock ASAP so the next ship can come in. It's surprisingly difficult and gets crazy difficult after just a minute or two. Prefer landing planes to directing boats? That's the other one of these I have: FlightControl.
I will say this about the draw the path games: they're a lot more fun on the iPad, in my opinion, because of the greater screen size. Still, they're fun for a quick 2-3 minute breather during the day…
Even if you don't consider yourself a gamer, there are a ton of amazing and entertaining games available for the iPhone, so if you have some time to spare, I encourage you to pop over to the App Store and poke around for some of your favorite real-life games and somethings entirely new.