Hi Dave! I am a big Twitter fan – especially after reading your book Twitter Power – but my mentions tab always has so many spammers and bots. How can I clean that up?
Ah yes, the spam, scam and fakenews fiesta that is the modern world of Twitter. Ya know, Facebook gets into all sorts of trouble for the quality of its feed, but Twitter seems to have some sort of immunity, which is lucky for them. Which isn't to say that Twitter hasn't put in a lot of effort to improve things. It's just that it's hard to notice how things have improved and where you can engage more aggressive filtering.
For example, did you know that you can set up word filters such that anyone who mentions a word, name, company, band or uses a specific obscenity that you particularly loathe would automatically get filtered out? It's even smarter than that; if the people you follow use it, you'll still see their updates. It's the great unwashed that you're screening in this instance.
Hey, let's just jump in and see how it all works, shall we? For this, we'll be looking at the Web interface to Twitter you can find by pointing your browser at Twitter.com. Along the very top is this toolbar:

I'm going to look at the "Notifications" tab here, which is a great way to keep up on the subset of what's happening on Twitter that references your own Twitter handle or account.
My Twitter ID? Well, since you asked… follow me at @DaveTaylor. Thanks!
Now, back to business. Here are a couple of notifications I see when I go to this tab:
If you're like most people, you immediately started reading the tweets themselves. But… what we want is on the top right of this area. See "Settings" up there? Click on it!
Turns out there are lots of ways you can filter and screen what shows up in Notifications: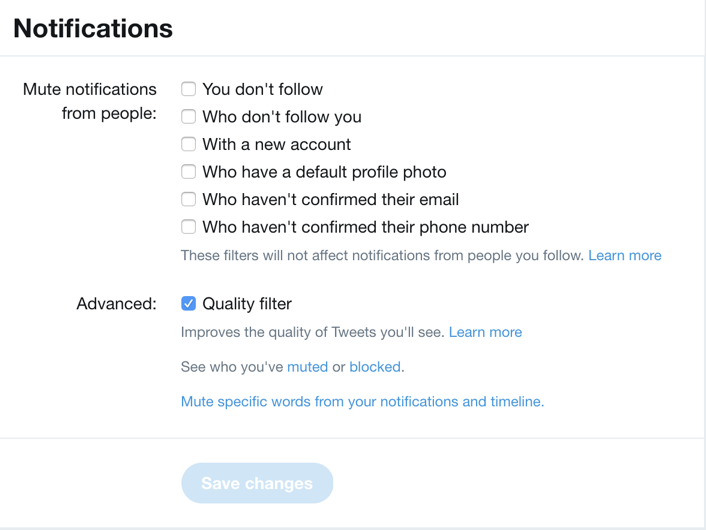 Definitely turn on the "quality filter" as I've already done, but I also suggest these additional settings, as shown:
While we're here, let's filter out a word too, just so you can see that it's pretty darn easy to accomplish.
Click on the tiny print "Mute specific words from your notifications and timeline.". See it just above the "Save changes" button? Click.
By default, it mutes people you don't follow, but if you are really passionate about it, you can mute everyone. Not only that, you can mute something for a day, 7 days, or 30 days if you want tweets with that particular word or phrase to resurface down the road. Obviously, this would be ideal for election debates, right? 🙂
Once you add a word, it shows up with easy settings and a very simple way to delete it again:
So if I don't follow you and you use the word Nazi in a Tweet that also mentions me, I wont' see it! Finally, a way to stop people telling me I'm a grammar nazi!
Between these two tools you should be able to definitely get a handle on your Twitter notifications stream!
Pro Tip: Please check out our extensive Twitter help area while you're here, and hey, why not follow me – @DaveTaylor – on Twitter too? Thanks!