I listen to a lot of music on my iPhone and just updated to iOS 10. Just to be surprised that the swipe-up control panel no longer has music controls at all? Where'd they go in this new iOS?
I am also constantly listening to music on my iPhone 7 and have been a bit surprised at where the music controls have shown up and where they've vanished in the new iOS 10 interface. Turns out that they are actually more accessible — with more different faces — than the older iOS, but you have to know where to look. (Hmm… maybe that's an oxymoron then, after all?)
The controls generally will show both for the Music app and the iBooks app — since I also listen to a lot of audio books — and they show up in the same places, so if you're an iBooks fan instead, this'll still apply!
The first place that used to have music controls was when you'd swipe up to get to the search panel.
Now it's a bit more austere:
See that barely visible "Show More", however? Tap on it. You won't get music controls, but it does give you two rows of app icons which increases the change that the one you seek is on the list:
Still no music controls, however. So where are they?
Well, what about if you swipe up from the bottom of the screen? Used to be the most accessible spot for pause/play, etc.
But now, not so much:
Here's the secret, though: Look very closely at the bottom. There are now two dots where there never used to be any in iOS 9. That's because this has split into two separate views! Swipe right to left and a new music controls view appears:
Ahhhh, nicely designed with easy to use controls for scrubbing to a specific spot in the song (yeah, that's the music biz term. It's when you drag the current point to where you want in the song or track). You can also prev, next, pause/play, change volume and even access the AirPlay options so you can change which output device is used (here I'm using "Now Playing on iPhone").
But there are other places you can get to the music controls. In the Music app itself, you can look at the playlist:
See the last segment that's slightly grey? That's what's currently playing. Tap on it and you'll again have a view of the current track, this time with a very different design: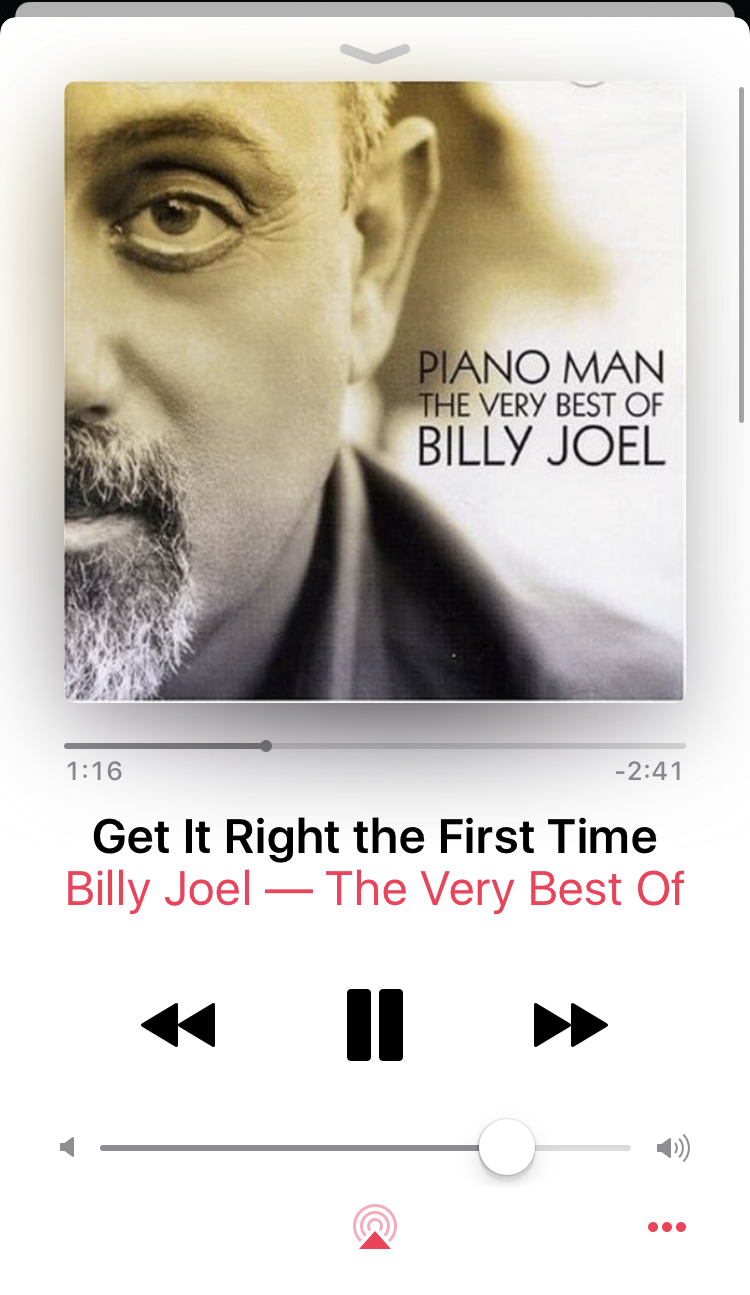 It's nice too, in terms of layout. Oh, and there's a third full-screen display option: when your phone's locked and you're playing music. Then you'll get a display more like this:
Actually, I like the lock screen view the best, and clearly Billy Joel does too! But no, I don't think Apple "got it right the first time", Billy. 🙂