I want to reorganize my Pinterest boards and move some photos and pictures from one board [ed note: actually Pinterest calls them "pinboards"] to another. is that possible, and if so, what's the easiest way to accomplish it?
Ah, the never ending stream of questions about how to do things on Pinterest. I'm a fan — in fact, you can find me on Pinterest here: Dave's Boards — but I have to admit that while initially the interface seems simple and elegant, it's actually rather a pain for those of us that like to keep things neat and organized. Not to worry, what you ask about moving pictures from one Pinterest board to another is definitely easily done, it's just rather tedious, particularly if you want to move a half-dozen or more.
The first step is to create the new pinboard or boards you want to use, and that process is explained in my detailed tutorial: How to create a new Board on Pinterest.
Done with that? Terrific!
Now let's jump in.
The first step is to get to the board that has the photo or picture that you want to move to the new board you've just created. I do that by clicking on "Boards" off the menu on the top right of the Web page: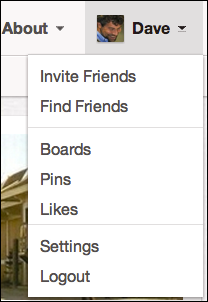 Now you'll see all your boards, including the new one that's likely completely empty, as my "Wry Humor" board is here: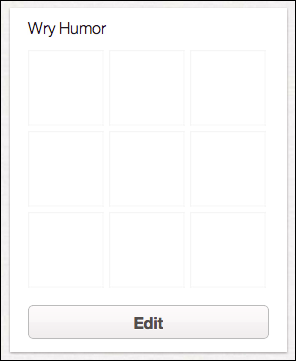 What I'm going to do is move some of the images from my catch-all board "Random" into the more appropriately named "Wry Humor". Random's pretty full, as you can see: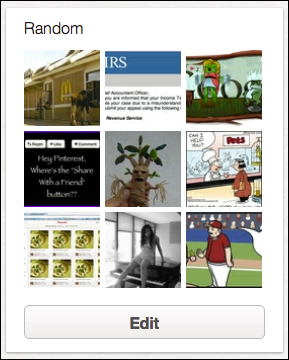 To view just a single pinboard, click on an images on the board that you want to move. You'll then all the images and comments in the same format that they show up on Pinterest for people who follow your board. This time, though, if you move your cursor over the image, look closely, the buttons are different:
Click on the "Edit" button and you'll have a number of things that you can tweak:
I could fine-tune my comment or even add a URL to which the image should link, perhaps in this case
http://www.mcdonalds.com/
would work! No. No sidetracks here. Let's stay on focus by clicking on the pop-up menu that shows different Boards:
I'll pick the new Board name, click "Save Pin" and that's it, mission accomplished.
After a few minutes of this, my Wry Humor board is starting to look a bit better:
What I wish you could do is drag and drop images from one Board to another as the owner of the boards, but that's not part of the Pinterest user experience at this point. Perhaps down the road.
In any case, that should get you going. Good luck, and do let us know your Pinterest ID so we can check out what you're pinning on this popular social site.