I've installed Windows 11 on one of my laptops and it's beautiful. Such a lovely update to the user experience. But that Taskbar. Why are all the icons now centered? Is there a way to move the icons back to the left side like it's been since Windows 3.1?
Today, Oct 5, 2021, is the day that Windows 11 is officially launched, though you have a couple of hoops to jump through before you can put it on your PC. The biggest of which is the whole hullabaloo around the Trusted Platform Module (TPM), that's now a required element of your hardware; if you don't have a TPM, you don't get to run Windows 11. The second hurdle is that you need to gain access. At this point it's being rolled out in phases, so while it might be virtual launch day, that doesn't mean you can just go to windows.com and download the new OS. Soon, though, soon.
Meanwhile, there's a lot that's changed with the appearance of Windows in this new Win11 release, a very modern UI sensibility that has made it all seem quite modern. The most striking changes are around the much belittled Start Menu (gone are all the tiles; now it's a grid of app icons much more like on your smartphone). But what catches people's attention first is that the icons on the Taskbar are now all centered rather than on the left side. This parallels operating systems like MacOS 11 where its "shelf" expands from the center.
Personally, I like it and find it an interesting change, but I can completely understand people's alarm when they glance at the lower left corner of their PC screen and see… nothing. Just an empty Taskbar. Why? Because the Start button, Search button and app icons are all in the center of the screen!
If you're old school, though, and have been using Windows since the dawn of computer time, you might prefer to push things back to the left side on the Taskbar. Fortunately, you can do just that in Windows 11 in a somewhat hidden setting. Let's check it out…
WINDOWS 11 TASKBAR SETTINGS
To start, here's the Taskbar in Windows 11 with all the default settings:
You can see that the Start menu button (the now-blue four square grid), the Start button (the magnifying lens) and the new-for-Windows 11 "Workspace" button are all moved to the center of the Taskbar, along with the running app and pinned app icons. On the right, as always, are setting shortcut menus, date and time, etc.
Like Windows 10, a right-click on the Taskbar  pops up a menu. In Windows 11, however, it's really, really short:
Choose "Taskbar settings" and you'll move into the System Settings area of Windows 11. It's definitely gotten a lovely facelift!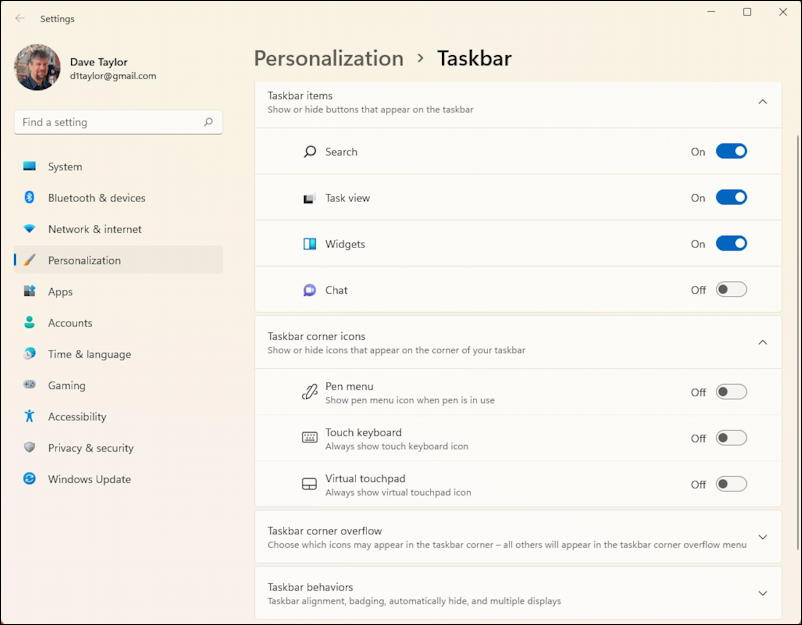 As you can see, you can turn on or off search, task view, widgets, and chat buttons, add a pen menu, touch keyboard, or virtual touchpad if you're actually on a tablet, and more. Very flexible!
To move the icons to the left, however, you want to click and expand "Taskbar behaviors"…
MOVE YOUR WIN11 TASKBAR ICONS TO THE LEFT EDGE
Once you open up Taskbar behaviors, the choices become more focused:
The setting you want to change is "Taskbar alignment". It has two choices: Center, or Left. Notice you can also auto-hide the Taskbar – with "Automatically hide the taskbar" – and show or hide the "badges" that overlay individual app icons if you prefer. I'll switch my Taskbar alignment to "left"…

and the results are:
Mission accomplished.
Having said that, though, I do encourage you to try the center-aligned Taskbar for a while. Why not? New OS, new ways of thinking and using your device…
Helpful Tip: I've been writing about Windows for many years and have an extensive Windows 10 & Windows 11 help area. Please check it out to find lots of additional tutorials and guides while you're here. Thanks!