I can't figure out how to add icons for my favorite apps onto the home screen of my Galaxy S 5. So frustrating! How do I pin the app icons onto the home screen on my Android smartphone?
For someone coming from an iPhone or iOS environment, it's a bit confusing to understand how on an Android phone there's a compartmentalization of apps into either one of the multiple home screens, or apps that are "hidden" in the all-apps area. Interestingly, that's exactly how Windows 8 — and Windows Phone — works too, which leads to all sorts of confusion when you add a new program from the app store and it vanishes without adding a "tile" or icon to the main screen or menu.
Where is it? Turns out that it's in the all-apps area. Confusing!
And Android is exactly the same. You've probably already figured out the secret too, without realizing the implication: tap on the circle icon on the bottom of your main screen, the icon with the six tiny squares within, and you're in the all apps area. But how do you move an icon from there onto the home screen?
Let's have a look!
First off, here's a typical home screen, this particular one from a Verykool SL5000 device: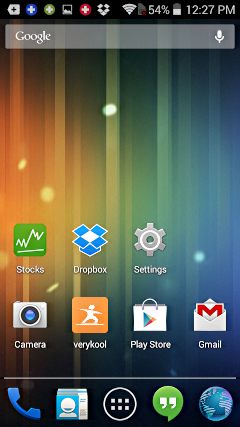 See that icon in the middle of the bottom row? The circle with the six tiny squares?
That's how you get to a set of screens that have every single app installed on the device. Tap on it.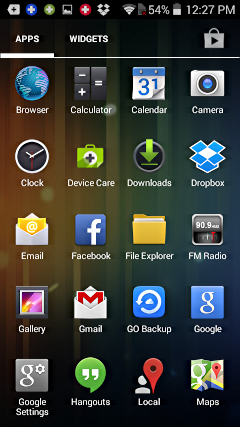 Now you can swipe left/right to see all the apps on the device, in alphabetical order.
Find an app you want to add to the home screen, then tap and hold your finger on it. I'll demonstrate by moving the "Gallery" app onto my own home screen.
Once I tap and hold, the screen changes to show the home screen and you simply drag the app icon onto it: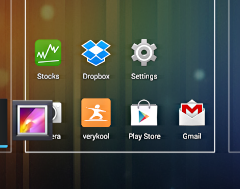 Notice that there's more than one home "rectangle" shown. If you'd rather have it on the left or right home screen rather than the main one, just move the icon there instead.
As you move it, think about where you want it to go relative to other icons already there. Move it between two and they'll shift to make space. As you get near to a valid "target" area, a subtle rectangle will appear too: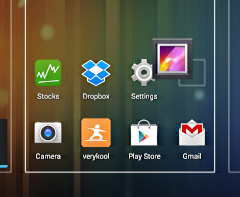 Done? Just lift your finger up!
And now, the app's icon is on the Android phone's home screen: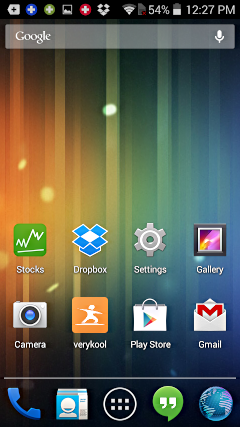 With a little bit of work, you can reorganize what's on the home screen, move things to the left or right additional home screens, and even remove an app or two if you just don't like them where they are.
Oh, and a handy tip: You can drag icons onto the very bottom too if you'd rather have easy access to different apps!