Dave, I'm very excited. I just bought a brand new Motorola RAZR V3c cellphone and it's as cool and sexy as can be, but I'm now wondering what I can do with the bluetooth capability. How do I use this thing to copy pictures up and down from my Mac to the RAZR?
As it happens, I've been experimenting (read "playing") with a new Motorola RAZR V3c cellphone too, from Verizon. I'm both trying to get it to sync up with my Toyota Prius (which has been pretty darn easy) and with my bluetooth-capable Mac Powerbook (not so easy!)
To get the RAZR and Mac talking to each other, I had to do a bit of hacking too, which you might not be comfortable with. Not tweaking the phone, but the Mac itself. Here are the steps I took. Take a deep breath, it's kinda complex…
First off, you need to grab the two data files accessible at the file archive site megaupload.com. It forces you to look at some ads for 30 seconds or so, then you'll see a "click to download" option: do so, and then leave it alone for now.
Next, in the Finder identify the iSync application, then right click on the iSync icon and choose "Show Package Contents". You'll see a folder labeled "Contents" and it's deep within that folder's subfolder directory that the two new files need to be copied. Here's where I ended up (I used the command-click option on the directory status in the window title to show the full path here):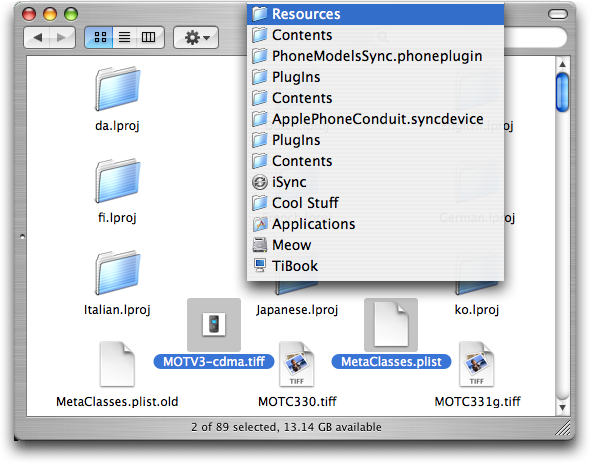 For the record, the full path you need to navigate through to is: Contents : PlugIns : ApplePhoneConduit.syncdevice : Contents : PlugIns : PhoneModelsSync.phoneplugin : Contents : Resources. Got it? 🙂
Rename the file
MetaClasses.plist
to "MetaClasses.plist.old" (as you can see I've already done in the screenshot shown) then copy the two files you downloaded into this directory. One is a new version of MetaClasses.plist and the other is the file
MOTV3-cdma.tiff
.
Now you can close that window up. Your Mac knows what a Motorola RAZR V3c is at this point, at least it knows some of the capabilities…
Open up the Bluetooth System Preference (Apple Menu -> System Preferences -> Bluetooth) and turn Bluetooth on if you need to, then click on the "Devices" option. You'll see the following: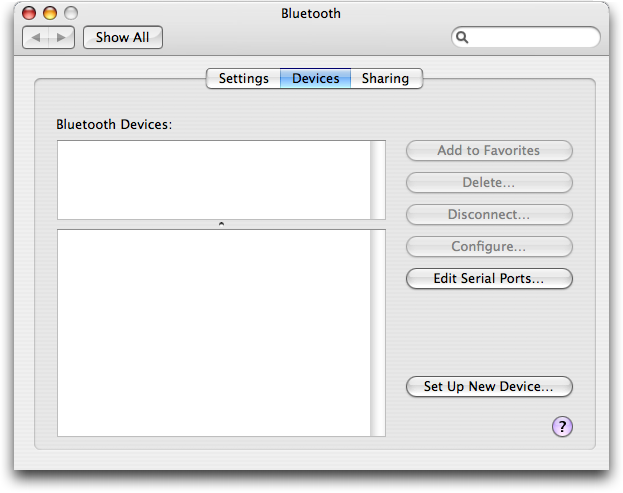 No big surprise, it's time to click on "Set Up New Device…" which launches the Bluetooth Setup Assistant. It's pretty straightforward: choose "mobile phone" when you get to pick what type of device you're working with, then while it's searching for mobile phones, flip open your fancy new Motorola RAZR V3c and go to: Menu -> Settings -> Connections -> Bluetooth.
Choose
Setup
then choose
Find Me
, which will make your RAZR visible to the Bluetooth world for 60 seconds. A few seconds later your Mac will cheerily show "Motorola Phone" in the Setup Assistant and you can Continue to the next step in the process.
The Mac will pop up a Mobile Phone Setup Pairing code, a security key to ensure that you have control of both the Mac and the RAZR. It'll look like this: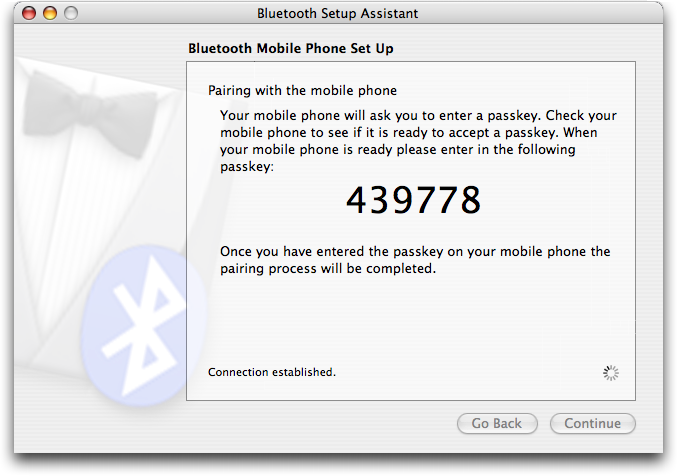 Before the sixty seconds are up, select
Yes
when the RAZR asks you "Bond with TiBook?" (TiBook is the name of my laptop, yours will vary). Enter the code and click OK on the phone and you should get a "Congratulations! Your mobile phone is now set up to use your computer's Bluetooth features."
The phone and computer can now communicate. Before you leave the Setup area on the RAZR, however, make sure you've turned the Power to "On" so you don't have to fiddle with it any time you want to use it with your Mac in the future.
Now your Bluetooth configuration on the Mac looks splendid: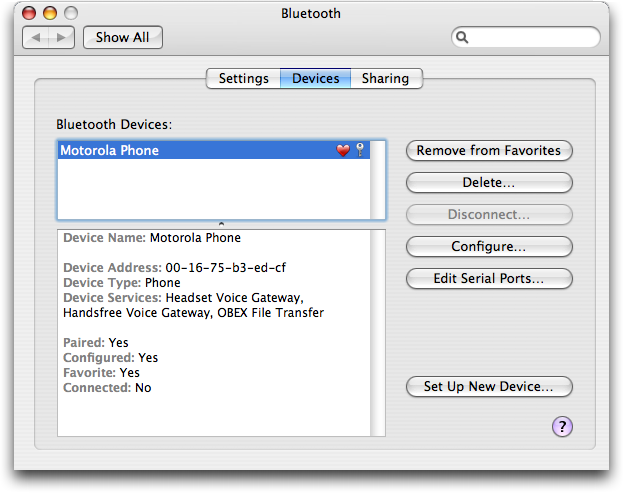 Go back to the "Settings" area and choose to have the bluetooth icon appear on the menubar and you should be done with the Bluetooth System configuration window.
Just make sure that the "Sharing" settings look like this: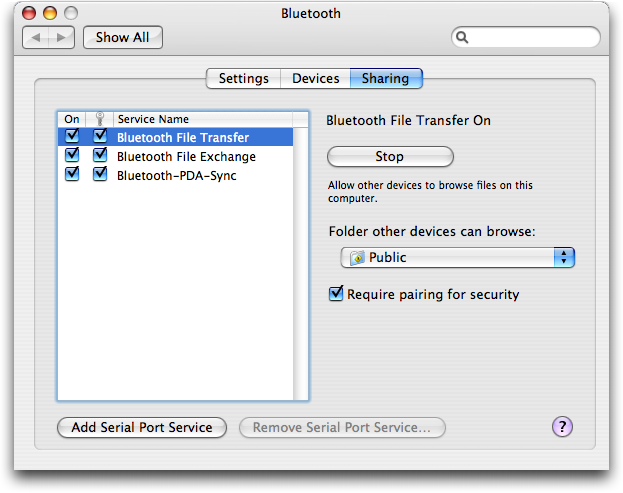 Now, to browse the RAZR file system, grabbing photos, videos and even uploading new images, wallpapers and ringtones, simply choose "Browse Device…" from the Bluetooth menu: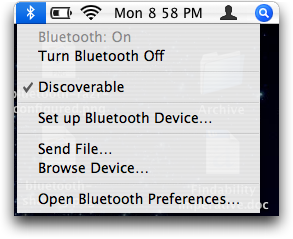 Then select "Motorola Phone" from the list and click
Browse
. It's amazing! You're browsing the cellphone file system via bluetooth from your Mac: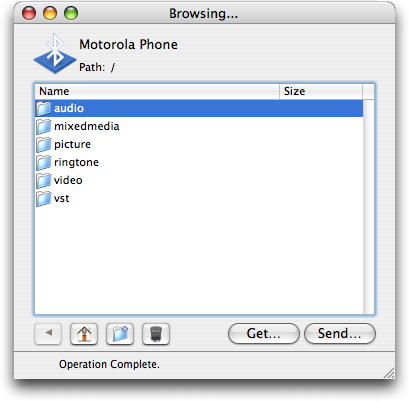 Photographs are found in "picture", ringtones in "ringtone" and so on. You can download content from the phone to your Mac by clicking on the appropriate folder, then choosing "Get" or "Send", depending on what you seek.
Curious about what a picture taken with the phone looks like? Here's a pic I just took of a calendar photo (B&W, not color, don't panic) that I grabbed off the phone and uploaded to my server: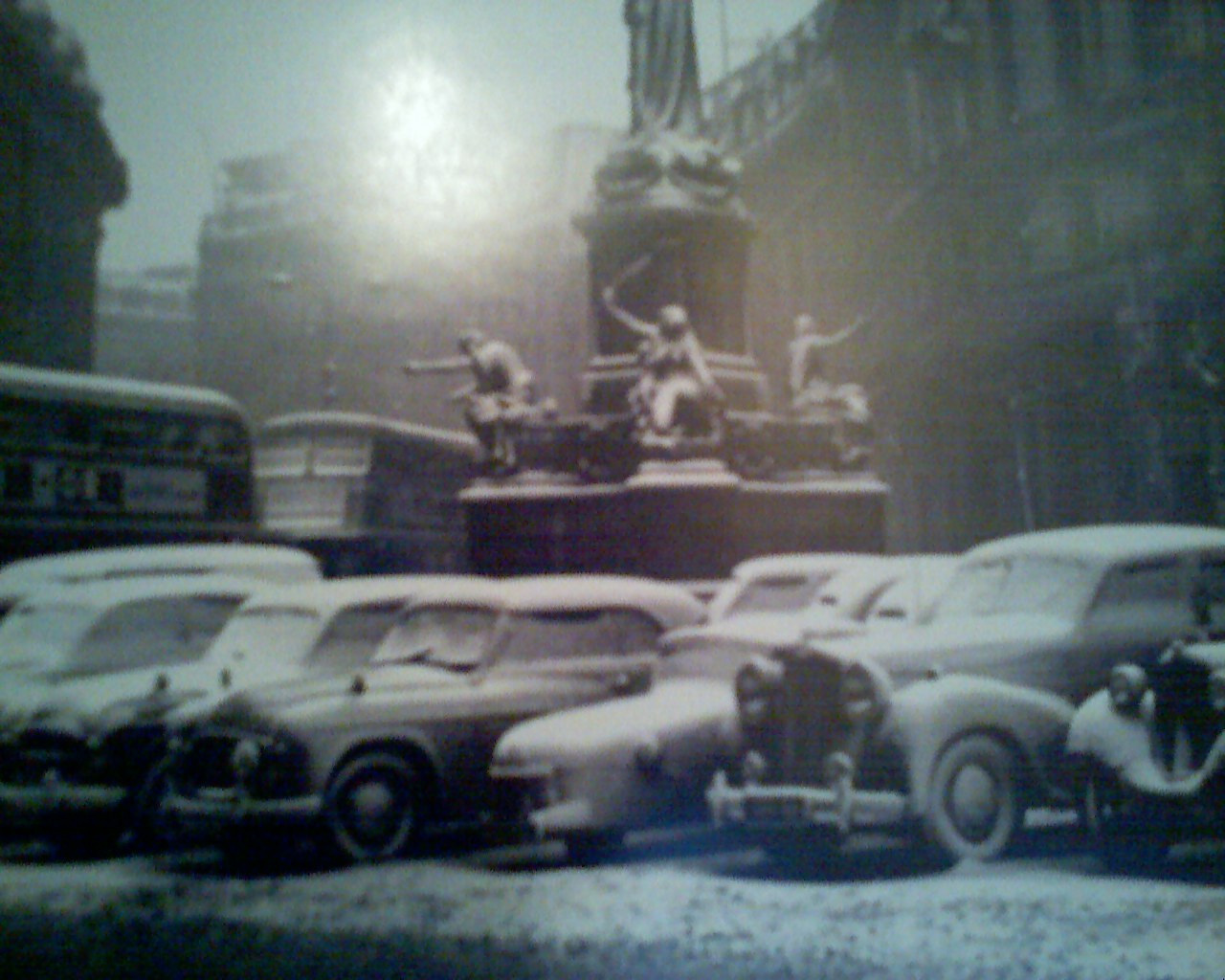 click to see a full-size image
It's not the same quality as my $2500 Nikon digital camera, but for a phone, heck, it's not bad either!
That's as far as I've gotten with my own RAZR V3c, but I'm really hoping to get someone to add information about how to use the RAZR as a bluetooth modem since it is clearly quite capable of that functionality!
One last note: if you want to add wallpapers, make sure they're in JPEG format and you can shrink them down to a tiny 176×220 and they'll appear beautiful on the phone itself.
I hope this incredibly detailed article is helpful. Good luck and, um,
please remember that I take no responsibility for your trying the mods shown herein
.