I just bought a new MacBook Pro and am copying everything over from my MacBook Air. Going well, except I can't figure out how to get my "stickies" notes copied. What's the secret?
"Stickies" is a perfect example of an app that should be iCloud enabled, in my opinion. "Notes" is and it's darn useful to be able to access your iPhone notes on your Mac, and vice versa, but for some reason Stickies is rooted in the earliest design generation of the Mac, almost a demo program for new programmers at Apple!
There is a way to export and import individual sticky notes, of course, but if you have a bunch of them, that's way tedious and – fortunately! – unnecessary! You will need to get some ninja macOS skills ready for this one, however, and we'll need to start out on the old computer.
Before we do, I well know the experience of using Stickies to keep track of things just to find that you launch it on the new computer post-migration and see this: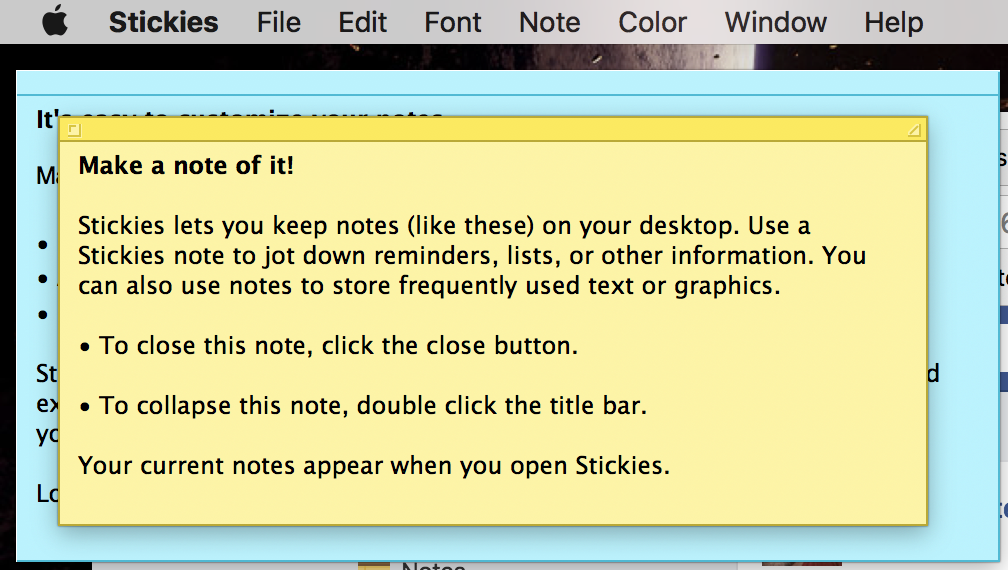 So not what you want to see!
Now, pull out your old computer and open the Finder to your home directory. Your window will look like this: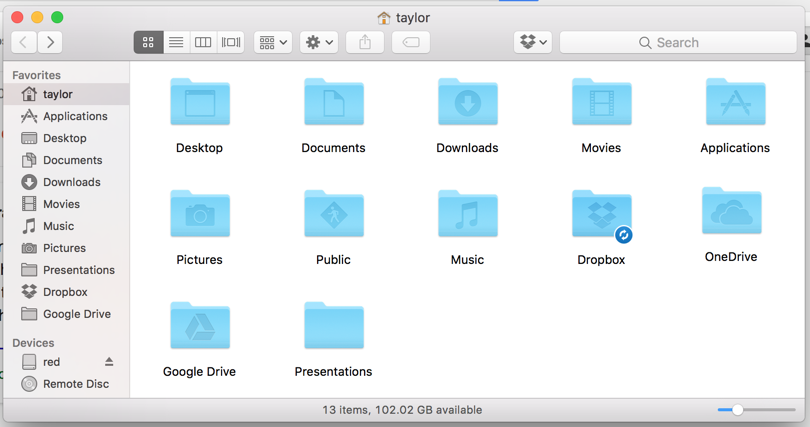 The folder you want isn't shown, unfortunately: you need to get to your Library folder and that's hidden from regular users so that you don't mess things up. To get to it you need to choose "Go To Folder…" from the Go menu: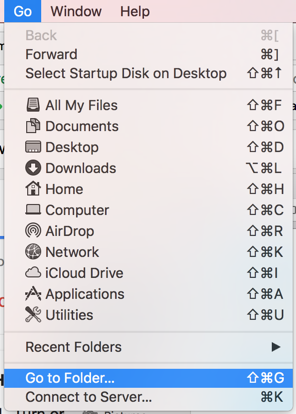 You can see there are a lot of choices on your system in terms of jumping directly to a location on your file system. When you choose "Go to Folder…" it pops up a small window, and this is where you type in "~/Library/" as shown:

Click on "Go" and it'll open up a Finder window with that folder: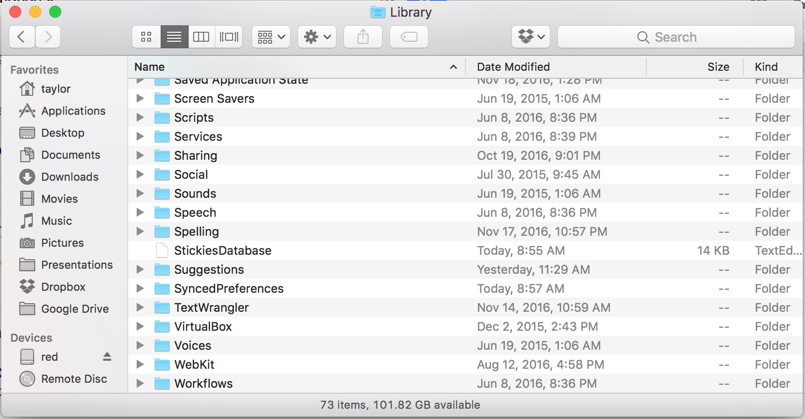 I've scrolled down a bit because the file you want to grab and copy to the new MacBook Pro is sitting right there amidst all the dozens of folders: StickiesDatabase. You can email it to yourself, copy it to a flash drive, save it to DropBox or another cloud service, whatever. Once you've grabbed it, you're done with the old computer and can put it away.
Now on the new computer quit Stickies if it's running, then make sure you can identify and find the newly copied file (tip: I just save it to my Desktop), then go through the same Go > Go to Folder… process to move to the ~/Library/ folder on the new computer. Now simply copy the new StickiesDatabase into the folder (optionally renaming the original first if you'd like) so it looks like this: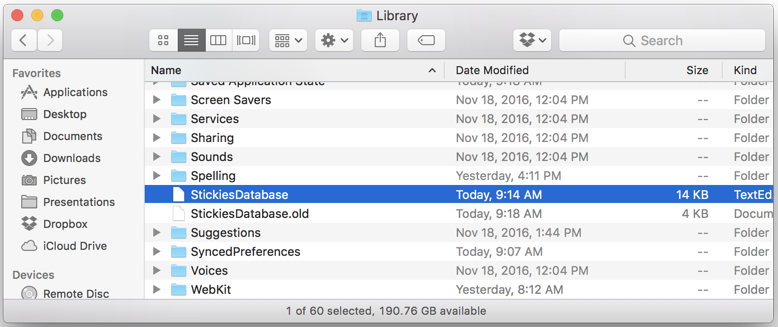 That's all there is to it. Now restart Stickies and all your old notes show up!

A bit tricky with the need to get to the hidden ~/Library folder, but otherwise fairly straightforward. Now, enjoy that new computer!