I have a few questions about Yahoo! messenger (YIM), since they don't supply customer support. When I add someone to my 'buddies' list, I have one of two scenarios to play out afterwards.
1) The other person logs online and decides to either "accept and allow me" to add them, or to "not accept and not allow me" to add them in which case they disappear from my buddies list, or
2) The other person logs online, but appears to never make the choice about allowing me to add them or not, and they just remain in my buddies list forever.
So my first question is how can #2 happen? Doesn't everyone who has YIM get forced on the screen to make the choice between allowing or not allowing someone to be on the buddies list?
My second question that flows from this, is let's say that I have allowed someone to put me on their buddies list – what if I want to stop that at some point? there is the command that says 'delete friend', but that seems to apply to someone I made a friend from my end, no someone who made *me* a friend from their end….there is also the 'ignore friend' option, but doesn't that just block their message from reaching me (and hence I don't know they are sending it), rather than actually preventing them from knowing when I am on line (as a buddy).
So in other words, once you allow someone to add you as a buddy, how can you ever *disallow that*?
The answer your first question is yes. Everyone who uses YIM receives a dialog box when someone wants to add them. It's only in the latest version that you are actually forced to choose, in older versions of YIM you were able to bypass the "Add Buddy?? process by clicking Cancel.
As for your second question the answer is block. You'll want to "delete friend?? and possibly "ignore friend?? but before you do either of those you'll want to block them that way they won't know when you're online.
To block someone:
1) Right-click their name
2) Select Stealth Settings
3) Choose Permanently Offline
4) Click OK
Here's what the Stealth Settings looks like: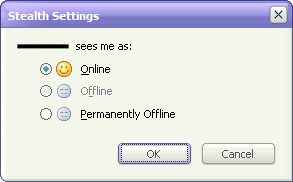 After that you need to delete them from your friend's list, then go ahead add them to your
Ignore List
by clicking Preferences –> Ignore List –> Add and typing their name.
That should address your YIM (Yahoo Instant Messenger) questions, I hope!
Thanks to Mya Leigh for her help with this question.