I keep exceeding my data plan with my new Samsung Galaxy S8 and am wondering if there's some way the phone can warn me when I'm reaching my quota each month?
Congrats on the Samsung S8, first of all. Pretty sweet phone you have there, running the latest version of Android. In fact, that's good news because managing your cellular data usage is something that's far better implemented in the Android system than it is with the iOS 10 software included with Apple iPhones. Ya picked right!
You can diagnose your data usage problems with the Android system too, but before we talk about any of this, I want to encourage you to check in with your cellular carrier: Lots of them are now offering surprisingly low cost unlimited plans, which would of course completely eliminate any problems for you! Then again, like many people, you might already feel that your cellphone bill is too darn high as it is. So let's proceed!
Everything you want is in the Settings app, so find the gear icon and tap on it. Here's what you'll see (with slight variations depending on version of Android you have):
Tap on "Data Manager" to proceed. Why it's not called "Cellular Data Usage" or similar, I can't say, but the data in question is your cellular data bandwidth.
A tap and here's what you'll see: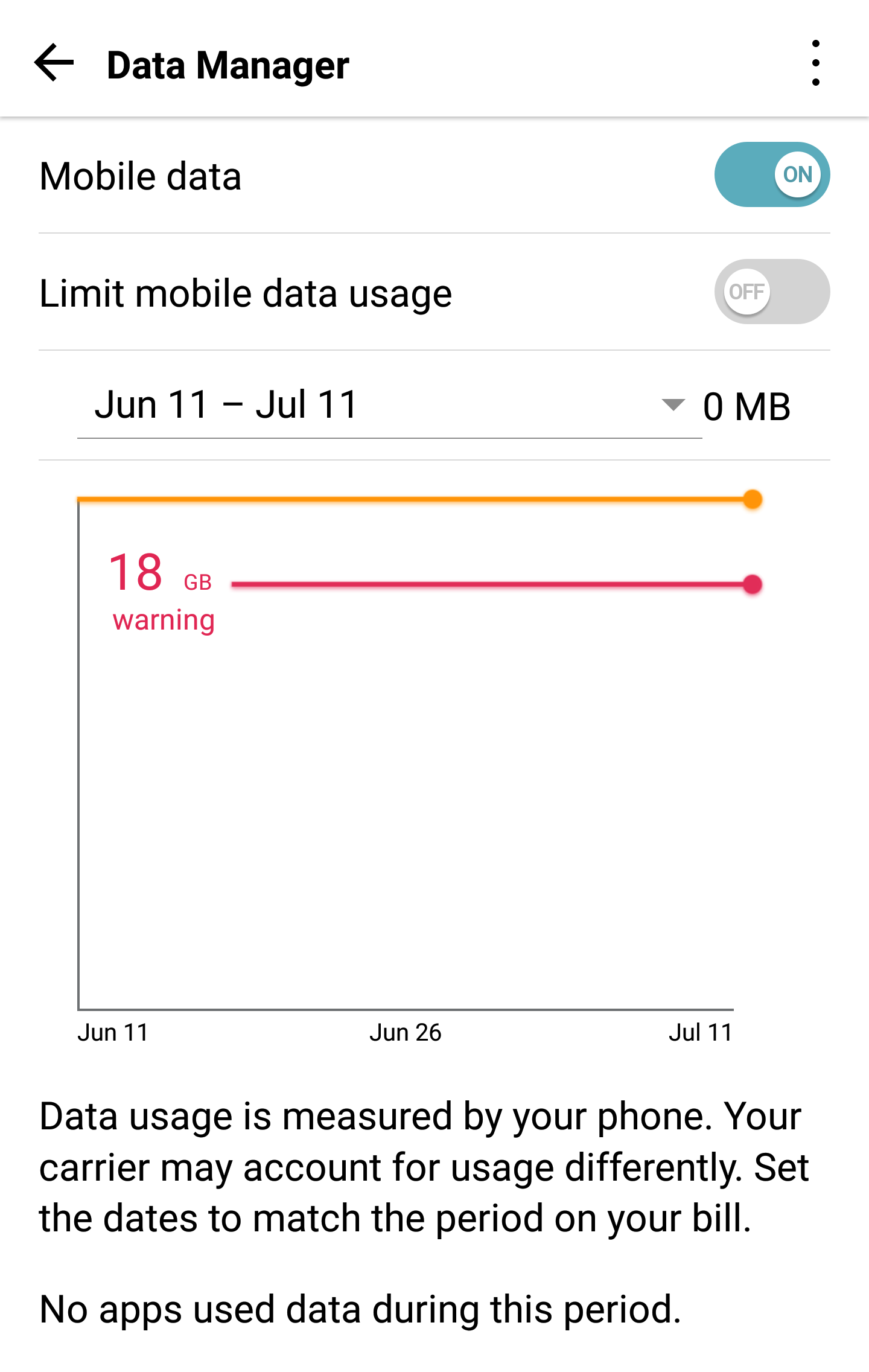 This particular test phone doesn't actually use cellular data (as implied by the last line's notification) so yours will have some actual data showing in the graph, as we'll see momentarily. For now, there are two things you need to tweak to get this to really work well for you.
First, check your latest cellphone bill and figure out your billing cycle. Then tap on the displayed billing cycle — in this case it's Jun 11 – Jul 11 – to adjust it as needed. A tap and it'll offer up this choice:
No surprise here, tap on "Change cycle…" to align the phone's data cycle with your actual billing schedule.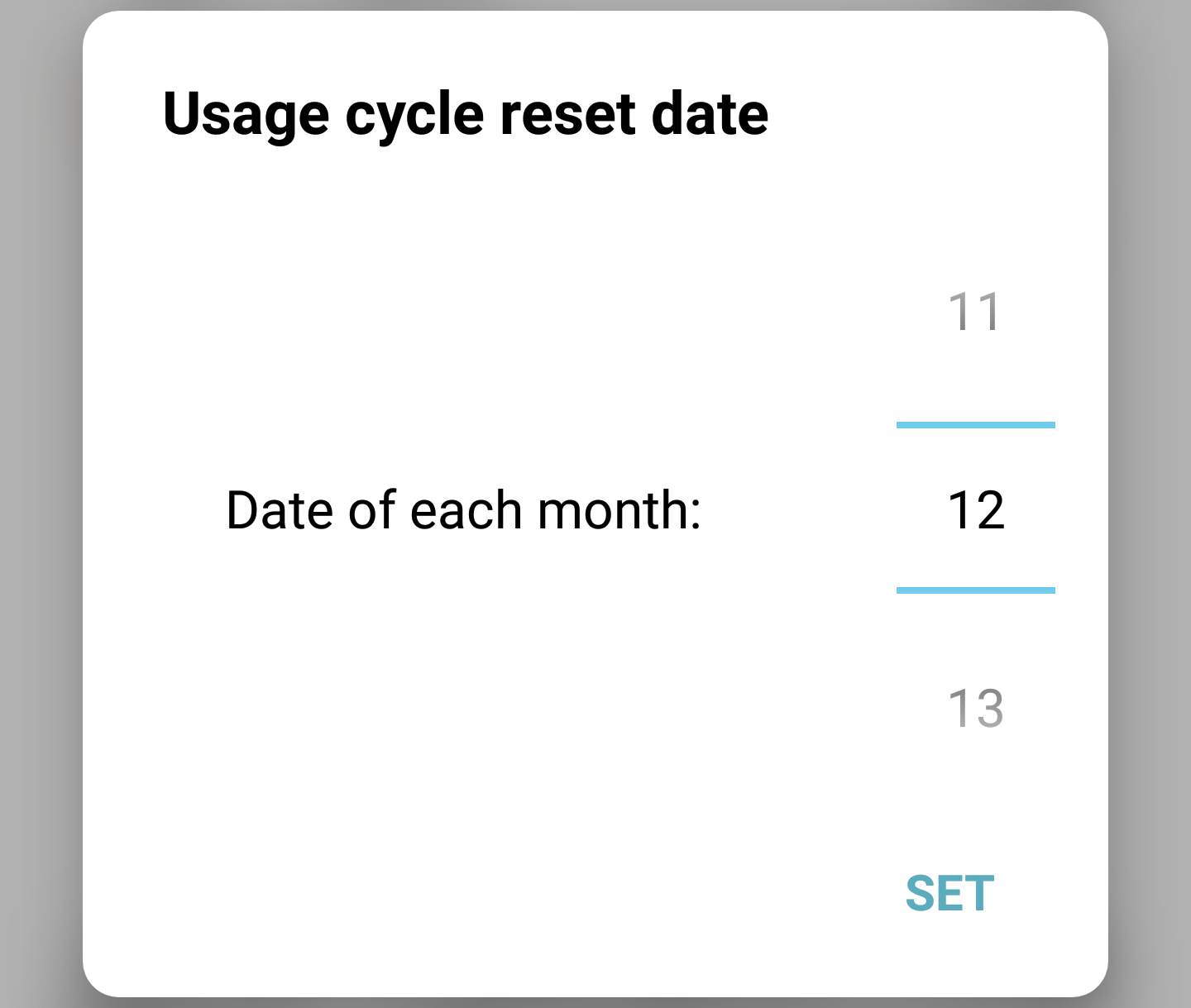 Easy enough and if it's not quite right, tap again and fix it. This is, of course, critical so that you're warned of a potential overage just as you're running out of data, rather than having your phone reset just a few days before you're done with your billing cycle and it's the most critical you keep track!
You also want to tap to enable "Limit mobile data usage" on the prior screen too; this will actually let the phone stop using data entirely once you hit (or get really close) to your data limit. Android will warn you what you're doing:
As the warning says, beware that if you try to get it to exactly match your carrier plan, there's a chance you will still go over by a tiny bit as your carrier might calculate usage differently to the Samsung (or other Android phone) itself.
Now the cool part. On the graph you'll now see two bars, one orange, one red. You can tap and drag them up and down for your own data plan and preferences: orange is the warning line upon which you'll be warned you're running out of data, and red is the hard limit line. Hit that one and your phone will stop using mobile data entirely. My recommendation, set them pretty close together, and have the red limit line just a megabyte or two below your actual plan limit. Like this:
With a 10GB limit, the above configuration will warn me when I'm at 80% or so, and then stop working when I'm just a few megabytes from hitting the hard limit. Here's another user's configuration with actual data usage shown too:
In this case, he's working with a relatively modest 4GB data plan and is slowly inching up to his warning level!
That's it. Android has some very nice tools to help you manage your data usage, and now you know how to set 'em for your specific cellular plan and billing cycle.